Last Updated on January 27, 2019
As a nutritionist, I find that a lot of people are resistant when I recommend that they eat more vegetables and plant based foods.  As a former fat girl, I completely understand and relate…  The biggest challenge for me losing weight (and keeping it off) was finding nutritious and delicious alternatives to eat… that I actually enjoyed eating, that wouldn't make me fat again.
I've turned even the most resistant veggie haters into full-on veggie addicts, time and time, again substituting low calorie, low carb, nutrient-rich veggies in place of their starchy, fattening go to's.  Today, I'd like to share my top 3 zucchini recipes that I suggest to  my client's as low carb, low calorie alternatives that they (and their family's) can enjoy, guilt-free.  If you're looking for healthy, low carb, low calorie nutritious side dishes – this post is for you.   I really think you're going to love them, as much as I – and the people I've shared them with – do, too.
3 Low Carb, Low Calorie Zucchini Recipes
Zucchini Noodles (aka Zoodles)
Pasta is just one of those foods that makes people's worlds go round.  As a former fat girl I used to love making and eating big bowls of buttery, cheesy, blissful bowls of pasta…  It used to make me so happy…  Until I stepped on the scale…  Now that I'm a nutritionist and know better I'm ecstatic that I can't still have my pasta… guilt and muffin top free. What You'll Need:
4 small to medium zucchinis
2 tablespoons of extra virgin olive oil
salt, pepper, garlic to taste
1 box grater
paper towels

What to Do: Wash your zucchini and chop the tips off.   You can peel them or leave the skin on…. up to you. Next, place your box grater on a non-slip cutting board… I prefer wood for this.  Next, run the zucchini lengthwise down the box grater.  Be careful.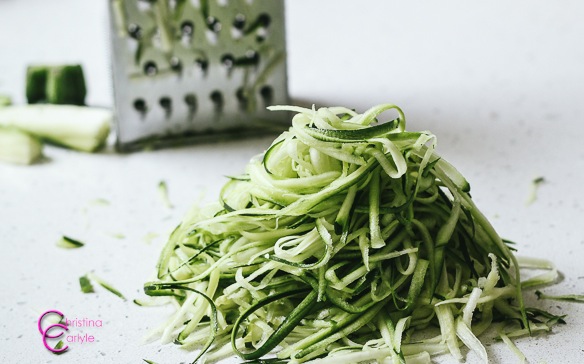 You can use different graters to create the kind of noodle you prefer.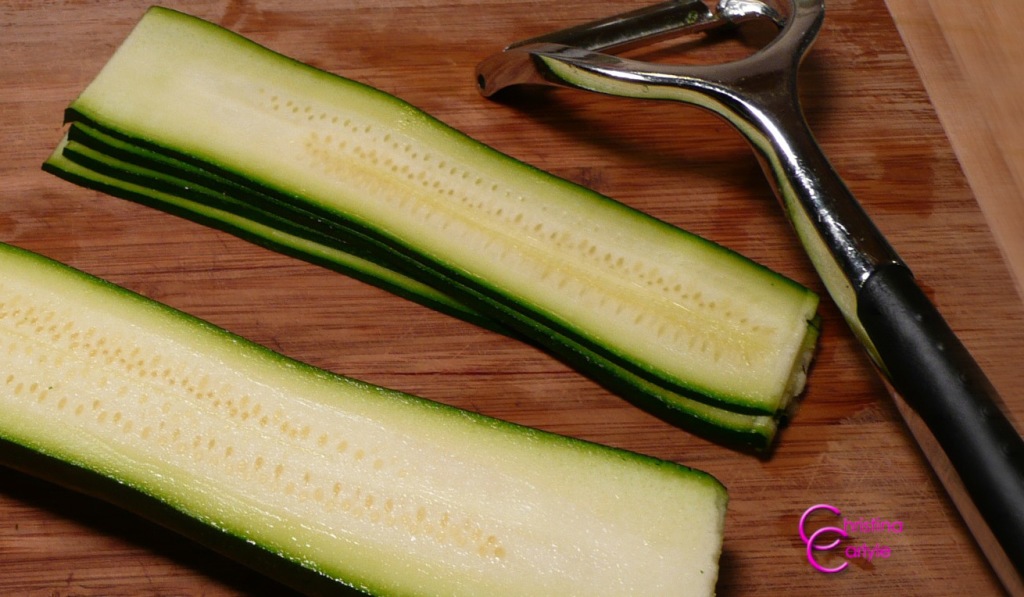 Once grated, place in paper towels and squeeze, removing as much moisture as possible.  Then place in a pan and sauté with EVOO, salt, pepper, and garlic.  Cook until tender and top with a sauce of your choice. If you crave crunch without the carbs – then I've gotta treat for you!  I and about 99.9% of the people I've helped lose weight all have one thing in common…  we love crunchy snacks and once we pop we can't stop.  Unfortunately, it also added to our cellulite. Here's my next skinny substitute for you…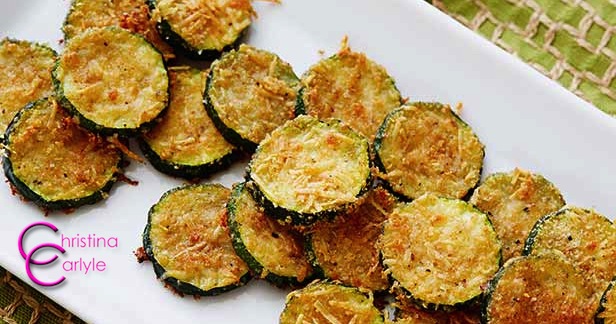 Crispy Parmesan Zucchini Chips
What You'll Need:
Nonstick cooking spray
2 medium zucchini (about 1 pound total)
1 tablespoon extra virgin olive oil
1/4 cup freshly grated organic Parmesan (3/4-ounce)
1/4 cup plain, dry, whole grain bread crumbs
1/8 teaspoon kosher salt
Freshly ground black pepper

What to Do: Preheat the oven to 450 degrees F. Coat a baking sheet with cooking spray. Slice the zucchini into 1/4-inch thick rounds.  Toss the zucchini in a bowl with the EVOO.  Mix the Parmesan, bread crumbs, salt, and pepper to taste (a few turns) Dip the zucchini rounds into the Parmesan mixture, coating each one evenly on both sides then arrange on baking sheet.  Avoid stacking your chips on the baking sheet…  create a single layer. Bake the zucchini rounds until browned and crisp, 25 to 30 minutes.  **Check them every 10 minutes or so to make sure they're ok.  When I baked mine, I had them on the top rack, furthest from the heat source and they were fine as is for 25 minutes.  But, based on some feedback I've received about this recipe you may need to flip them halfway through to prevent burning.**
Remove with spatula.  Serve. 1 cup = 100 guilt free calories with vitamins and minerals…  I smuggle these into movie theaters.  Shhhhhhh Zucchini Boats are a simple, yet tasty low-cal side dish chock-full of flavor and nutrients.  Why have one veggie when you can have 4 at once?  A fresh blend of flavors, colors, and textures please your taste buds and maximize your metabolism when paired with a lean protein. Ahoy!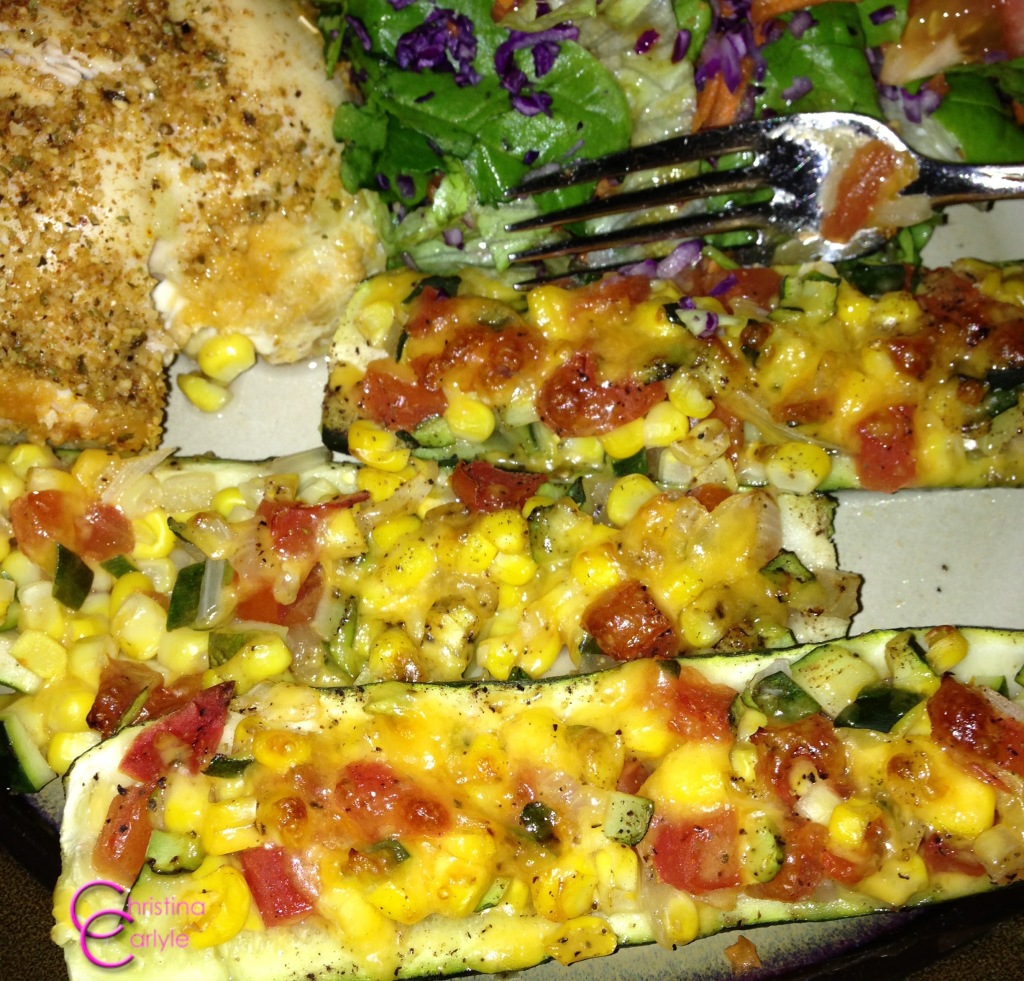 Zucchini Boats
What You'll Need:
4 small zucchini, 5 to 6-inches long, 1 1/2-inches thick
2 tablespoons extra-virgin olive oil
1 small yellow onion, chopped
2 ears of organic corn, shaved off the cob
2 vine ripe tomatoes or Roma tomatoes, seeded and chopped
2 cloves garlic, chopped
1/2 cup shredded organic Parmigiano-Reggiano
Salt and freshly ground black pepper

What to Do: Pre-heat the oven to 425 degrees F. Halve 4 of the small zucchini lengthwise and scoop out the seeds and soft center flesh with a spoon to produce a set of shallow shells to hold the stuffing.   Don't throw out that magic center Zuke meat… Chop up the center meat, tomatoes, and onion into equal sized pieces. Heat the remaining extra-virgin olive oil in a skillet over medium-high heat and sauté the onions and garlic for 5 minutes.  Add in the reserved zucchini and tomatoes, season with salt and pepper, to taste and heat through for 1 minute, then remove from the heat.  Don't cook the corn though. While the filling is cookin… Arrange the boats on a baking dish.  Drizzle with a little extra-virgin olive oil and season with salt and pepper, to taste. Mix the sautéed veggies with the corn in a bowl with ¼ cup of the parm cheese.  Spoon the zucchini stuffing in to the shells and roast for 15 minutes.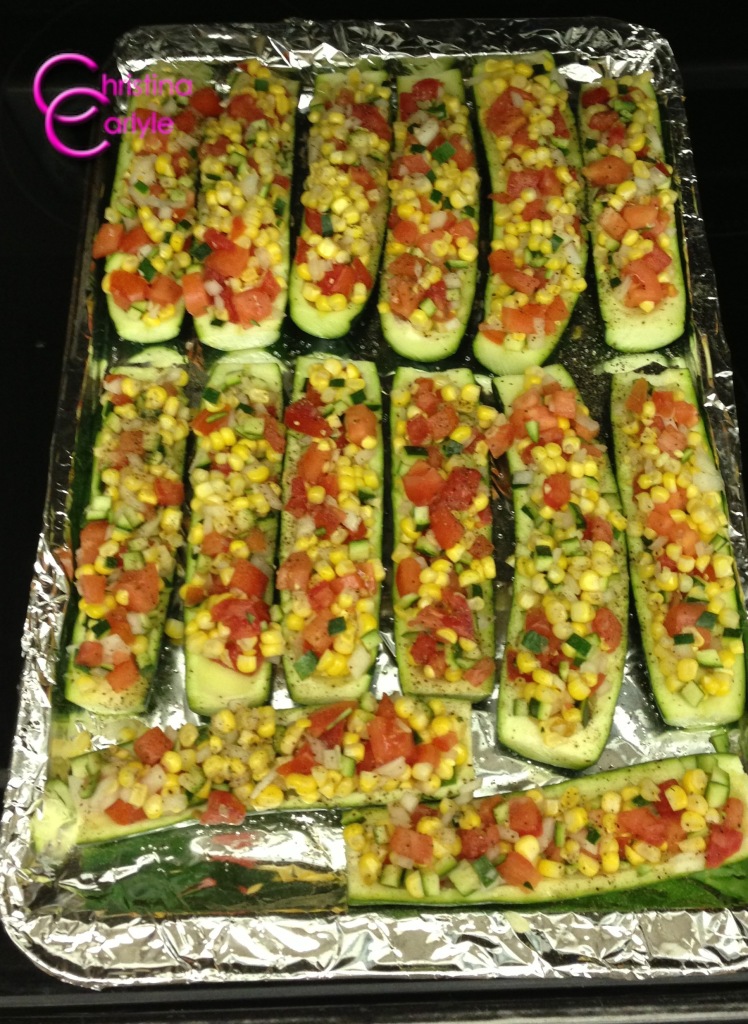 Remove from the oven; sprinkle the boats with the parm cheese and broil for 2 to 3 minutes to brown. Voila!  Your Zucchini boats are done.  Serve immediately. They make a perfect vegetarian main course or side.   Each boat has 150 calories. A lowcal lifestyle is a lot easier when you enjoy what you're eating.  Let me know how you noodles, chips and boats turn out.
If works if you work it!
xxoo

Pin this post so you'll have it forever.
P.S. If you're struggling to lose weight and feeling down more than you're feeling up… you may be experiencing metabolic dysfunction or side effects from toxic buildup.  Take my free metabolic analysis and I'll explain what your body type is, if you're having symptoms of metabolic dysfunction and how you can fix it and start feeling happier, healthier and get fit fast.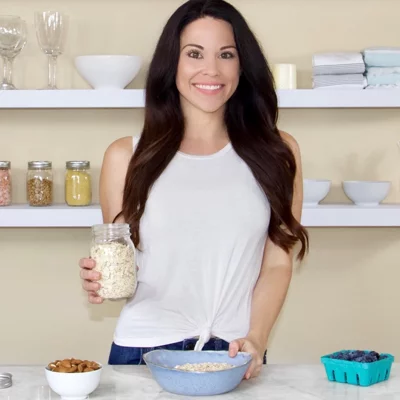 Christina is a certified Holistic Nutritionist, Personal Trainer, & Holistic Fitness & Health Coach. After healing multiple personal health issues, getting off 7 meds, & losing 40 pounds, Christina teaches others how to get Happy, Healthy, & Fit quickly with the most delicious food and least intense workouts.