Last Updated on March 18, 2020
Are you looking for inner thigh exercises?
Would you like thinner, leaner thighs?
Do you feel like your thighs get bulky… but you're trying to get them itty bitty?
If so, you are in the right place!
A lot of ladies are super self-conscious about their thighs.  A lot of women want to shrink their thighs but feel like their legs get bigger and bulky instead.
Inner Thigh Exercises
I just kicked off a series of workouts dedicated to problem areas women struggle with the most… and since I've had a lot of request for an inner thigh thinning workout that's what we're focusing on today.
The key to thin thighs is doing a lot of reps, with little to no weight.  (You can learn more about how to how to lose thigh fat in this post here.)  Another trick to training the hard-to-reach inner thigh area is to workout using different positions.
In today's episode of CCtv, I share a ladies-only inner thigh workout.  You'll be lifting and lowering your legs using different angles and directions to ensure we'll hit every single muscle in the inner thigh area.
Plus, you don't need any equipment so you can do this workout anywhere.  So press play to follow along and start killing the thunder in your thighs.
How to do this Inner Thigh Workout
 There are 6 exercises targeting your inner thighs in this workout.
Because we're not using any equipment, you'll need to do each exercise until you feel the burn… then once you feel the burn do 5 more reps to complete one set.
Once you're done with each exercise, you can repeat it – or move to the next with little to no rest between the different moves.
 You need to do each exercise one time to complete 1 'round' or set.
 You need to do 3 full sets of each exercise to complete the workout.
I recommend doing this workout 2 times a week… or do this and another thigh workout one time each…
Pin this workout so you'll have it forever.

Try my
Lazy Girl Thigh Workout
.  You can do it from bed.  : )  
This workout
 that targets the Abs and Thighs are the same time.  If you train your thighs consistently you will build lean muscle in that area.  But you can't 'spot train' to reduce fat.
If you really want to lose fat from your thighs quickly it's best to follow a meal plan and complete workout program.  If you need help I've got you covered.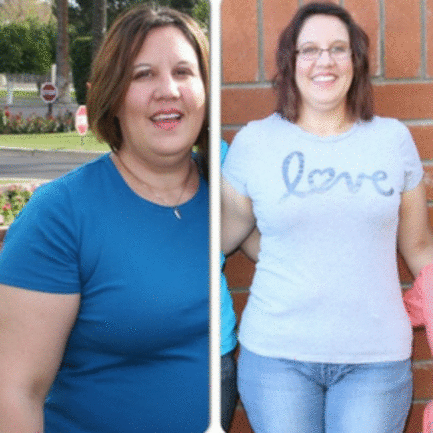 Results using my Total Transformation Program
Leave me a comment and let me know if you felt the burn.
This workout only works if you work it.
So work it.  YOU are so worth it!
Your Coach and Biggest Cheerleader
xxoo

Check out the other workouts in this series of workouts for women:
Bra Back Fat Workout for Women
Lower Ab Pooch Workout for Women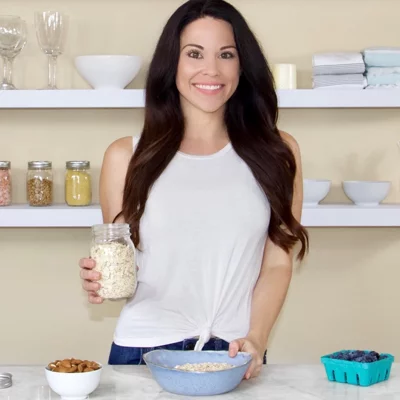 Christina is a certified Holistic Nutritionist, Personal Trainer, and Fitness & Health Coach. After healing multiple health issues, getting off 7 meds, & losing 40 pounds – and keeping it off for 10+ years, Christina teaches others how to get Happy, Healthy, & Fit quickly without any bullshit.  She'll show you how to slim down, tone up, and feel fantastic naturally with the most delicious food and least intense workouts possible.