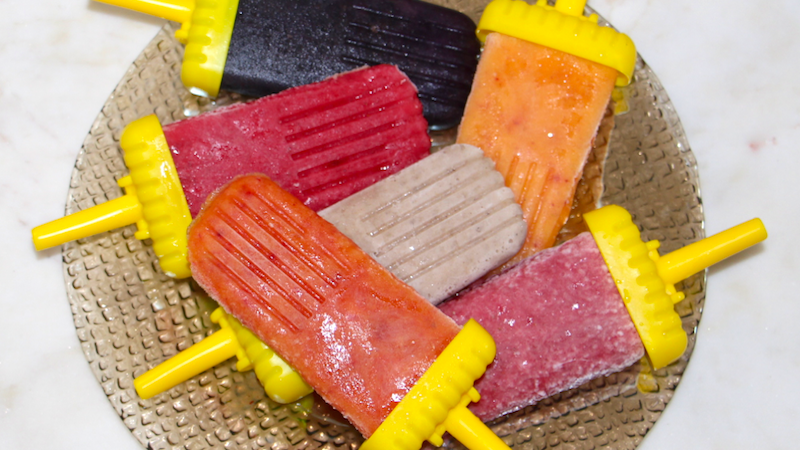 13 Jul

Healthy Popsicle Recipe

Are you looking for a healthy treat to satisfy your sweet tooth that won't pack on the pounds?  Then you're going to love this Healthy Homemade Popsicle Recipe!

I don't know about you but when it's blazing hot outside… well, I don't really care for it. When temperatures soar, I've found that enjoying something cold always helps me feel refreshed and cools me down.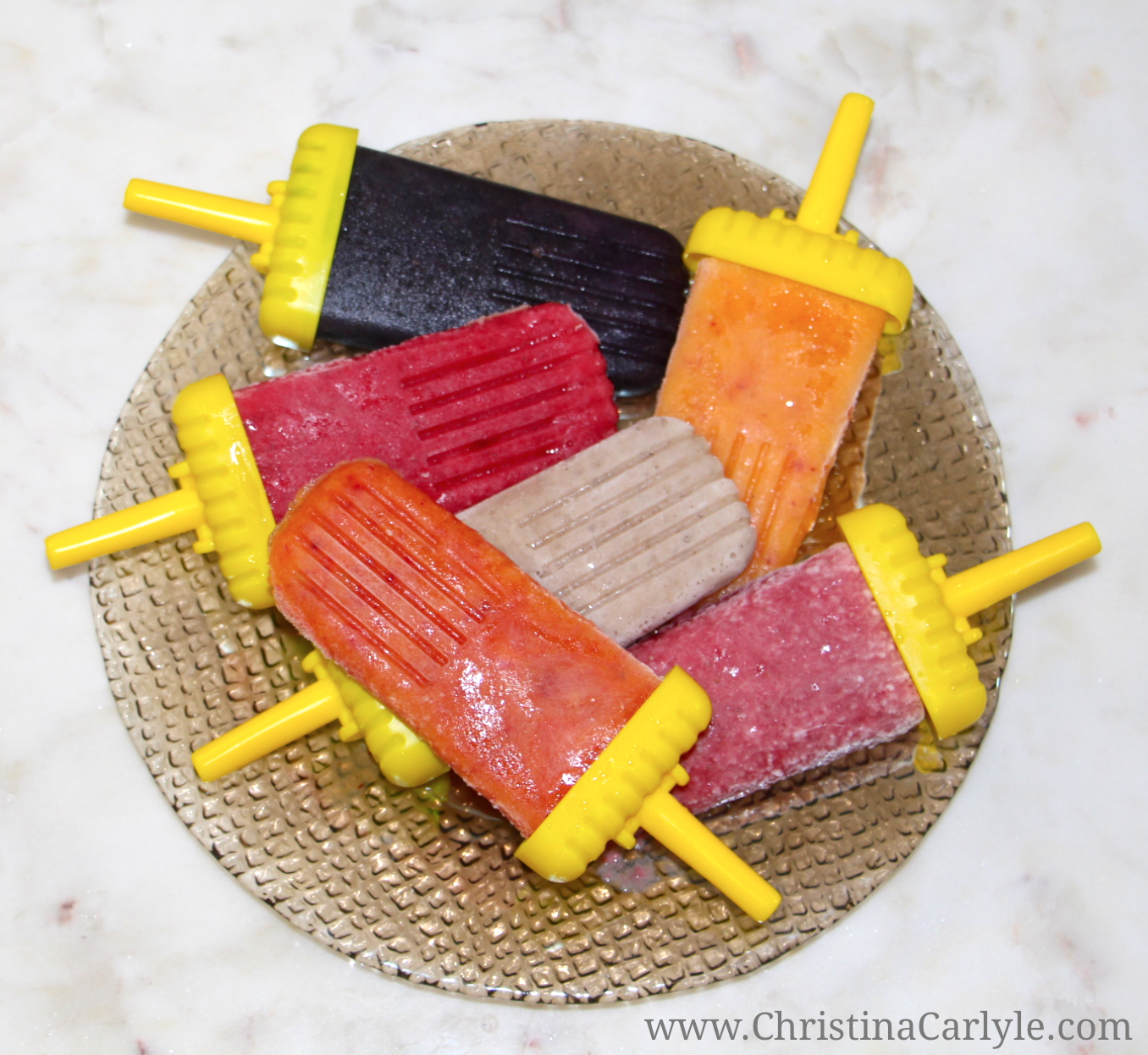 Popsicles make great snacks
People of all ages crave sweets year-round, so it's always nice to have a healthy, natural treats available instead.  Processed/artificial sugars, colors, and flavors are toxic and terrible for you.
These natural, healthy popsicles are much better for you than anything you can buy in a store.
They help satisfy your sweet tooth and are super easy to make.  You and your family can enjoy them guilt-free and avoid gaining weight.
You and your family can enjoy them guilt-free and avoid gaining weight.
Healthy Homemade Popsicle Recipe
What you'll need:
Any fruit you love
Popsicle molds
a Freezer
You can make popsicles out of any fruit really.  I'd recommend anything soft, that freezes well.  Strawberries, blueberries, peaches, bananas, pears, mango, and watermelon would all work beautifully.
What to do:
Cut your fruit into chunks and then puree it in a blender until smooth. Set aside.
How much fruit you'll need depends on size of your molds. You can get popsicle molds at Target and Walmart but I've seen them at TJ Maxx and Homegoods, too.  If you don't have molds you can use cups and popsicle sticks.  Or you can leave then in cups and enjoy them Italian Ice style.
Fill each mold cavity with the blended fruit.
Place into your freezer and let sit for about 2 hours. Boom, you're done.  : )
You may have to run hot water on the outside of your molds to release the popsicle from the mold.  I always have to.
Here's what mine looked like before freezing.
The purple pop is blueberry (going clockwise), next is strawberry, strawberry-banana, banana, peach, and peach-pear.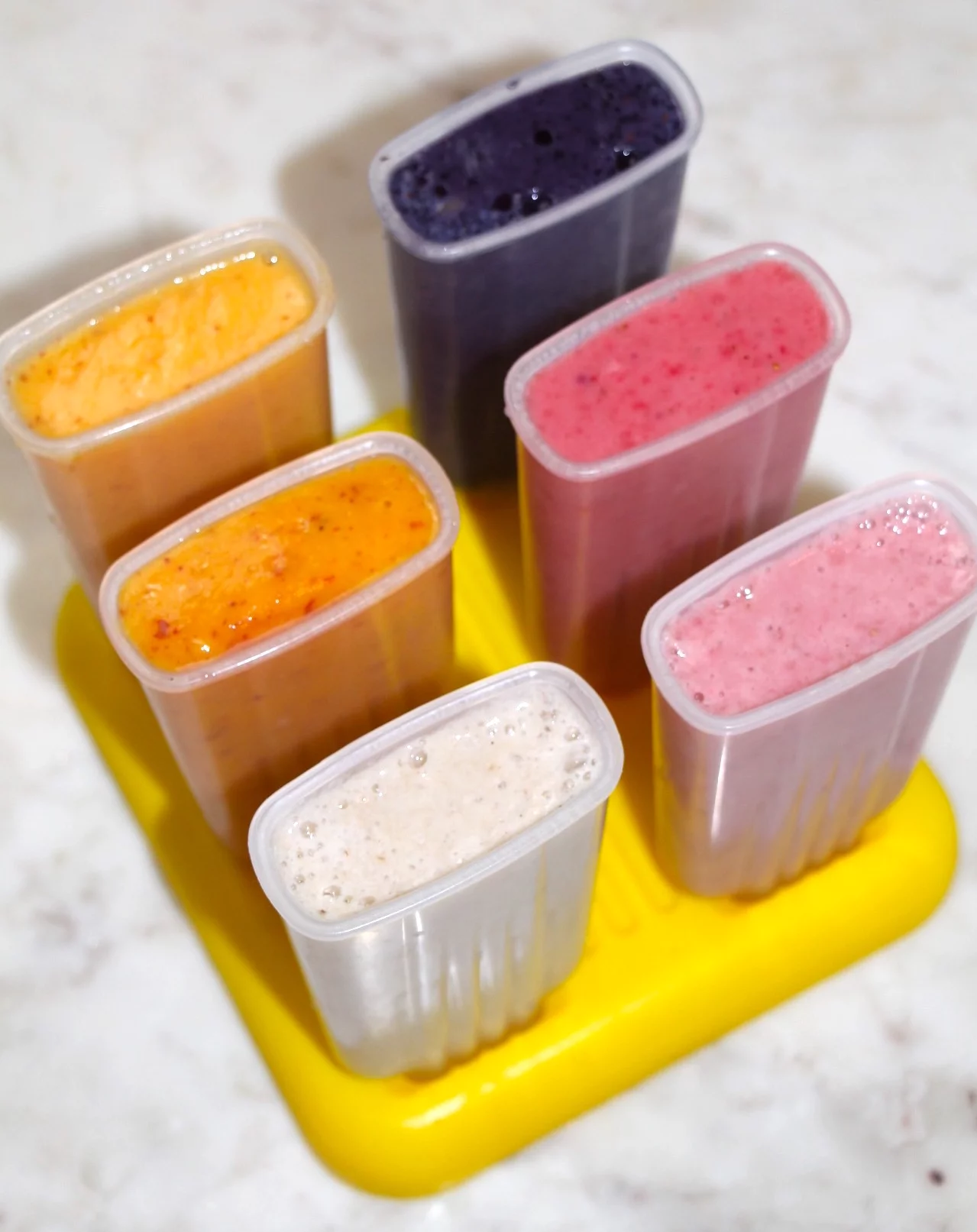 The directions for making popsicles is the same. So you can create any flavor of fruit popsicle you like best. Feel free to experiment, mixing and matching new flavors combinations.
Some veggies make yummy popsicles, too.  Think pumpkin and butternut squash.  I always make pumpkin pie popsicles during the fall or any time I want to be reminded of sweater weather season.  : ) You can check that delicious (and addictive) recipe out here.
If you're looking for something more satisfying, try adding your favorite protein powder to the mix. Protein Popsicles make awesome pre- and post-workout snacks.  If you're looking for another healthy dessert idea, try my Banana Nice Cream Recipe.  It's dairy-free and gluten-free goodness.
Let me know how yours turn out!
Enjoy!
xxoo


Pin this post so you'll have it forever.
P.S. If you're struggling to lose weight and feeling down more than you're feeling up… you may be experiencing metabolic dysfunction or side effects from toxic buildup.  Take my free metabolic analysis and I'll explain what your body type is, if you're having symptoms of metabolic dysfunction and how you can fix it and start feeling happier, healthier and get fit fast.
Save
Save
SaveSave
SaveSave
SaveSave
SaveSave
SaveSave
SaveSave
SaveSave
SaveSave