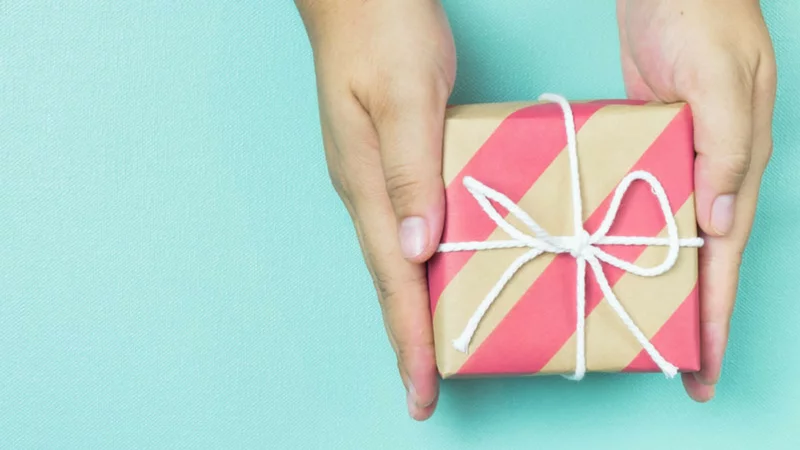 14 Dec

The best Supplements and health Products for weight loss and wellness

I get asked about supplements and health products all the time.

Every day someone asks me:

"What are the best supplements?"

"Is there something can I use to feel better?" or

"What can I take to get healthy?"

When I started my weight loss and wellness career, I shied away from recommending products.  My mission at that time was to help people lose weight and get healthy with whole foods and fun workout routines.

I was in my 20's, motivated, and ready to take on the world.  But then life happened.

I got in a car accident that permanently injured my spine and sent me into a pit of depression.  That's when I started researching products that could help me feel better, get healthier physically and mentally, and get motivated.

From personal experience, I can honestly say that it's really hard to get motivated to lose weight when you're depressed, in pain, and unhealthy.

When you're healthy, happy, and pain-free it's a lot easier to get motivated and lose fat.  

You deserve to feel your very best!  Life is hard enough!!  (Don't you think?)

That's why I put together this list of the best supplements and health products that can help you feel better and get better results.  They can make it easier for you to lose weight, too.

They are incredible, affordable, and WORK.
How I Roll with Regards to products I recommend
I have personally used every single product I'm about to recommend to you.  I only ever pimp products that I know work, before I recommend them to my off-line clients.
I only share products online after my off-line clients experience success with these products, too.  That way I can honestly say they work, if you use them.
The products below contain affiliate links.  I will make a small commission if you buy these products through these links.
I donate all of my affiliate commissions to the Make a Wish Foundation.  That way, if you buy a product that helps you, you will be helping someone else, too.  : )
The best Supplements and Health Products for weight loss and wellness
A PERSONAL MASSAGER THAT HELPS REDUCE CELLULITE
Fat Blaster and Myofascial Release Tool
This is amazing!  You roll it over your muscles to help release toxins and break up the myofascial which can help reduce the appearance of cellulite, recover faster after exercise, and break up stubborn knots in your muscles.  Plus, it feels great!  You can use it on yourself or someone else.  I use it on my legs and butt after workouts.  My boyfriend and I take turns using it on each other's backs.  It helps loosen tight muscles and feels good.  You can roll it over your clothes or on-skin with some essential oils or coconut oil.
A MIND BLOWING DNA AND GENE TEST
Insitome DNA Test Kit: Neanderthal Genetic Traits Profile (Ancestry) powered by Helix
This DNA test tests your genes and will give you insight about on your torso shape, learning abilities, fat storage, immunity, and muscle growth and development.  It gives you a lot of insight as to how your genes affect your body, health, and personality.  You can use the info to tailor your lifestyle to suit your genes.  It's less expensive than others genetic tests and gives more insight about your results, too.  It's interesting to learn how your ancestry affects your body and personality.  It's eye-opening and fun.
THE BEST PROTEIN POWDER MONEY CAN BUY
Paradise Herbs Orac Energy Protein Powder, Greens, 454 Gram
Paradise Green Protein powder is the BEST and my favorite protein powder of all time.  It's organic, tastes great, and has a 40,000 ORAC score per serving.  An ORAC score measures the antioxidants in a serving of food.  For perspective, blueberries have an ORAC value of 4,669.   Just one serving contains 22 grams of protein and antioxidant power of over 24 servings of fruits and vegetables – without the calories!  It contains 42 certified organic ingredients that are 100% natural non-GMO and kosher.  I'm obsessed with this and drink it every single day.
DISCOVER HOW TO CURE YOUR MOOD ISSUES ONCE AND FOR ALL
Warning:  This book is life changing!
The Mood Cure: The 4-Step Program to Take Charge of Your Emotions
If you, or someone you know, struggles with depression, anxiety, or always feel low energy, or unmotivated,
The Mood Cure, by Julie Ross
, will change your life.  You'll learn what's preventing you from feeling your best, your mood type, and which (inexpensive!) amino acids you can use to boost your mood, naturally, without medication!  I have a traumatic brain injury from a
childhood accident.
 This book helped me get off of antidepressants and actually feel better since my accident.  If you feel sad and stressed more than you want to, this book will help you!
POWERFUL PEPTIDES FOR BEAUTY AND BONES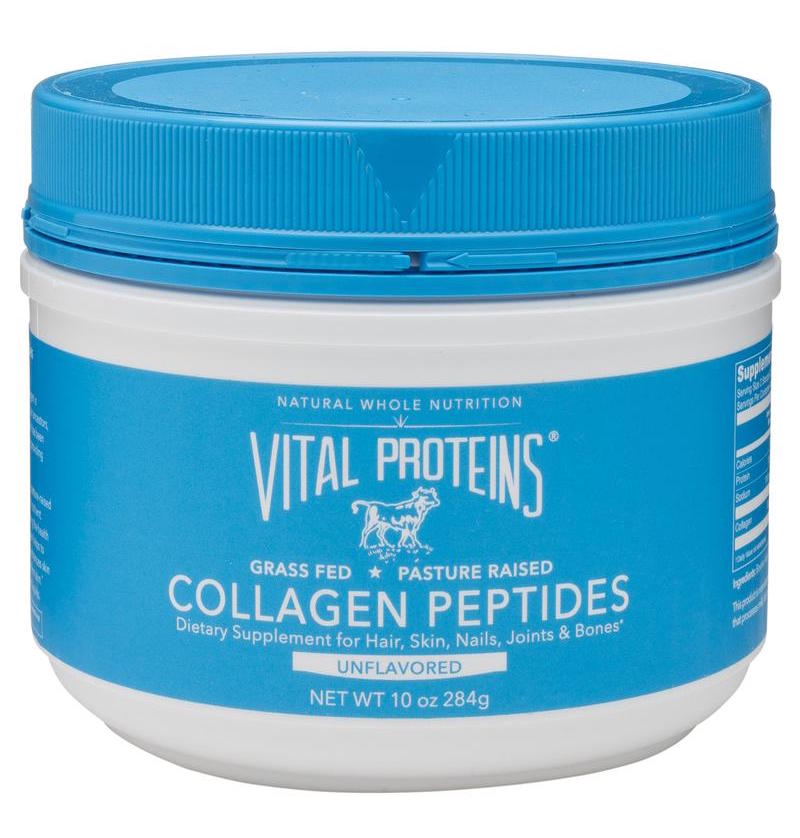 Vital Proteins Collagen Peptides
I cannot say enough good things about these collagen peptides!  You lose collagen at an accelerated rate after you hit 25.  Collagen loss is the reason why you age and contributes to joint pain. Vital Proteins Collagen Peptides help replenish the collagen you're losing.  When taken daily you can expect to see more youthful looking skin, stronger, faster-growing nails and hair, and a reduction in joint pain.
This is a screenshot from an email I got after recommending this collagen to my subscribers.  This collagen is the BEST!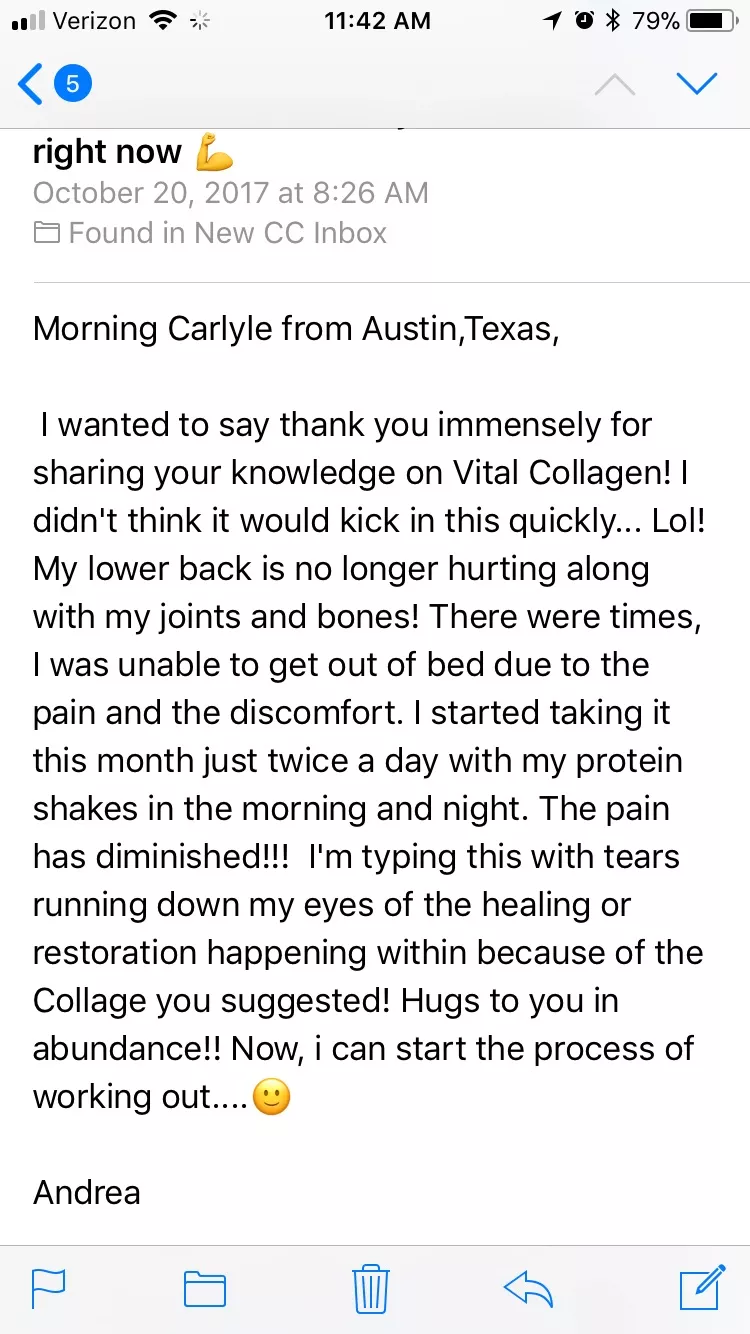 THE BEST BIO-AVAILABLE SUPPLEMENTS YOU CAN TAKE
I could talk about the importance of high quality, bio-available supplements for hours.  Nutrient deficiciencies affect your health, metabolism, and your mood.  Did you know that nutrient deficiencies can cause depression and slow down your metabolism?
That's why I put together this Free Supplement Training Webinar for you.  I explain why supplements are important and recommend the best supplements money can buy.  I also share how supplements helped me.  You can learn more about this Free Training by clicking here.
Did this post turn you on to something new?  What product are you going to try?  Leave me a comment to let me know.  If you have recommendations for other products that have helped you, share them in the comments to help inspire others.
You deserve to be happy and healthy!
With love
Your Coach and Biggest Cheerleader
xo

P.S. These products will work a lot faster when you're following a healthy metabolism maximizing meal plan.  One of the fastest ways to transform your health and lose weight is to nourish your body with essential nutrients.  If you need help cleaning up your diet and losing fat quickly, my programs will help you.
SaveSave
SaveSave
SaveSave
SaveSave
SaveSave
SaveSave
SaveSave
SaveSave
SaveSave
SaveSave
SaveSaveSaveSave
SaveSave
SaveSave
SaveSave