Last Updated on August 25, 2022
This week's Thursday 3 has a quick core flattening workout, savory protein-packed snack, and my secret for soft, glowing skin.
​
1) Finishing
My cardio workouts off with this quick 10 minute ab workout. I love to pair cardio with core. I do cardio more for health, to boost my mood & endurance. But cardio doesn't boost metabolism like strength training does.
So throwing on core moves after cardio helps boost metabolism & flattens my abs – which is always nice. Plus, a strong core prevents back pain and that's important to me, too.
Try this 10 minute core workout after your cardio sessions – I know you're going to be hooked after you experience the magic.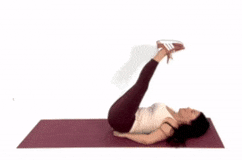 2) Baking
These jalapeño poppers. I've been having cravings for them lately… and they're a perfect lil protein packed snack. They're healthier than the traditional kind but don't taste like rabbit food.
Good food is always so important to me… things that taste good but are good for health and fitness. And deep fried cream cheese is far from it. My version isn't fried. And doesn't have cream cheese.
Having tasty treats make it easier to maintain a healthy lifestyle, weight & sanity. Try these if you feel like indulging in a savory snack or side dish.
​
3) Re-ordering
This jojoba oil. I love this oil SO MUCH. A lot of lotions have chemicals or feel sticky or heavy to me. They also dry me out & irritate my skin. My skin is crazy sensitive and anything with perfume or chemicals doesn't work for me.
I switched to this oil a few years ago and haven't looked back. I put it all over my body, my face, and my hair (mainly the scalp & ends). You'd think slathering oil all over yourself would make you greasy or breakout – but it doesn't.
It's moisturizing
It's antibacterial
It's noncomedogenic & helps control oil production
It's hypoallergenic
It's anti-inflammatory
It promotes collagen synthesis
It reduces fine lines
It helps skin, scars & acne heal
​
It's cheaper and healthier than lotion and works so much better. I love it – especially after I shave my legs.
This isn't sponsored… I've been getting a lot of compliments on how soft my skin is lately and this is the only thing I use on my body so I figured I'd share. If you have sensitive or dry skin you're going to love this stuff.​
Have a great weekend. xo
Your Coach & Biggest Cheerleader,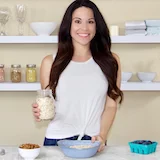 Christina is a certified Holistic Nutritionist, Personal Trainer, and Fitness & Health Coach. After healing multiple health issues, getting off 7 meds, & losing 40 pounds – and keeping it off for 10+ years, Christina teaches others how to get Happy, Healthy, & Fit quickly without any bullshit.  She'll show you how to slim down, tone up, and feel fantastic naturally with the most delicious food and least intense workouts possible.