Last Updated on May 12, 2022
WOO! It's time for this week's Thursday 3.

1) Slimming
My thighs with the best exercises for slim, toned thighs (that don't add bulk). They're bodyweight only and great to do at home or the gym. You're going to love these moves because they work but don't take a ton of energy or time to get results.
2) Eating
​These recipes today to celebrate Cinco de Mayo. The pickled onions are my new favorite thing. I've been putting them on everything lately. I made a big batch of the ceviche already and can't wait for the healthy jalapeño poppers to come out of the oven. They're so so good… even better than the fried version. I have more healthy Cinco de Mayo recipes & ideas for you here.
​
​
3) Shopping
For Mother's Day (& myself…)
Anyone that knows me knows I'm a frugal fashionista. Always have been. Always will be. Spring is also my fave time to shop. I'm so excited about some new things I just got on Amazon. They're super cute, comfy, & affordable and as a girl's girl when you find something so great – that's a steal – you gotta share.
Also, Mother's Day is right around the corner and these ideas make great gifts, too.
​
​This dress. I love dresses because I don't have to worry about a top & a bottom. One-piece and you're done. I love this maxi dress because it's breezy, cute, comfy, and perfect for summer. This is a dupe for a $130 Free People dress…. that's $100 less. I'm obsessed with it!!
I get SO MANY compliments in this dress. I have it in 3 colors (black & wine) and just picked up the blue color to wear for new brand photos. It hides the tummy and works for all body types – Check out the review pics – there are tons. There are 28 colors to choose from and they're all stunning. Heads up, the darker colors work best IMO because the lighter colors tend to be a little see through. I had to return the white one… so keep that in mind.
​
​These summery sandals. They're virtually identical to the $400 Loeffler Randall sandals… but this pair is significantly cheaper… and they're the same. They're so cute and perfect for Spring. They come in different colors & heel heights. They have a block heel and are easy to walk in. I got a pair for myself (in ivory) and the pink pair for my bestie for Mother's Day.
​
​This dutch oven cookware. It's a dupe for Le Creuset but will save you $200+. This color is stunning and ceramic cook is healthier than teflon. I got this (4.5 qt & 7 qt) set for my mom for Mother's Day because it's her favorite color and she's been lusting over the Le Creuset sets for years now. Be sure to read the instructions before using.
​
​This food chopper is my favorite thing in my kitchen. I can't stand dicing and chopping veggies. This makes food prep so much easier. Everything comes out the same size, too. It saves me so much time prepping produce and I no longer cry cutting onions. lol I got this for my Mom 3 years ago and she still raves about it. This is my go-to gift idea for my family & friends that cook. And it's on sale. Woo!
​
I hope you (and your Mom) have a Happy Mother's. Mwah!​
​​
Your Coach & Biggest Cheerleader,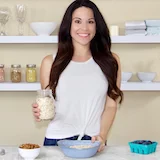 Christina is a certified Holistic Nutritionist, Personal Trainer, and Fitness & Health Coach. After healing multiple health issues, getting off 7 meds, & losing 40 pounds – and keeping it off for 10+ years, Christina teaches others how to get Happy, Healthy, & Fit quickly without any bullshit.  She'll show you how to slim down, tone up, and feel fantastic naturally with the most delicious food and least intense workouts possible.