Last Updated on May 9, 2022
I hope you're having a great week. Let's jump in to this week's Thursday 3. (I'm very excited about this one!)
​
1) Planning
My Easter brunch & dinner menu. Usually, I cook one meal and my Mom does the other BUT my Mom fell off a ladder and fractured her pelvis in a few places last week so now I'll be cooking all of it.
Everything I'll be making is healthy, tasty, and full of pretty colors perfect for Easter.
If you need inspo for Easter check out my Brunch & Dinner ideas that taste great, make it easy to maintain/lose weight.
This is what I'll be making, recommend, and love because everything is so easy to make & is packed with nutrients but doesn't taste diety.
​
2) Remineralizing
My Mom's pelvis… so you've probably heard that risk of broken bones increases with age, right? That's mainly because of nutrient deficiencies… Specifically mineral deficiencies in the diet and malabsorption issues.
I experienced both last year when my gallbladder was failing. I wasn't absorbing anything properly and I was so nauseous 24/7 & got sick a lot.
All of that acid did a number on my teeth and I got two cavities. I'd NEVER had a cavity before and I freaked out. I'm kinda obsessed with my teeth… I didn't wear braces & be bullied relentlessly for nothin! I also didn't want fillings or to pay hundreds / tooth getting them filled either.
So I learned how to remineralize my teeth. 6 months later at my next checkup, I had NO cavities. The two I had remineralized and disappeared.
It's super easy, affordable, and smart(!!!) to make sure you're getting optimal levels of minerals daily to stay healthy physically and mentally! So many cravings, mood, & energy issues stem from minerals deficiencies.
Here's how I did it:
I started taking these mineral supplements…. this is what I immediately put my Mom on, too. This brand is the BEST.
I took 3 pills in the morning & 3 again at night. It's VERY important to get minerals in the body at regular intervals so this dosing schedule is mandatory. I started my mom taking 3 2x's/day but bumped her up to 6 2x's/day.
To fix my teeth I used this toothpaste and this remineralization liquid.
First, I'd floss then brush with my normal toothpaste (I use & love this). Yes, I floss FIRST, then brush.
Then I'd brush with my mineral toothpaste.
Then I'd swish and spit the mineral liquid for a minute.
​
Together the supplements and teeth products work from the inside out.
I've tried other mineral pastes but they were 3x more expensive & tasted like mud and ain't nobody got time for that. The brand linked above is the best I've used.
FYI this isn't a sponsored situation. I supp & brush with these every day and highly recommend them because I know they work. (And shocked my dentist lol)
If you have any of my Metabolic Meals Plans, TT program, or Reset Cleanse you already know my super easy trick to boost mineral content at every meal. Use it!
​
3) Standing
To do these ab exercises. I haven't been able to get to the gym as much as I'd like to because I'm staying close to my Mom. So I've been walking around the neighborhood daily and do these standing ab exercises when I get back.
I like them so so so much better than crunches on the floor. Standing ab exercises target more muscles and work better and faster than traditional crunches, too. If you want flat abs this summer add these exercises to your weekly routine.
That's all for now.
Stay tuned for my fresh new Thursday 3 that I'll drop via email this coming Thursday.  <em>I only ever publish Thursday 3's to my archives a week after I send them out exclusively via email.</em>
Be the first to see my next Thursday 3.
Sign up (on the form below) to get on my VIP Thursday 3 List. You'll also get a free welcome gift when you do.
I hope you have a Happy Easter. Be well.
Much love,
​
Your Coach & Biggest Cheerleader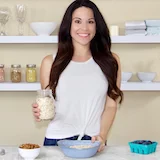 Christina is a certified Holistic Nutritionist, Personal Trainer, and Fitness & Health Coach. After healing multiple health issues, getting off 7 meds, & losing 40 pounds – and keeping it off for 10+ years, Christina teaches others how to get Happy, Healthy, & Fit quickly without any bullshit.  She'll show you how to slim down, tone up, and feel fantastic naturally with the most delicious food and least intense workouts possible.