Last Updated on April 22, 2022
Woohoo! It's Thursday Friday and you know what that means – it's time for the (belated) Thursday 3.
1) Recovering
From a nasty stomach bug I caught while traveling last week…. hence why this Thursday 3 email is a bit delayed. I don't think I've ever been so fatigued, nauseous, dehydrated, and out of control of my body in my entire life.
This bug's been going around – I've had several clients in different states dealing with it too – so heads up – Be extra diligent about hand washing especially if you'll be in and out of the gym or around crowds.
Fun fact I learned from this experience – if your urine ever smells like ammonia you are dangerously dehydrated!
Gatorade is trash! Adding a teeny tiny pinch of quality salt to your water helps you get natural electrolytes and rehydrate faster. Being hydrated also helps reduce the appearance of cellulite, too.
2) Being Lazy
Since I'm in recovery mode (and still fatigued) I've been doing this Lazy Girl Workout. It's wonderful because it targets the entire body and can be done in bed. It's a nice lil routine to do if you're feeling lazy, too. I've been using bottles of water instead of weights since I'm still out of town.
3) Giving
Myself time to recover and grace for being human. I never used to do this. Recovered perfectionist here. Once upon a time I was defined by nailing everything on my to-do list and doing everything 'right.' There was never any room for error either.
I would've beat myself up for sending out an email late or for not using weights (instead of water bottles) and for eating bread… even though it's the only thing I've been able to keep down.
Being your own worse enemy is no way to live. If you struggle with perfectionism or beating yourself up or feeling less than because you didn't do things 'right' – I hope my transparency motivates you to be kinder to yourself.
Taking a deep breath and remembering that perfection is impossible is enough to take the pressure off and find peace. Action is important but progress is significantly more important than perfection. And speaking from experience – it's a lot easier to get where you want to be when you're not kicking your own ass.
That's all for now.
Stay tuned for my fresh new Thursday 3 that I'll drop via email this coming Thursday.  I only ever publish Thursday 3's to my archives a week after I send them out exclusively via email.
Be the first to see my next Thursday 3.
Sign up (on the form below) to get on my VIP Thursday 3 List. You'll also get a free welcome gift when you do.
Much love,
​
Your Coach & Biggest Cheerleader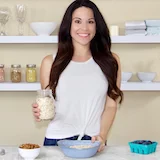 Christina is a certified Holistic Nutritionist, Personal Trainer, and Fitness & Health Coach. After healing multiple health issues, getting off 7 meds, & losing 40 pounds – and keeping it off for 10+ years, Christina teaches others how to get Happy, Healthy, & Fit quickly without any bullshit.  She'll show you how to slim down, tone up, and feel fantastic naturally with the most delicious food and least intense workouts possible.