Last Updated on May 9, 2022
It's Thursday & time for the Thursday 3.
​
1) Sculpting
My hips with this killer hip dip workout.
Last week I shared an oblique workout to help slim the waistline. Building lean muscle in your hips is a great way to sculpt curves and make your waist appear slimmer.
Do you want to know how to get rid of hip dips?
Are you looking for hip dip exercises that really work?
Do you feel like your hip dips make your butt look square instead of round and bubbly?
If so, this hip dip workout is for you.
​
2) Excited
About these Recipes. 🌮 🌮 🌮 I just got done publishing this brand new post loaded with healthy options for Cinco de Mayo. Even if you don't celebrate Cinco de Mayo these recipes are perfect for Taco Tuesday, too.
In my meal plans I encourage people to use preparation styles from different countries because everyone makes the same proteins & veggies with their own unique and tasty ways.
Alternating between different country's cooking styles is an easy way to make eating healthy more appealing and easier to transition from unhealthy to healthy foods.
This is one – of the many tips – I use to transition people off restrictive diets and into healthy habits so they can lose weight and keep it off for life.
Try these healthy recipes with Mexican flare and you'll agree.
​
3) Buying
Organic options of the Dirty Dozen. Why? Because you don't have to buy organic options of all produce… just the things known to be dirty. And by 'dirty' I mean foods that are blasted with pesticides or exposed to other toxic chemicals. The list of dirty foods changes every year.
I break down the updated dirty dozen, clean 15, & top things to always buy organic here. This training will show you how to eat cleaner and save money on your grocery bill. Screenshot the list on the blog and use it to shop smart & save money.
​
I hope you have a wonderful Friday & weekend.
xxoo​
​​
Your Coach & Biggest Cheerleader,


Missed last week's email?
See the Thursday 3 archives here.
Sign up to get on my VIP List so you're the first to know see the next Thursday 3.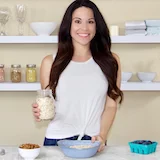 Christina is a certified Holistic Nutritionist, Personal Trainer, and Fitness & Health Coach. After healing multiple health issues, getting off 7 meds, & losing 40 pounds – and keeping it off for 10+ years, Christina teaches others how to get Happy, Healthy, & Fit quickly without any bullshit.  She'll show you how to slim down, tone up, and feel fantastic naturally with the most delicious food and least intense workouts possible.