Last Updated on May 9, 2022
It's Thursday and you know what that means. It's Thursday 3 Day. Let's get it.
​
1) Training
My waist with this killer oblique workout. I always train my abs more in the spring to snatch my core to get Summer-ready… also to bounce back after holiday indulgences. They also help prevent back pain.
Try this routine to snatch in your waist like you're wearing a waist trainer. Even if you sprinkle in some of these oblique exercises into your routine, you'll be a believer. They work so well!
​
2) Hanging
Upside down like a happy bat on my inversion table. I've been OBSESSED with inversion tables ever since using one for the first time at my Uncle's house 20 years ago. He's a dentist and said he used his inversion table to fix his posture and reduce back pain he gets from hunching over patients all day.
Curious I tried it and was instantly hooked. The second I inverted I felt the most incredible release of tension in my spine and joints. I also felt better after getting off of it.
Inverting upside down is SO beneficial because it helps get your body back in alignment, circulates lymph (IMPORTANT), takes pressure off all of your joints, reduces pain, and boosts brain power.
Seriously.
Inverting increases blood flow to the brain, giving it more oxygen & nutrients and makes the brain function faster. It's been proven to help concentration, memory, observation and clear thinking. Inverting makes the brain work better and can also make hair grow faster, too. That's because hanging upside down increases blood flow & moves nutrients to the scalp, stimulating hair growth.
Circulating lymph also helps toxins move to detox sites throughout the body. When lymph doesn't circulate, toxins can become trapped in lymph nodes and results in a lowered immune system, fluid retention, cellulite, and fatty deposits. (Your risk of cancer skyrockets, too).
If you do or don't exercise regularly (Exercise gets the body out of alignment. Not exercising automatically means you have stagnant lymph), if you have back or knee pain, if you hurt after sleeping or sitting in a certain position, you should invert.
Lack of sleep, dehydration, stress, emotional trauma, infections, and lack of movement can stagnate and stop lymph flow. If you experience these regularly, you need to invert.
Inverting prevents issues and stimulates lymph flow more than other techniques like dry brushing – in less time.
I've been inverting since my car accident and even more so since tearing my meniscus in 2020 to get my knees back in alignment. It helped me avoid surgery and saves me a TON of money on chiropractor appointments. This is the table I use & have been recommending for years.
Invert for 5-10 seconds. Then come back up. Repeat for 5 minutes. It's that easy. You can work your way up to longer hold & session times if you want.
​
3) Debating
Over whether or not I should be sharing past Thursday 3 newsletter content on my blog. I've been wanting to add a 'personal' category to my blog for a while now… and it feels borderline wasteful to have emails packed with gems to vanish after being shared – never be seen or accessible again.
Imagine missing an email that had the answer you were looking for?
I've had a few people ask me to resend old newsletters already,
So I'm curious…
Do you want the option to see past Thursday 3 archives on my blog?
I'd continue to share a fresh, new newsletter every week like I currently am… then I'd share it on my blog a week later.
So every time a new Thursday 3 comes out you'll still be the first to know… but now the past week's content would become a post that's added to the archive. I'd link to the archives in the email, too.
What do you think???
=====
Update – An overwhelming number of people voted to archive them so you can see all of my past Thursday 3 newsletters archived here.
You can also sign up below to make sure you're first to get my brand new Thursday 3 newsletter before anyone else.  (I publish them a week after sending them out to my VIP list.
Sign up now so you never miss a thing.
xo
Your Coach and Biggest Cheerleader,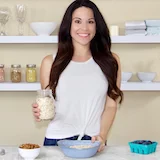 Christina is a certified Holistic Nutritionist, Personal Trainer, and Fitness & Health Coach. After healing multiple health issues, getting off 7 meds, & losing 40 pounds – and keeping it off for 10+ years, Christina teaches others how to get Happy, Healthy, & Fit quickly without any bullshit.  She'll show you how to slim down, tone up, and feel fantastic naturally with the most delicious food and least intense workouts possible.