WOO!  I am so excited!
This is my first YouTube video in almost 2 years.
I have so much to share with you!
See me explain what I've been up to, what inspired my new site, and how to get your free goodies – They help boost the metabolism, energy, health, and mood.
Get Hooked Up
Step 1) Become a VIP – Get your free VIP only gifts by clicking here!  VIP's are the first to know of new exclusive trainings, workshops, and promotions, before anyone else. I have so much fun stuff planned for you!  Become a VIP now, so you don't miss anything!
Step 2) Download your free Healthy Holiday + Travel Survival Guide – Grab your copy now, while you still can.  This 25-page guide is loaded with my best tips for thriving during the holidays and travel season!
Step 3) Connect and Request Content You want Most – Connect with me and fill out my content request survey.  I share my story and content request survey here.  Once I get your survey, I'll start sending you content tailored to your goals and preferences.
Step 4) Use Promo Code Love30 to save 30% on all Programs – All of my old programs were trashed and redone from scratch.  The Reset Cleanse and Total Transformation Program are brand new and include coaching videos, tips, and training so you can get better results.  Shop programs, before the promo code expires.
NOTE:  This promo code is case sensitive (the capital 'L' matters here!)  Please clear your cache and cookies, first, before using the promo code. This helps makes sure your browser is up-to-date so you can avoid getting error messages.  If you need help with the code let me know and I'll get back to you asap.
I'm SO excited to share my latest creations with you!
This is just the beginning!
Make sure you become a VIP so you don't miss anything.

Hugs and Love
Your Coach and Biggest Cheerleader
xxxooo

You can also find all the freebies (and more, mentioned above) linked here, too! This is just the beginning!  I'll be adding more throughout the year.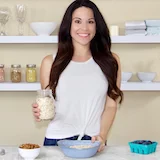 Christina is a certified Holistic Nutritionist, Personal Trainer, & Holistic Fitness & Health Coach. After healing multiple personal health issues, getting off 7 meds, & losing 40 pounds, Christina teaches others how to get Happy, Healthy, & Fit quickly with the most delicious food and least intense workouts.