GETTING FIT & Staying Motivated CAN BE HARD
Mind Right, Body Tight® uses quick, easy-ish workout routines + fitness mindset coaching so you can slim down, tone up, master mindset, and fall in love with working out. 
Get your "mind right" with motivating fitness masterclasses & your "body tight" with targeted weight training routines that'll make you look & feel like a million bucks. 

   To see definition pop in your arms, abs, back, and legs?

   To see the number on the scale drop and stubborn fat melt away?

   To feel more energized, confident, and motivated?

  To hear 'You Look Great! ' & Go Shopping for cute new clothes in smaller sizes?

  Are you ready to impress the hell out of your family, friends, and yourself?
Think you can handle results like that?

Good!  Because that's exactly what happens with Mind Right, Body Tight®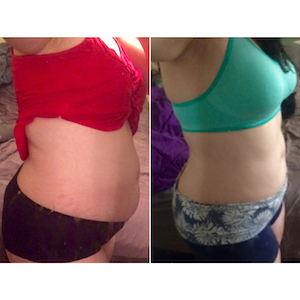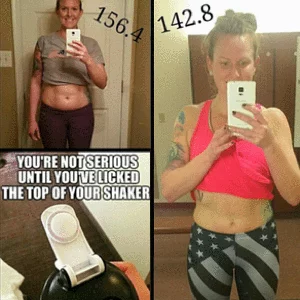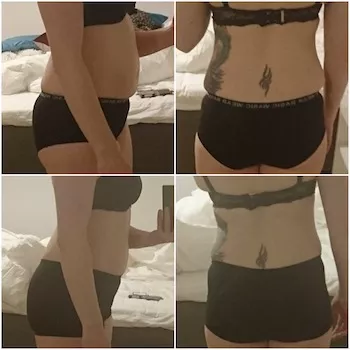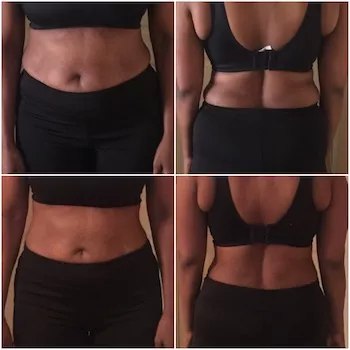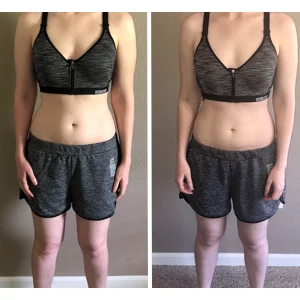 WHAT MAKES THIS PROGRAM DIFFERENT?
MIND RIGHT, BODY TIGHT® WORKOUTS WORK PHYSICALLY & MENTALLY
You get 16 new expertly made workouts every 4 weeks.

  4 weight training workouts / week, for 4 weeks = 1 phase. 

You'll constantly be doing fun, new routines that challenge your body so you can avoid plateaus & get better results.
All of the workouts target different trouble areas to tone, lift, slim, and sculpt curves in all the right places.
All of the workouts are different. 

 You'll never do the same routine twice s

o you'll never get bored and will constantly train your body in a different way.
The workouts burn fat during the workout and after you're done, too.  The workouts boost metabolism so you'll burn calories as you're doing the routines & you'll continue to burn fat after you're done, too.
You'll get a new motivational quote to set the tone for the week.  The motivational quotes set the intention for the week and get your mind 'right' and as the workouts get your body 'tight'.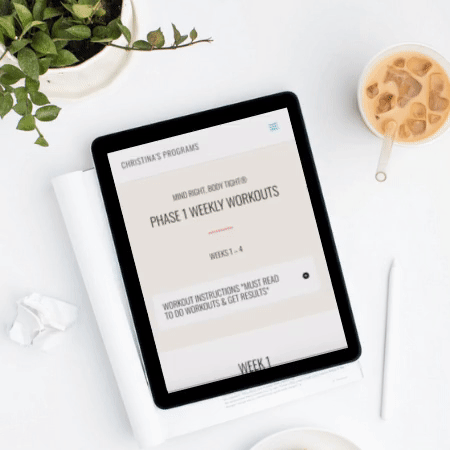 WHY THE MRBT WORKOUTS WORK SO WELL

   The workouts are quick & do-able. You don't feel like you're killing yourself during the MRBT workouts…  This program makes it easy to get motivated and enjoy exercise.

   The workouts trigger the release of feel-good hormones (AKA My Secret Sauce)  The exercise combinations and rep/set rules boost happy hormones and make you feel good.  HINT: Happy Hormones make it easier to get motivated & form habits.

   Do them at home or the gym.  The workouts use basic equipment & body weight for a great workout anywhere.

   It's affordable!  I made this program so everyone can afford a professional workouts & get results quickly, easily, and conveniently.  
RESULTS ARE GUARANTEED OR YOUR MONEY BACK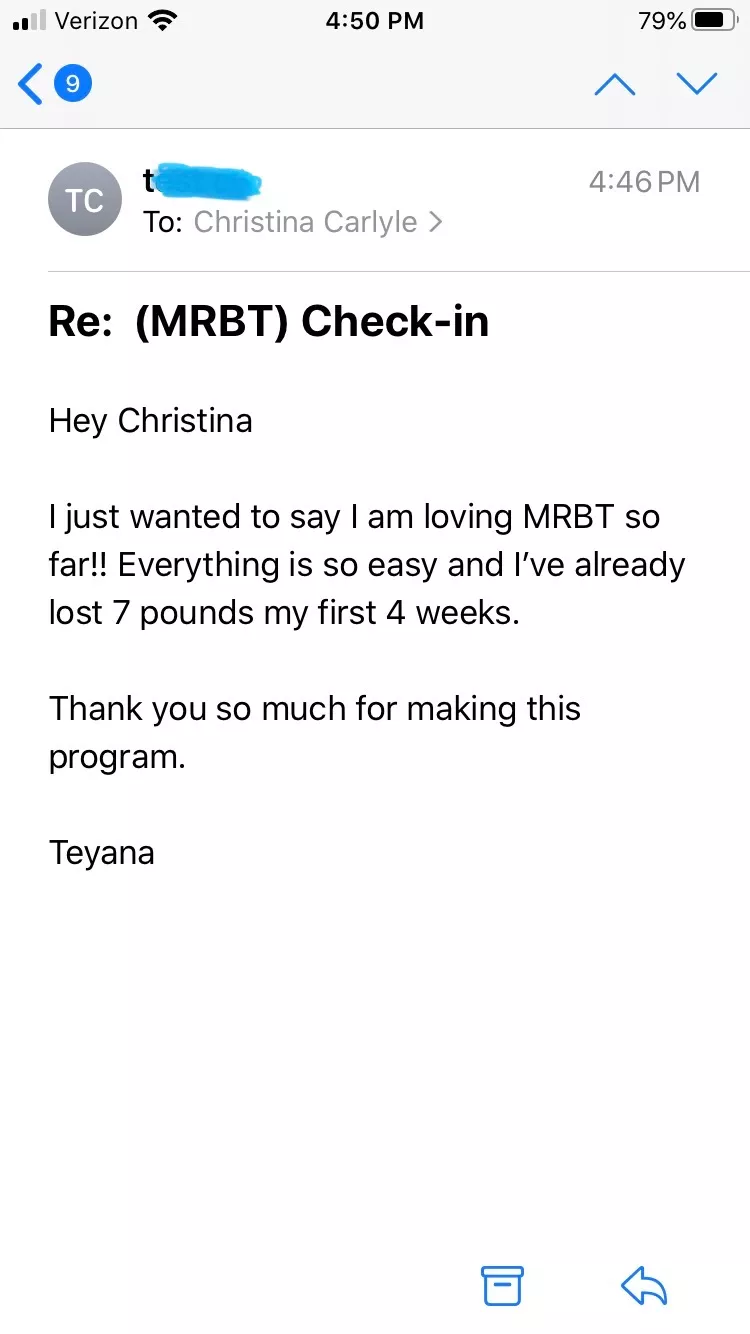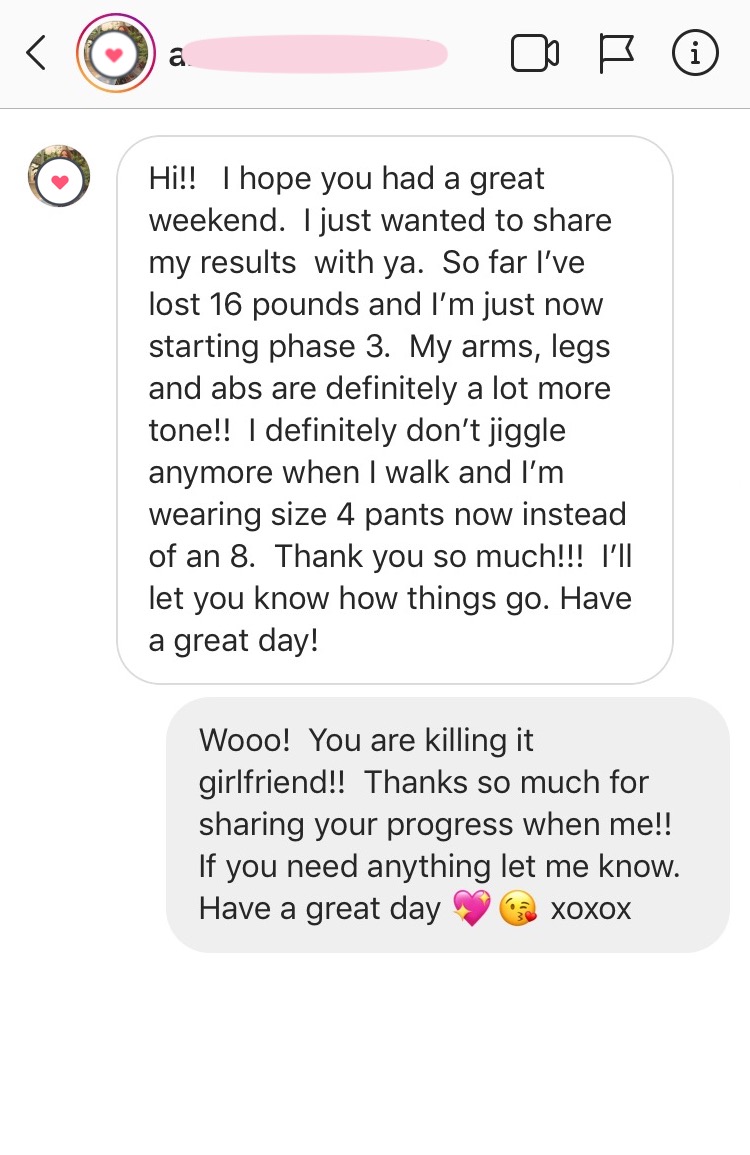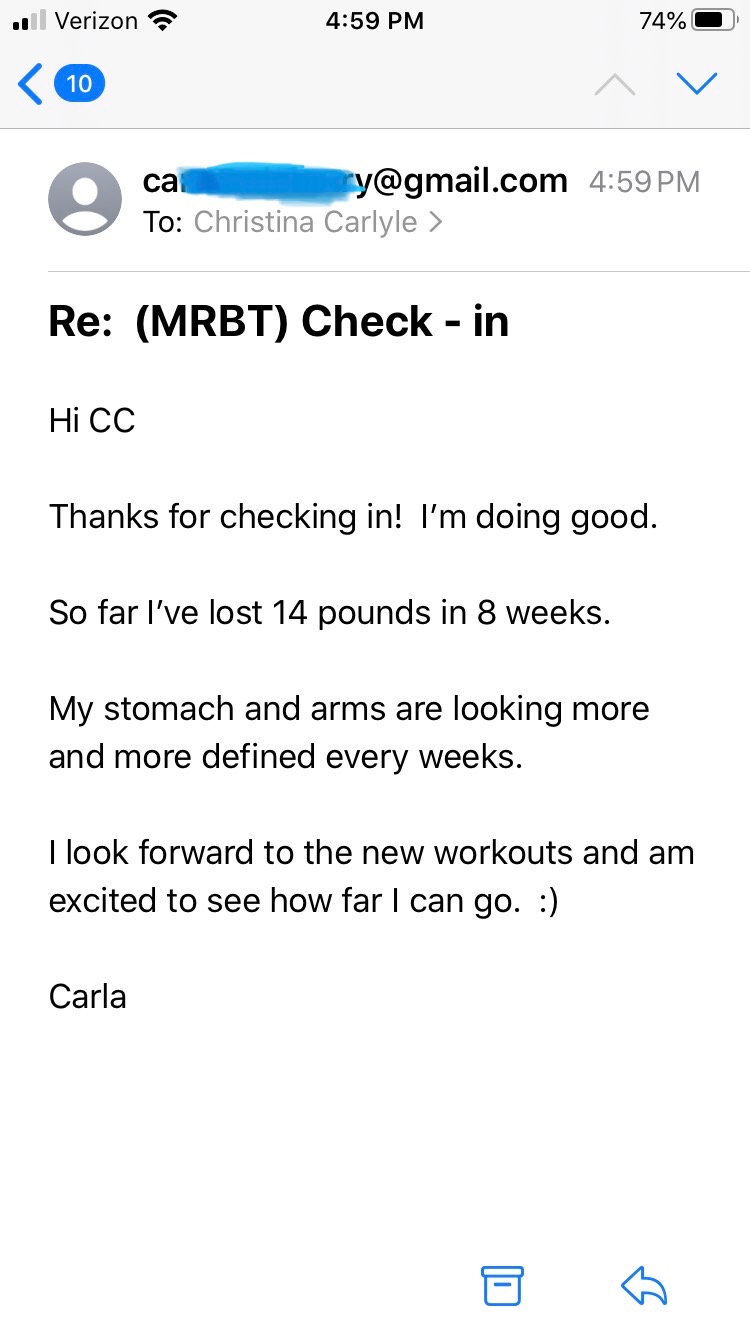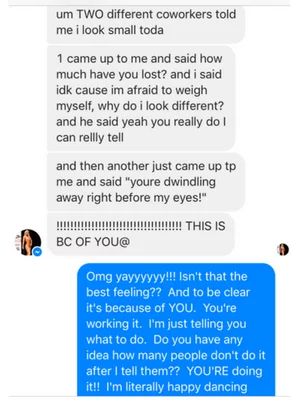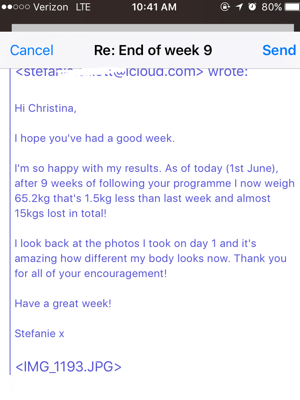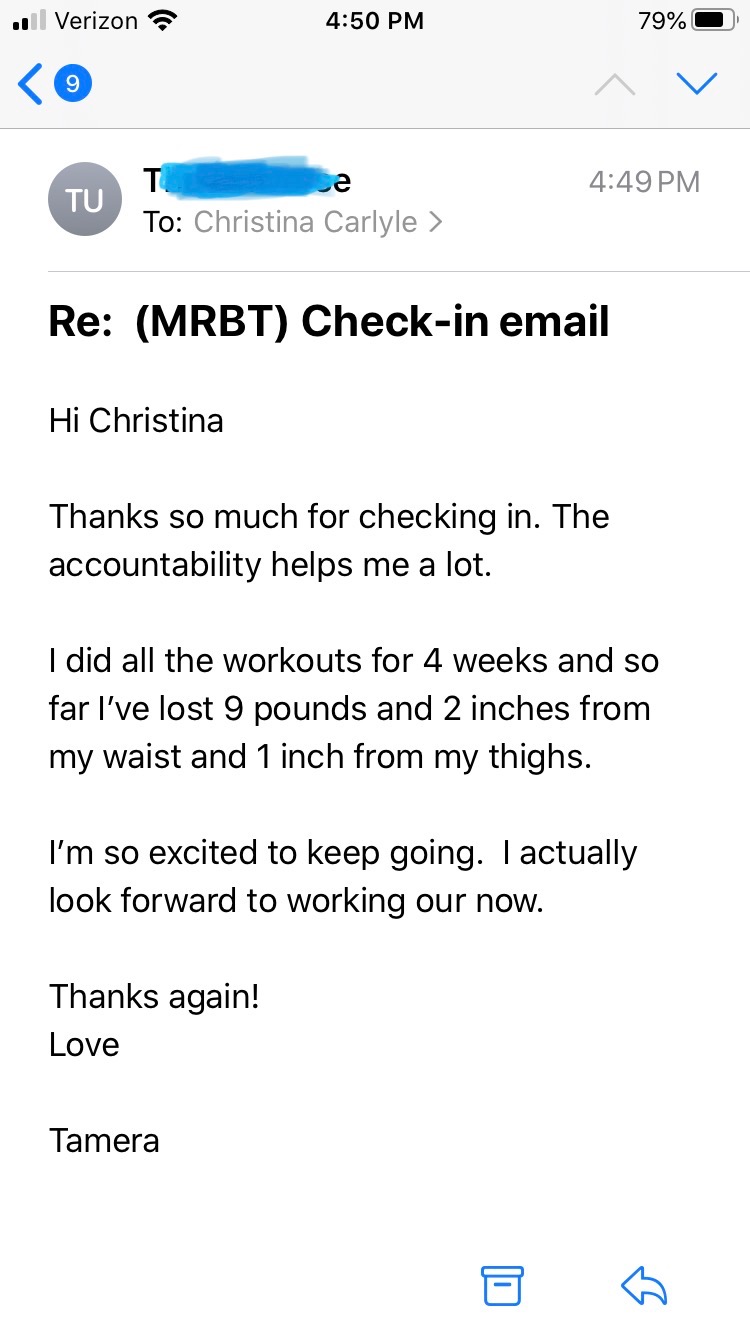 GET EVERYTHING YOU NEED TO GET YOUR MIND RIGHT & BODY TIGHT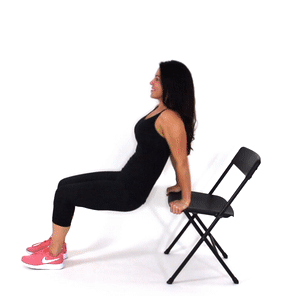 FRESH NEW WORKOUTS EVERY MONTH
Burn fat & get fit with 16 New, body sculpting workouts every 4 weeks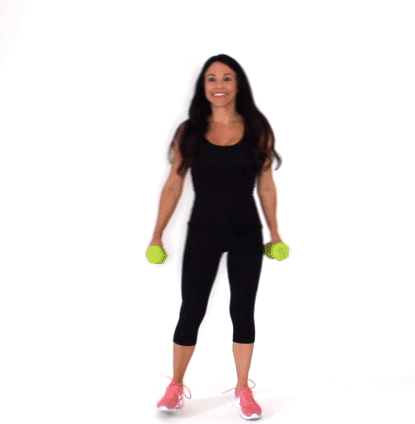 MOTIVATING FITNESS MASTERCLASSES
Coaching masterclasses about how to exercise to sculpt your dream body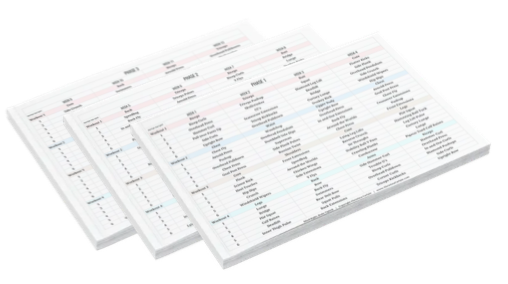 Printable PDF WORKOUT SCHEDULE
Handy printable PDFs of the 4 Week Schedules you can use to stay on track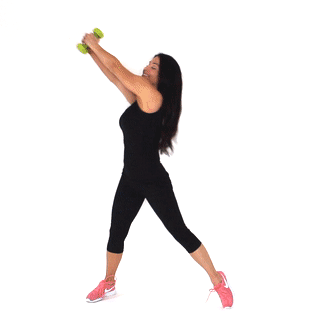 ACCOUNTABILITY AND SUPPORT
Get check-in emails every 4 weeks with new workouts & support
GET FIT & TONE UP FOR LIFE
Get 16 new workouts every 4 weeks
– A $37 VALUE –
FOR JUST $9
Charged every 4 weeks, Cancel Anytime
Get instant access to the entire program – 52 Weeks of Workouts (208 workouts total)
– A $481 VALUE – 
FOR JUST $75
Get 5 months free
One-time Payment, Forever Access
"MRBT is easy to understand, easy to do and works.  I felt more tight and toned and less giggly all over by my third week."
"It's easy for me to get motivated to do the workouts because they're quick and make me feel great.  I dropped a size my first 4 weeks."
"I love that I can do the workouts at home and don't need to do anything crazy to get results.  This is easy, fun, and I've never looked better."
MIND RIGHT, BODY TIGHT® GETS RESULTS WITHOUT ANY BS
No more jumping around like a hyper-caffeinated kangaroo or working out harder than you have to

No more time wasted trying to figure out what workout or exercise to do next

No more getting big & bulky instead of lean, slim, & fit

More more strenuous workouts that make it hard to get motivated

No more wasting money on expensive trainers or classes
All of that stuff is a big waste of time & isn't sustainable… and you know it.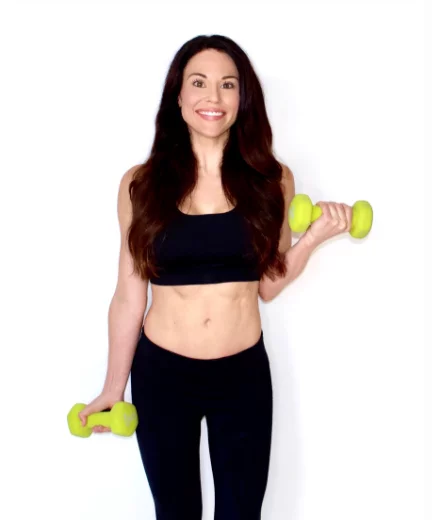 ANSWERS TO COMMON QUESTIONS
CAN I DO THE WoRKOUTS AT HOME OR THE GYM?
You can do the Reshape Exercise Program anywhere as long as you have access to basic exercise equipment.
ARE THE WORKOUTS FOR WOMEN & MEN?
All of my workout programs will work for women and men.  The masterclasses explain how to customize everything so it's perfect for you, regardless of gender.  : )
WHAT KIND OF EQUIPMENT DO I NEED?
You'll need a set (or 2) of dumbbells and a stability ball.  Note:  The stability ball is used as a weight and as a bench.  If you don't have a stability ball you can use another weight or bench/chair instead if you want.  Or swap in a different exercise until you get the equipment you need.
HOW LONG DO THE WORKOUTS TAKE?
Each workout takes 20 – 25 minutes… Including warm up and cool down time.  The exact time depends on how quickly you move from exercise to exercise.
WHAT IF I'M A BEGINNER OR MORE ADVANCED? WILL THESE WORK FOR ME?
Yep!  This program was created and tested to work on everyone from newbies, new mom's, grandparents, and advanced exercisers and athletes alike!  There are training videos explain how to adjust the workouts to suit your skill level.
WHAT HAPPENS AFTER I GET THE PROGRAM?
Your unique login will be emailed to you seconds after you invest in yourself. Simply log in, enter your username and password, and you can get started right away.
GET MIND RIGHT, BODY TIGHT® & GET EVERYTHING YOU NEED TO GET RESULTS RIGHT NOW
Burn fat & tone up without wasting time or killing yourself in the

gym

Supercharge your metabolism
Feel more energized, toned, and confident
See jiggle and cellulite fade away
Get fit, healthy, and more motivated
RESULTS ARE GUARANTEED.  What are you waiting for?  Get started now.
GET EVERYTHING YOU NEED TO GET FIT & TONE UP FOR LIFE
Get 16 new workouts every 4 weeks
– A $37 VALUE –
FOR JUST $9
Charged every 4 weeks, Cancel Anytime
Get instant access to the entire program – 52 Weeks of Workouts (208 workouts total)
– A $481 VALUE – 
FOR JUST $75
Get 5 months free
One-time Payment, Forever Access
Individual results vary from person to person. This is a digital program. You'll get instant access via email with your login credentials immediately after purchase so you can get started right away.  
Nothing will be mailed to you.  
Because of the digital nature of this program All Sales are final. 
The License for Access & Support for this program renews every 4 weeks. You can update your settings & cancel your subscription at any time. Support is optional – I refuse to work with disrespectful, unrealistic, combative, rude, entitled people.