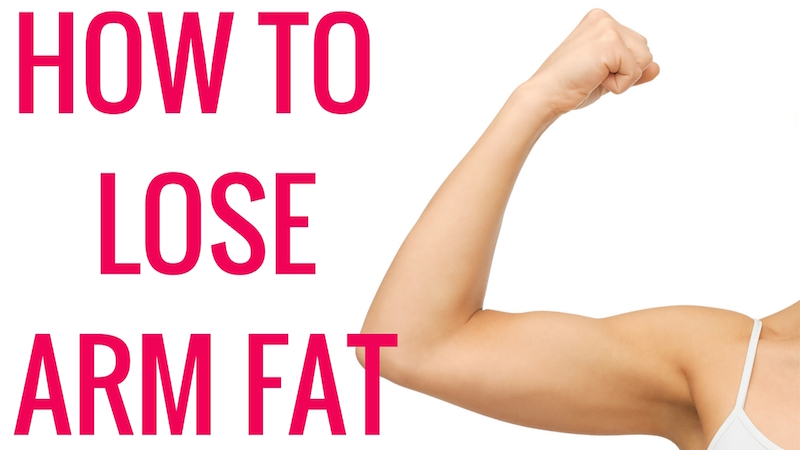 22 Oct

How to Lose Arm Fat

Hello there!

I'm so excited about this post. A lot of women have been requesting arm workouts lately. Also, a lot of women I've been working with have been confessing that their arms are a major source of insecurity and frustration.

I'm not sure if you saw my post last week, but I threw out my back and haven't been able to workout lately.  I saw my doctor this week and he said I can workout my upper body, but I have to be careful about exercising muscles that are too close to my lumbar.  I can't think of better time to teach you how to lose arm fat.

I find that training the arms seems to be win-win for women, for a lot of reasons. Arm exercises are easy to do from home or the gym because the only equipment you need are dumbbells… so you don't have to have a gym membership or need any machines to get results. When you work your arms you're also stabilizing your core and working your abs indirectly, and increasing overall blood flow. I also find that when women start losing fat, most notice results in their arms faster compared to other parts of their body.

In today's episode of CCtv, I'm going to teach you how to lose arm fat and share an arm workout with you. If you're trying to tighten and tone your arms you're going to love it! If you repeat this workout 3 times a week, you should start to notice that your veins are more noticeable and your arms are tighter overall. Having toned arms will make you feel more confident in a tank top even if it's the only area you've noticed a change! The following arm workout will help you so you never need to use the skinny arm on the hip pose.

See me explain how to lose arm fat below…
Think of this as a Girl's Guide to getting Guns
Repeat each exercise 15 times to complete one set. While you're doing the exercises, use enough weight so that the last 2-3 reps are difficult, but you can still do them while maintaining proper form. You'll need to complete 3 full sets – or rounds, of the exercises to compete your arm workout. For the best results, repeat this workout 2 to 3 times a week.
Here are the links to the other workouts I mentioned in the video.
Chest and Tricep Workout for Women
Find out why holding a contraction gets you better results here.
Again, this workout won't do much if you're not follow the Right Meal Plan for your Metabolic Profile or following a complete exercise program for your goal look, too.  Find out what your metabolic profile is here, to get started.
As always, this workout only works(!!) if YOU work it!  So work it!!  You are SO WORTH IT!!
Your Coach and Biggest Cheerleader
xxoo