Last Updated on April 15, 2020
Home Gym Equipment
I've had a TON of requests for my recommendations for budget-friendly home gym equipment.
That's why I'm sharing my favorite equipment with you.
We all know working out is good for us, but exercise equipment and gym memberships can cost a pretty penny.
You can use this list of my top trainer picks as a guide to get the equipment you need to get a killer workout at home.
HINT:  I'm sharing links to the exact same equipment I use to shoot the workouts I share on my blog.
After you're done taking a look, please leave me a comment and let me know what you think about my list.  xo

Home Gym Equipment for effective fat-burning home workouts
Burn more fat at home with this home gym equipment
A FEW SETS OF DUMBBELLS
Above everything else on this list,  I recommend a few sets of dumbbells.  An inexpensive set of weights is essential to get in an effective workout at home.  You can use dumbbells to target every single muscle group.  They don't take up a lot of space and you can easily hide them under the bed or a dresser.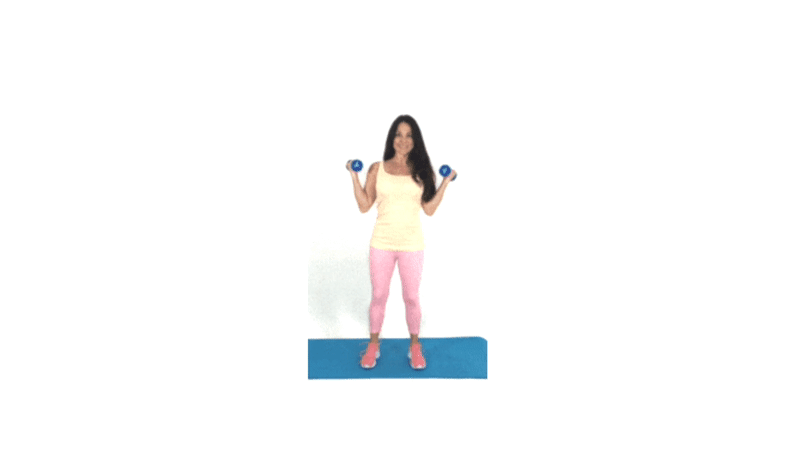 A 20 to 60 pound set of 3 different dumbbells is a good place to start.  I recommend getting a set of 5, 10, & 15 ( 60 pound set).
You can get the right set of Dumbbells with a stand at this link here:: Set of 3 Dumbbells in different weights, comes with Stand
Yoga or Pilates Mat
Yoga mats are great to add a cushion padding to support your knees and feet.  I like this thick mat.  It's more sturdy and supportive than thinner, flimsy mats.
This is the mat I use and love the most:: Anti-Tear Exercise Yoga Mat with Carrying Strap
I have it in black and it's very comfy.  The carrying strap makes it great to take to the gym for classes, too.
I have several reversible yoga mats that I use to shoot workouts on the blog.  Here's a link to this IUGA non-slip, Reversible Dual Color, Eco Friendly Yoga Mat with Carrying Strap  I like this brand a lot!  It doesn't shred like other brands do!
RESISTANCE BANDS
Resistance bands are stretchy bands of rubbery elastic that typically come in different colors designating how much strength and resistance you'll feel using them.
Resistance bands are affordable, lightweight, and travel-friendly the perfect addition to a home gym or gym bag.  I always tell my clients to get a set of resistance bands to use at home, add to their gym bags, or when they travel.
I love this girly set of resistance bands and you will, too. 
Try this resistance band thigh leg workout with your resistance bands.

STABILITY BALL
A high quality exercise ball is a great addition to a home gym.  You can use a stability ball as a bench, a weight, and as a tool to assist with workouts, too.  See the exercise examples below.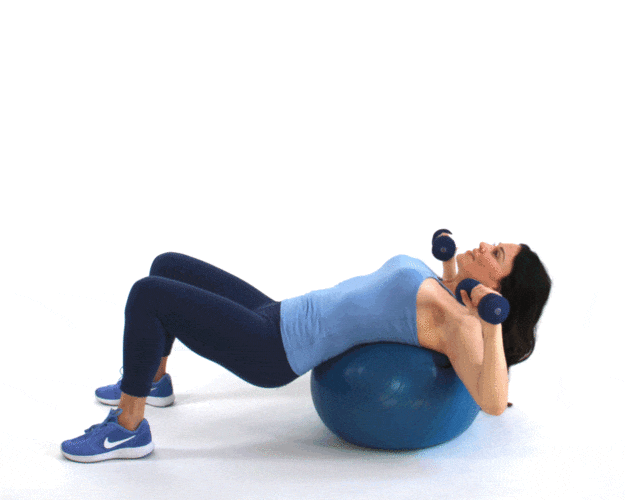 I love using the stability ball in my home workouts!
You can choose the color and size you want on Amazon here: Exercise Balls (Multiple Sizes)
BOSU BALL
Bosu balls are 1/2 of a stability ball attached to a mini platform you can stand or lean on.  The unstable surface of the Bosu ball helps activate and engage more muscles, which means better results for you.
Bosu balls are great for boosting burn during leg, butt, and core workouts.  With the Bosu up or down and step, stand, or plank on it.
I have this Bosu Balance Trainer in blue and I love it.  It comes with a book of Bosu exercises, too.
NIKE TANJUN'S
I'm obsessed with Nike Tanjuns.  They're seriously my Fave Nike's of All Time
.  They're very comfortable and come in a million colors.  I only wear these or the Adidas below.

ADIDAS
Women's Iniki Runners 
These are the Adidas Inikis I love.  I have them in pink, blue, burgundy, tan, black and white. They have great shock absorption.  But size down 1/2 size when ordering!
  They run a little big.
AUDIBLE SUBSCRIPTION
I recommend audible to listen to when you workout so you can engage your mind and body.  I love listening to self-improvement, strategy, and motivational books when working out SO much!
I feel a million times better after my workout is over.   With Audible you can listen to over 100,000 audiobooks on demand.  You get credit to download a new book every month.
It's a great way to 'read' in the car, when you travel, while you work, cook, and exercise.
Learn more about Audible and check out the Audiobook Library here
WORKOUT RECOVERY EQUIPMENT
This is optional home equipment that I recommend to recover after workouts.
HINT: They feel amazing.
PRE & POST-WORKOUT PERSONAL MASSAGER
Muscle roller sticks help ease soreness, aid recovery, reduce stiffness and pain before and after workouts.  With regular use you can improve circulation and reduce the appearance of cellulite, too.
TIP: I don't recommend pointed rolled sticks as they can increase cellulite.  That's why I love this one so much.  It has subtle roller balls that help release fascia and circulate lymph… not break apart fascia and tissues.  I'm obsessed with my roller stick.
Learn more about my favorite Muscle Roller Stick here

FOAM ROLLER
You're going to love rolling around on this!  It helps soothe muscle pain and knots so well.  Place the roller between your body and the ground and use it to target different muscles.
You can foam roll your hamstrings, quadriceps, glutes, and back for a quick and easy pre and post home workout massage.
I love mine!  I got it on Amazon.  It comes with an eBook and you get to pick the color, too.
You can learn more about my favorite Foam Roller for Deep Tissue Massage & Myofascial Trigger Point Release here
I hope this list of home exercise equipment helped inspire you.
Do you already have this equipment?
Are you going to try something I've shared?
Is there something I missed?
Let me know in the comments.  I always love hearing from you. 🙂
xo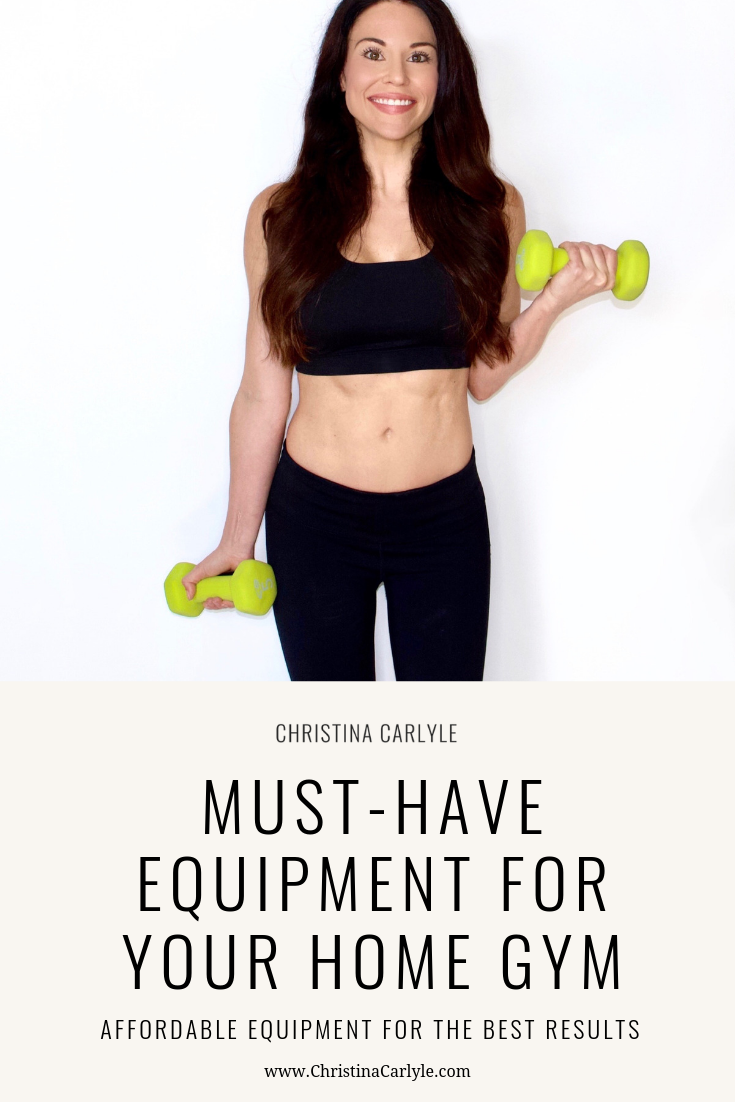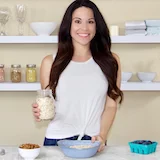 Christina is a certified Holistic Nutritionist, Personal Trainer, & Holistic Fitness & Health Coach. After healing multiple personal health issues, getting off 7 meds, & losing 40 pounds, Christina teaches others how to get Happy, Healthy, & Fit quickly with the most delicious food and least intense workouts.