Last Updated on April 20, 2023
Home Gym Equipment
I've had a TON of requests for my recommendations for home gym equipment.
Everyone seems to want home exercise equipment that gets results that are also budget-friendly and won't take up a lot of space or require assembly.
I feel like I'm a true home gym expert as I've been working out at home on and off for almost two decades.
I know what home gym equipment works that's also affordable, requires zero set-up, and is easy-to-hide in the home.
That's why I'm sharing my favorite equipment so you can have the best home gym equipment set up, too.
We all know working out is good for us, but most exercise equipment and gym memberships can cost a pretty penny.  Not only that but most home gym equipment takes up a lot of space and are eye-sores.
Having exercise equipment at home is a must if you want:
A great workout at home

To cancel your gym memberships & save money

To save time –

in the same time it takes to get ready & get to the gym – you could've already finished a home workout

Prefer privacy when you exercise

Are introverted

Want to workout while watching TV

Don't feel like driving or waiting for equipment at the gym
Use the following list of my top trainer picks as a guide to get the equipment you need to get a killer workout at home without taking up a lot of space, breaking the bank, or ruining your aesthetic.
HINT:  I'm sharing links to the same equipment I use to shoot the workouts I share on my blog and also share how I hide my home gym. 
After you're done taking a look, leave me a comment and let me know what you think about my list.  xo
The Best Home Gym Equipment to Burn Fat & Get Fit at Home
(A FEW SETS OF) DUMBBELLS
Above everything else on this list, I recommend getting yourself a few sets of dumbbells. A set of dumbbells is essential to get an effective workout at home because you can use target every single muscle group in the body with them.
Because muscle groups are either larger or small, it's best to get lighter and heavier weights to adjust the intensity as you train different groups.  They don't take up a lot of space and you can easily hide them under the bed or in a closet or dresser.
A 16 to 30-pound set of 3 different dumbbells is a good place to start.  I recommend getting a set of 5, 10, & 15 pounds (30 pound set).  A set with 3, 5, and 7.5/8 pounds are great, too.
Yoga Mat
Yoga mats are great for cushioning and protecting your joints from impact against a hard floor.  Mats also help give you more grip to keep you locked in place and hold proper form during an exercise.  I like this thick mat.  It has more cushion and support compared to thin, flimsy mats.
Out of the 12 yoga mats I have (yes, I have 12)  this is the mat I love the most:: Anti-Tear Exercise Yoga Mat with Carrying Strap
I have it in black.  It's very comfy & supportive.  The carrying strap makes it great to take to the gym for classes, too.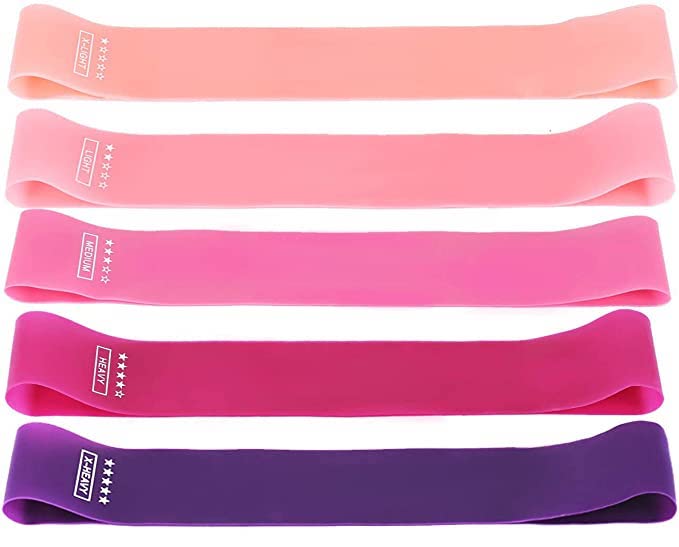 RESISTANCE BANDS
I love this girly set of resistance bands and you will, too.  Resistance bands are stretchy bands of rubbery elastic that typically come in different colors designating how much resistance they have.
Resistance bands are affordable, lightweight, and travel-friendly and make the perfect addition to your home gym or gym bag.
They're best used to add more intensity to low-body, bodyweight exercises.  I recommend them most to my clients that want slimmer, more toned legs and that can't/don't want to lift heavy weights.
Try this resistance band thigh leg workout with your resistance bands.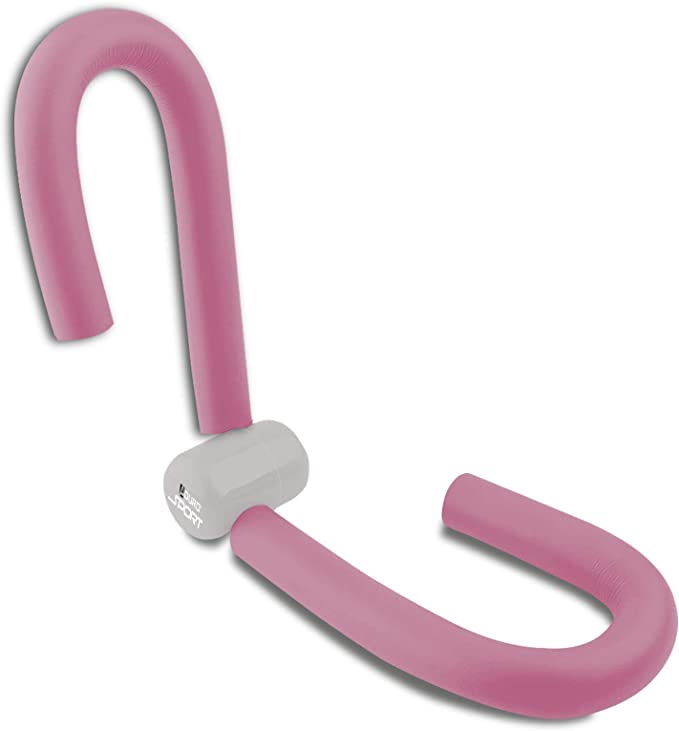 THIGH ADDUCTOR (MASTER)
This thigh adductor is a great way to tone your inner thighs at home.  I use this when I'm watching tv.  It's one of the best ways to train your inner thighs at home.  This is the thigh trainer I use and recommended most.  It has a good grip & resistance compared to others I've tried over the years.

STABILITY BALL
A quality exercise ball is a great addition to a home gym.  You can use a stability ball as a bench, weight, and tool to assist with exercises, too.  Using a stability ball as a chair helps engage the core – making it a replacement for your everyday desk chair.
I love using the stability ball in my home workouts to help shake up my routine – especially when I'm working my abs or need back support when I squat.
You can choose the color and size you want on Amazon here: Exercise Balls (Multiple Sizes)
As a rule of thumb, the shorter you are, the smaller your ball should be.
For more specific instructions about what size stability ball to use check out this post about What Exercise Ball Do I Need?
Once you have yours, try these Stability Ball Exercises.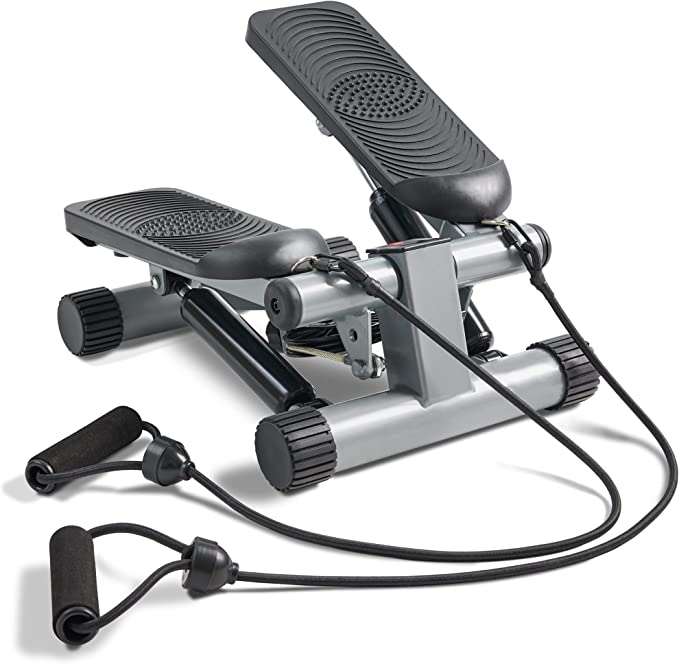 THIS CARDIO STEPPER
I am obsessed with this machine!  I got this fully expecting to hate it but I don't!  It takes up far less space than an elliptical or treadmill but gives the same results… for a fraction of the cost.  I've had different in-home elliptical machines over the years and ended up having to sell them because they took up too much space or were an eyesore.  This little guy can be hidden in a closet or under a coffee table and can easily be moved around. It also has a display that shows your step count, time, calorie burn, and resistance.  I love using it when I don't feel like driving to the gym, when the weather sucks & I can't train outside, or when I want to workout & watch TV at home.
HOME WORKOUT RECOVERY EQUIPMENT
This is optional home equipment that I recommend to recover after workouts.
HINT: They feel amazing.
PRE & POST-WORKOUT PERSONAL MASSAGER
Muscle roller sticks help ease soreness, aid recovery, and reduce stiffness and pain before and after workouts.  With regular use, you can improve circulation and reduce the appearance of cellulite, too.
TIP: I don't recommend pointed rolled sticks as they can increase cellulite.  That's why I love this one so much.  It has subtle roller balls that help release fascia and circulate lymph… not break apart fascia and tissues.  I'm obsessed with my roller stick.
Learn more about my favorite Muscle Roller Stick here

FOAM ROLLER
You're going to love rolling around on this foam roller!  It helps soothe muscle pain and knots so well.  Place the roller between your body and the ground and use it to target different muscles.
You can foam roll your hamstrings, quadriceps, glutes, and back for a quick and easy pre and post home workout massage.
I love mine!  I got it on Amazon.  It comes with an eBook and you get to pick the color, too.
You can learn more about my favorite Foam Roller for Deep Tissue Massage & Myofascial Trigger Point Release here
Once you get yours use it to do these Foam Rolling Exercises.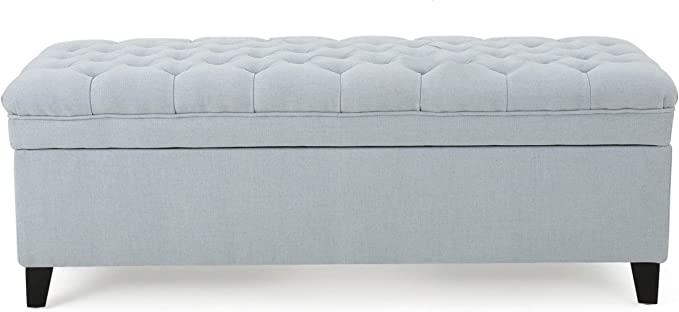 A STORAGE BENCH
This is what I store all of my exercise equipment in at home.  It's cute, practical, and fits everything in a stylish way.  If having cluttered equipment makes you crazy (like me haha) then I recommend this bench.  It'll store all of the equipment on this list (except the stability ball) and comes in a lot of pretty colors, too.
I hope this list of home exercise equipment helped inspire you.
Do you already have this equipment? Are you going to try something I've shared?  Is there something I missed?
Let me know in the comments.  I always love hearing from you. 🙂
xo