Last Updated on February 10, 2022
This 10 minute Arm Workout for Firm, Slim Arms ASAP is going to surprise you because it really works!
I started a 10 minute workout series last week because so women are in need of quick, effective workouts that work.  And that's exactly what you can expect with this arm routine.
You may be wondering if 10 minute workouts actually get results.  If so, check out the ab workout I shared last week.  There I explain all of the benefits of 10 minute workouts and share a killer ab workout.
10 minute Arm Workout
Today we're targeting the arms with a 10 minute arm workout that uses the same training strategy so you can get the same benefits.  But I have good news!  Because the arms are a smaller muscle group compared to the abs, you're going to be able to see definition pop faster using the 10 minute training strategy while targeting the arms.
I encourage you to try this routine.
It's super targeted and will make you fall in love with 10 minute workouts.
I know you're going to love this short and sweet arm workout.
This is what the exercises look like in motion.
Follow the same pace as you're doing the exercises.
10-minute Arm Workout instructions
This arm workout has 5 exercises.
Set a timer (on your phone) and do each exercise for 30 seconds to complete one set.
Do 4 sets of each exercise to complete the workout.  Since you're doing each exercise 4 times for 30 seconds, each exercise is being done in 2 minutes.
When you do all 5 exercises this workout will take approximately 10 minutes.
Try to do as many reps as possible during the 30-second set.  But remember, to move in a controlled, fluid motion with proper form.  Follow the pace I use in the workout grid above.
10 Minute Arm Workout Exercise Instructions

In and Out Curls
Stand holding dumbbells with your elbows close to your sides. Your wrists should be facing away from you. This is your start position. Next, curl the weights up toward the front of your shoulders. Lower the weights back down to the start position. Immediately curl the weights up to the side towards the outside of your shoulders. Lower the weights back down to the original start position to complete one rep.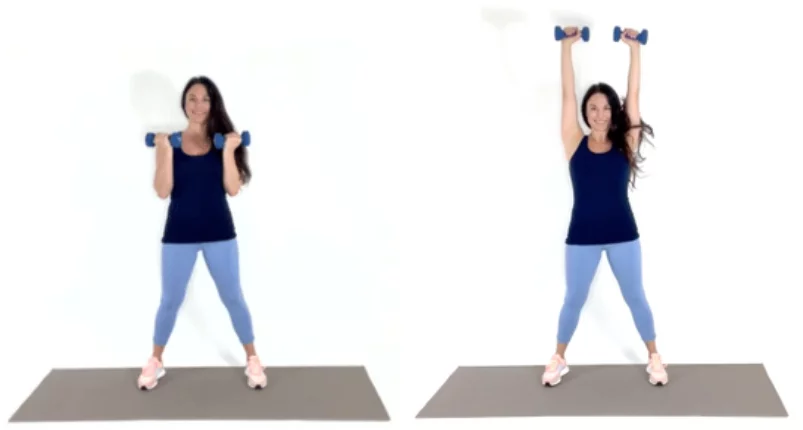 Arnold Press
Stand holding a dumbbell in each hand, with your palms facing in towards your shoulders. This is your start position. Exhale as you push the weights up overhead, rotating your hands so your palms end up facing away from you. Push until the weights are extended overhead. Then inhale and reverse the movement lowering the weights back down to the start position to complete one rep.

Trouble U's
Stand holding dumbbells. Lift your elbows up, until they are in line with your shoulders, with your knuckles facing up. This is your start position. Exhale and rotate the weights down until your knuckles are facing the ground. Next, kick your hands out to the side. Reverse the movement and bring your hands back in, then flip your knuckles back up to the start position, to complete one rep.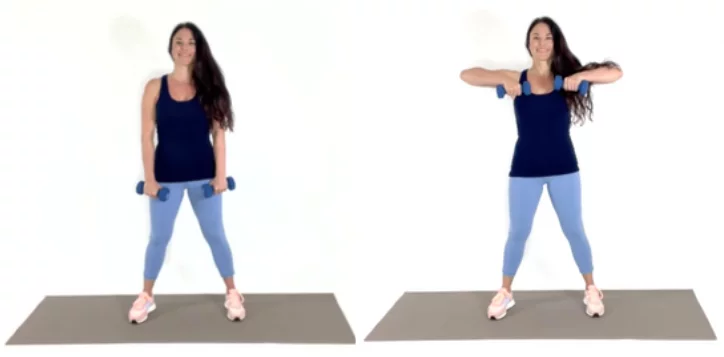 Upright Rows
Stand with your dumbbells in front of you with your palms facing your body. This is your start position. Exhale and pull the weight upward to shoulder height. Keep the weight close to your body as you lift your elbows up and out to the side. Then slowly lower the weight back down to the start position to complete one rep.

Tricep Kickbacks
Stand holding dumbbells. Bend over slightly with your arms bent, with a neutral spine. This is your start position. Keeping your elbows in close to your body, extend both dumbbells back and up, until your arms are extended straight behind you. Hold for a count, then reverse the movement, lowering the dumbbells back down to the start position to complete one rep.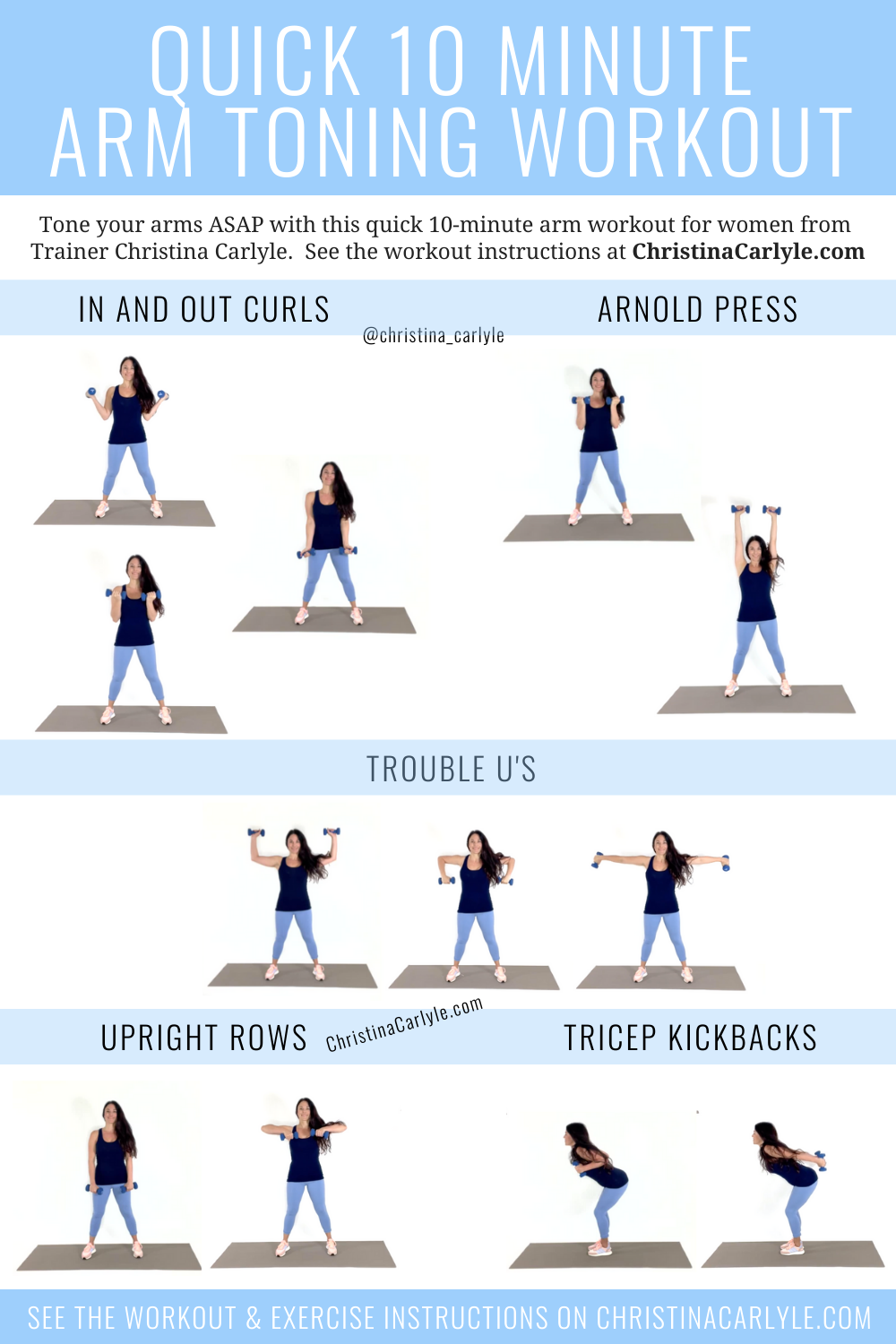 Pin this 10 minute arm workout to Pinterest so you'll have it forever
Some Notes About this 10 minute Arm Workout
Try to take little to no rest between the exercises moving quickly from one to the other.  This helps keep the heart rate up which means higher calorie burn for you.
For exercises that use dumbbells use a maximum of 5 pounds.
This workout was designed to be done on its own or as an add-on to any of the weight training or cardio workouts in my programs to rev up your results.
Leave me a comment and let me know if you're going to try this arm workout.
xo
Your Coach and Biggest Cheerleader,

P.S. Abs are made in the kitchen.  If you're serious about getting noticeable results proper nutrition is mandatory.  Luckily, when you eat for your unique metabolic type you can get results quickly.  Take my free metabolic Quiz & training to learn how.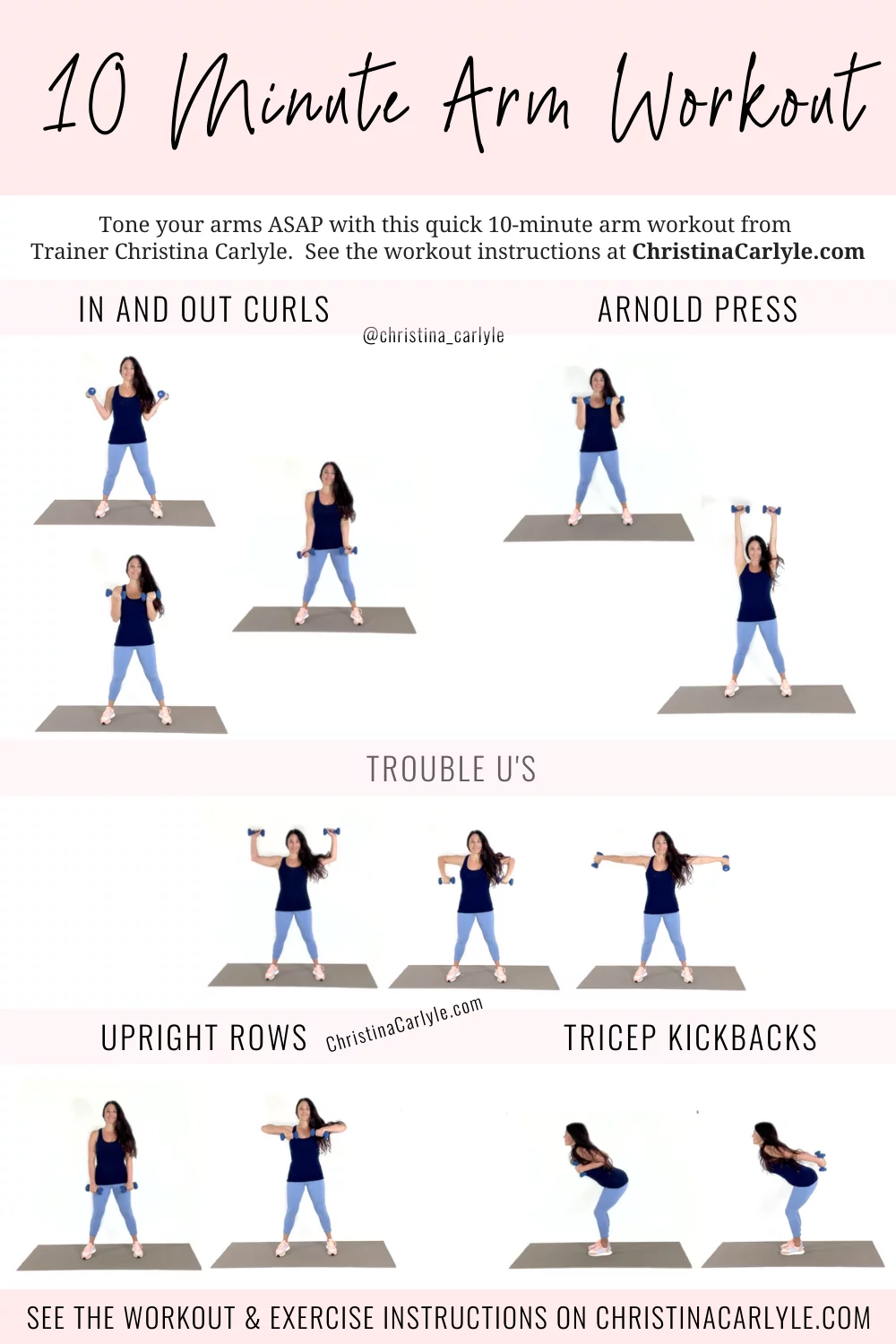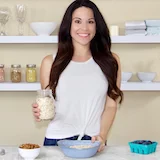 Christina is a certified Holistic Nutritionist, Personal Trainer, and Fitness & Health Coach. After healing multiple health issues, getting off 7 meds, & losing 40 pounds – and keeping it off for 10+ years, Christina teaches others how to get Happy, Healthy, & Fit quickly without any bullshit.  She'll show you how to slim down, tone up, and feel fantastic naturally with the most delicious food and least intense workouts possible.