Last Updated on October 16, 2021
I love desserts.  Especially this avocado pudding recipe.  Healthy, chocolate desserts are my kryptonite and fortunately, this chocolate pudding is actually good for you.
It's hard to find truly healthy desserts online.  Most recipes I find are made with gluten, dairy, GMO's processed ingredients, and tons of sugar.
You can easily rack up 500-600 calories on a single serving of traditional desserts.   Desserts made with sugar-free substitutes aren't good for your health.
The still spike your blood sugar levels, despite being "sugar-free" or having any sugar listed on the nutrition labels.
That's why I'm sharing my favorite healthy avocado pudding dessert recipe with you.
Rather than using processed, inflammatory ingredients like vegetable oils and sugar, my healthy avocado pudding recipes use avocados and raw honey.
Avocados have vitamins, healthy fats, fiber, and amino acids needed for energy and healthy metabolism.
This Chocolate Avocado Pudding Recipe is:
Gluten-free
Dairy-free
Vegan
Truly healthy
Full of fiber
Loaded with anti-oxidants
100% natural
Easy to make
Slap-your-mama good
I've perfected 2 different avocado pudding recipes over the years.
These are the same recipes I've created for my clients.  Everyone loves them!  I know you will, too.
They're very creamy, filling, light and decadent.
The best part?  They take less than 5 minutes to make.
Healthy Chocolate Avocado Pudding Recipe
1 cup avocado, about 1 medium avocado
1 tbsp. raw honey
2 tbsp. cacao powder
4 tbsp. nut milk
DIRECTIONS:  Combine all of the ingredients in a blend.  Blend until creamy.  Serve immediately.
Each recipe makes 1 serving and takes about 5 minutes to make.
There are approximately 200 calories per serving.
Leave me a comment and let me know how your avocado pudding turns out.
Your Coach and Biggest Cheerleader
xxoo

Learn why fats are so important for your health and weight loss at this post here.
Become a VIP and get a free Healthy Dessert Recipe book and other free VIP-only goodies that'll help boost your energy, mood, and metabolism!
Pin this recipe so you'll have it forever.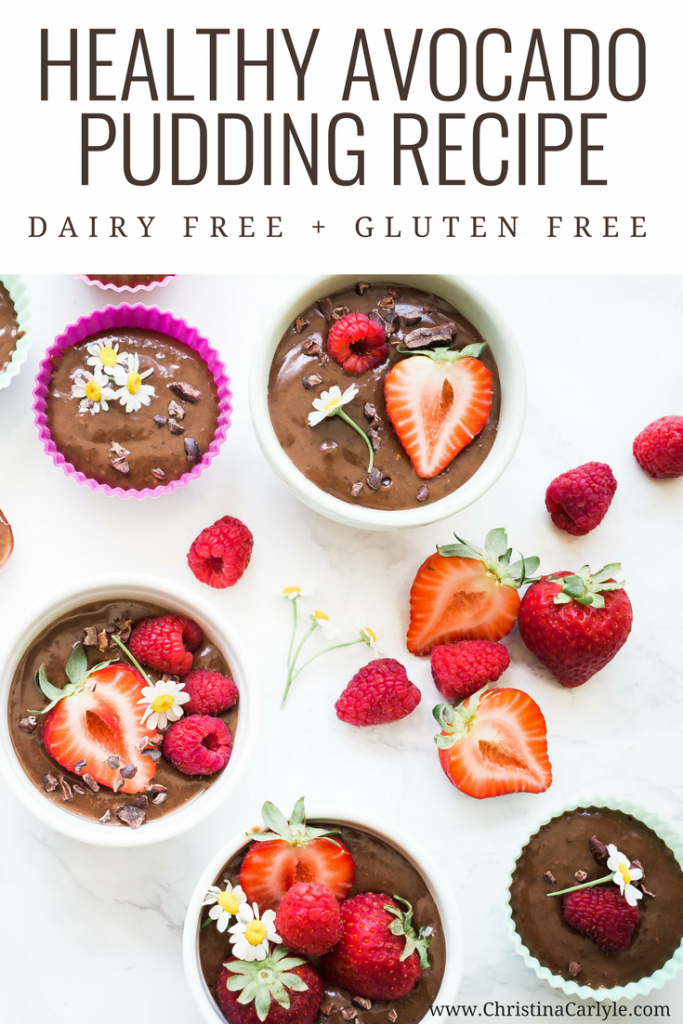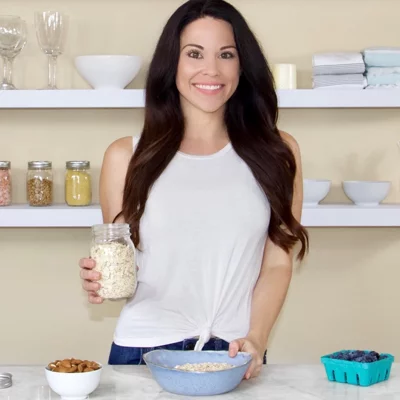 Christina is a certified Holistic Nutritionist, Personal Trainer, and Fitness & Health Coach. After healing multiple health issues, getting off 7 meds, & losing 40 pounds – and keeping it off for 10+ years, Christina teaches others how to get Happy, Healthy, & Fit quickly without any bullshit.  She'll show you how to slim down, tone up, and feel fantastic naturally with the most delicious food and least intense workouts possible.