Last Updated on May 4, 2023
I have some delicious, nutritious Healthy Cinco de Mayo food and taco Tuesday ideas and I know you're going to love them.
Even if you don't celebrate Cinco de Mayo – these recipes & ideas are perfect for Taco Tuesday or any other time you want to satisfy your cravings for Mexican food in a healthy way.
Every time I've been invited to a Cinco de Mayo party, a Taco Tuesday, or Mexican restaurants the dishes the options served weren't the healthiest.
Most Mexican dishes at restaurant are loaded with inflammatory, allergenic, & toxic ingredients, sodium, carbs, and 'hidden' sugars…  The combination of ingredients & nutrients literally sets you up for weight gain, water retention, tummy troubles, and more. 
If you feel bloated or tired after eating Mexican that's a HUGE red flag that you're having an adverse reaction to the ingredients….       
In my experience, the only options were things like Americanized tacos, quesadillas, and nachos loaded with inorganic meats, tons of processed sodium, sour cream, cheese, queso, and inorganic tortillas, chips, flautas, taquitos, and chimichangas, deep-fried in rancid vegetable oils.
Vegetable oils are loaded in omega 6 fatty acids, trigger inflammation, are difficult to detox, accelerate aging, and are a leading cause of death… and that's just one ingredient commonly used…   The other ingredients can be just as problematic in terms of side effects, too… and issues skyrocket if it's fried.  hello tortilla chips.
Couple these inflammatory ingredients with the high sodium, high carb, they set you up to gain weight and feel fatigued, bloated, and blah.
But don't worry, you can still enjoy Mexican without health risks.  Mexican cuisine, like any other, can include both healthy and less healthy options. It depends on the ingredients used, the cooking methods, and the portion sizes.
Healthy Cinco de Mayo Food + Taco Tuesday Ideas
That's why I'm sharing significantly healthier Mexican-inspired dishes so you can enjoy these dishes and their health benefits.
All of my Cinco de Mayo food & Taco Tuesday ideas are:
Full of delicious Mexican flavors
Low in calories but high in immune & metabolism boosting nutrients
Packed with protein and fiber
Satisfying and will keep you feeling full for hours
Are super easy to make
Healthy Cinco de Mayo Food + Taco Tuesday Appetizer and Snack Ideas
You're going to love these healthy Cinco de Mayo & Taco Tuesday food ideas so let's jump right in.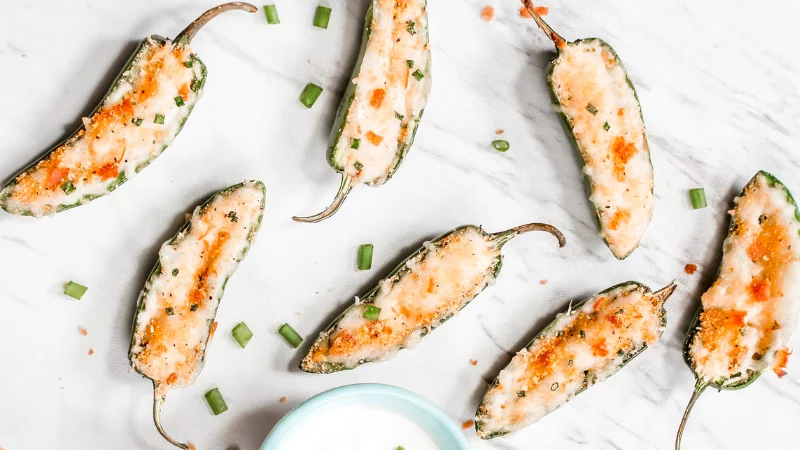 My Jalapeño Poppers have a healthy twist on traditional ingredients.  We'll be using greek yogurt instead of sour cream.  It tastes the same but adds more protein.
Jalapeños are rich in vitamins A, C, K, & B vitamins and folate and potassium. They also contain carotene, an antioxidant that helps fight cellular damage.  Many of jalapeños' health benefits come from capsaicin which is the compound that makes the peppers spicy.
My Jalapeños Poppers are baked with a touch of panko to add crunch, without frying them in inflammatory oils – which kills the nutrients from the peppers.  Baking them helps cut calories significantly and maintains the nutrients while bringing out the natural flavors of the jalapeno without too much spice & heat.  They're a great way to start your fiesta off with a bang and are super easy to make.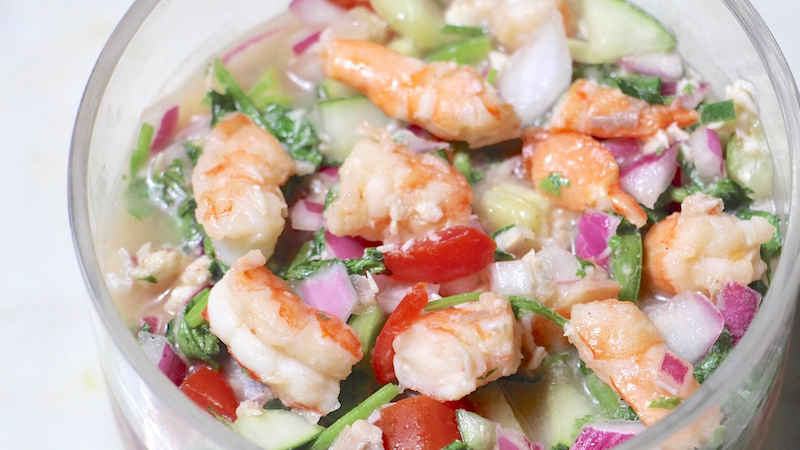 Shrimp Ceviche
This ceviche recipe is so good, so light, so filling, packed with flavor, protein & fiber.  I love eating this on its own, with organic tortilla chips, over a bed of lettuce, and as a filling for tacos.  This is my all-time favorite recipe on my blog.  I make this all the time and it's my go-to recipe to take to parties.  Everyone loves it and I know you will, too.  The delicious dish is loaded with nutrients and fresh flavors that will have you coming back for more.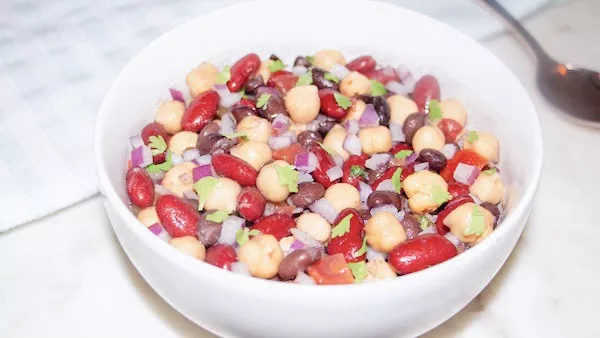 This bean salad is incredible.  It's high in protein & keeps you feeling full for hours, doesn't cause cravings, and is great for digestion & detoxifying.  It also uses simple, inexpensive ingredients that don't require a lot of prep.  The best part?  It takes about 5 minutes to make.  It's the perfect side dish and/or salad for your next dinner or potluck.
Beans are among the most versatile and commonly eaten foods throughout the world, and many varieties are grown in the U.S. Because of their nutritional composition, these economical foods have the potential to improve the diet quality and long-term health of those who consume beans regularly.
On average, beans provide 7+ grams of total dietary fiber per ½-cup serving. Their nutrient composition has been linked to decreasing cholesterol, the risk of developing heart disease, metabolic syndrome, strokes, hypertension, diabetes, obesity, and even some gastrointestinal diseases.
Source:  https://www.ag.ndsu.edu/publications/food-nutrition/all-about-beans-nutrition-health-benefits-preparation-and-use-in-menus
If beans aren't your thing, try my fiber-filled Avocado Eggs.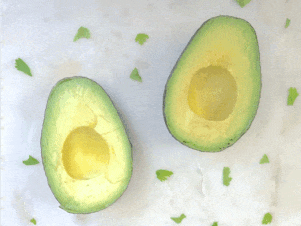 Avocado eggs are so good and easy to make.  They make a great snack and appetizer, too.  All you need are 3 ingredients and you can make them in less than a minute.  After one taste, you'll be hooked.  I like to top my avocado eggs with some salsa when I serve them on Mexican food dinner nights.
Avocados are an excellent source of vitamins C, E, K, and B6.  They also have riboflavin, niacin, folate, pantothenic acid, magnesium, and potassium. They also provide lutein, beta carotene, and omega-3 fatty acids, which are the good fatty acids needed for brain health.  Avocados contain high levels of healthy, beneficial fats, that help a person feel satisfied faster and fuller between meals.
Source: https://www.webmd.com/diet/ss/slideshow-avocados-health-benefits
Healthy Cinco de Mayo Food + Taco Tuesday Dinner Ideas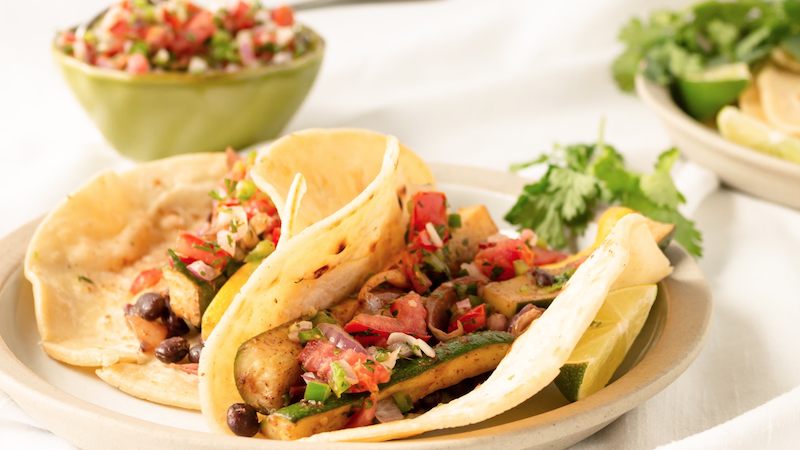 Fajitas & Tacos
Fajitas and tacos are traditional dishes served on Cinco de Mayo.  Both tacos and fajitas are typically made with proteins, veggies, and a tortilla.  They're very similar but have some unique characteristics that distinguish the two.
As a general rule, fajitas have limited protein fillings like chicken or steak and almost always include a grilled or sauteed vegetable topping, like peppers and onions.
Tacos, on the other hand, can have any food wrapped in a tortilla, like eggs, fish, beans, or sauteed veggies, and are typically topped with fresh, raw veggies like lettuce, tomatoes, onion, radish, etc.
Both fajitas and tacos can be made with a soft tortilla but tacos exclusively are enjoyed with the hard taco shell option.  Tacos can also be made out of other things like ice cream or sushi, for example.
To make tacos and fajitas:
Pick a tortilla. 
I recommend using organic tortillas exclusively.  Organic corn or wheat are the healthiest options as flour ave the least nutritional content.  Corn tortillas tend to have higher fiber content and tend to be lower in calories and fat than a flour tortilla of the same size.
Whole wheat tortillas are made from unprocessed, whole wheat flour. They have a similar texture to flour tortillas but have considerably more fiber.  Flour tortillas are the most processed, have the least nutrients and spike blood sugar the most compared to whole wheat and corn options. Regardless of what tortilla you choose opt for the organic option to avoid GMO corn and wheat.
Next, pick a protein.
For Cinco de Mayo or your next Taco Tuesday, I recommend using clean (organic), lean proteins, like shredded rotisserie chicken, lean sliced or shredded beef, pork, fish, shrimp, or beans.  You can also sauteed veggies like mushrooms and zucchini slices to make a vegetable filling.  I always add sauteed sliced onions and green peppers to boost the fiber content when I make tacos and fajitas with proteins.
Then season them with taco or fajita seasonings.  Both blends contain a similar blend of spices that add tons of Mexican flavor to your proteins.
Finally, top off your fajitas or tacos with the following plant-based toppers packed with flavor, fiber, and nutrients.  (listed below the taco salad)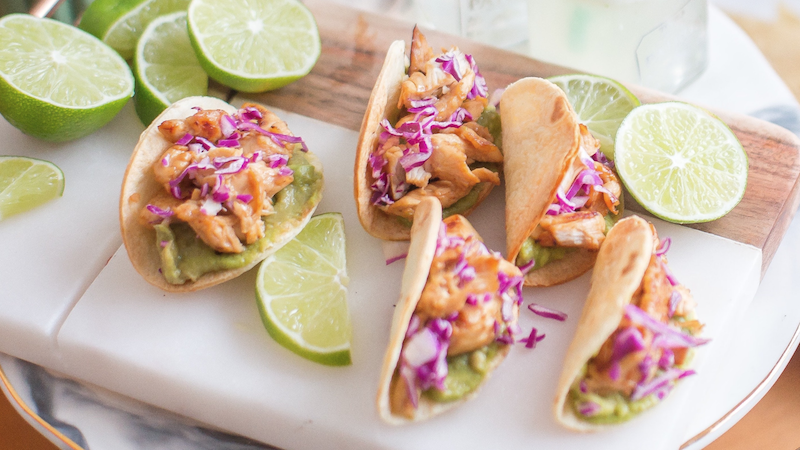 Taco Salad for Taco Tuesday
A taco salad packs all of the flavorful punch of a taco except your taco ingredients over a bed of greens instead of a tortilla shell.  Taco salads are typcically served in a tortilla fried into the shape of a bowl.  I recommend skipping the shell and using greens exclusively instead.
That's what I do (and recommend) since most taco salad bowls are fried in rancid oils and aren't readily available in an inorganic option.  But in lieu of the taco shell bowl, I like to break up organic tortilla chips and sprinkle them over the top of the salad.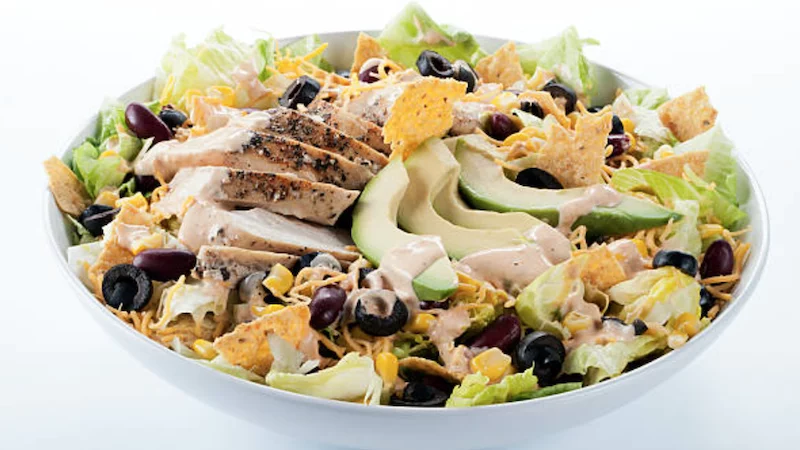 I like to make my taco salads with shredded romaine lettuce, then use shredded rotisserie chicken, grilled chicken, or steak as my topper.  Sometimes I'll do ground organic beef.  Regardless of whatever protein I choose, I'll season them with taco seasoning.
This makes for a healthy grain-free, dairy-free salad that's full of taco flavor with truly healthy ingredients.
To make your own taco salad you can use any base of clean, chopped, or shredded greens including, iceberg lettuce, romaine lettuce, arugula, spinach, kale, etc.  Using a green other than iceberg lettuce helps boost the nutrient content.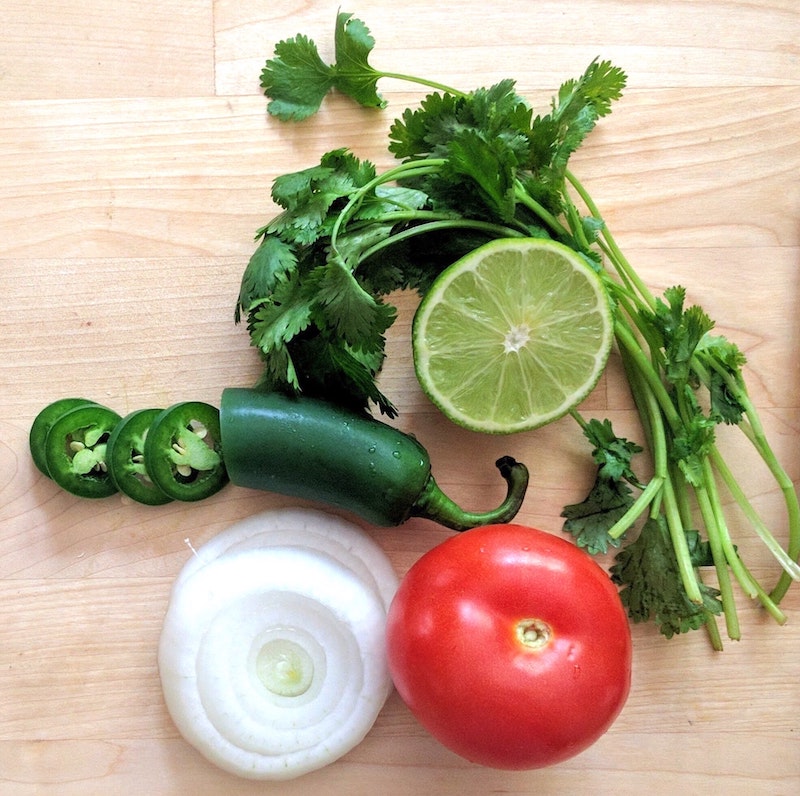 Once you've chosen your Tacos, Fajitas, or Taco Salad tortillas, greens, and proteins, add on the following delicious toppers to boost flavor and nutrient content.  The more you choose the more satisfied you'll feel.
Veggies
Sautéed onions & peppers, shredded red cabbage, sliced radish, black olives, jalapeno slices, diced tomatoes, and diced onions are all great toppers.
Vegetables are a must to make your tacos, fajitas, and taco salad healthy.  Vegetables can help lower blood pressure, prevent the risk of heart disease, stroke, some types of cancer, eye, and digestive problems, and have a positive effect on blood sugar levels that helps keep appetite in check.
Cheese and sour cream kind of toppings do not.
To add interest try mixing raw and cooked veggies as your taco toppers.  This helps trick the brain into being more satisfied and feeling fuller faster
For example, your onions can be raw, grilled, or pickled.
Pickled red onions are my absolute favorite thing to add to tacos and taco salads.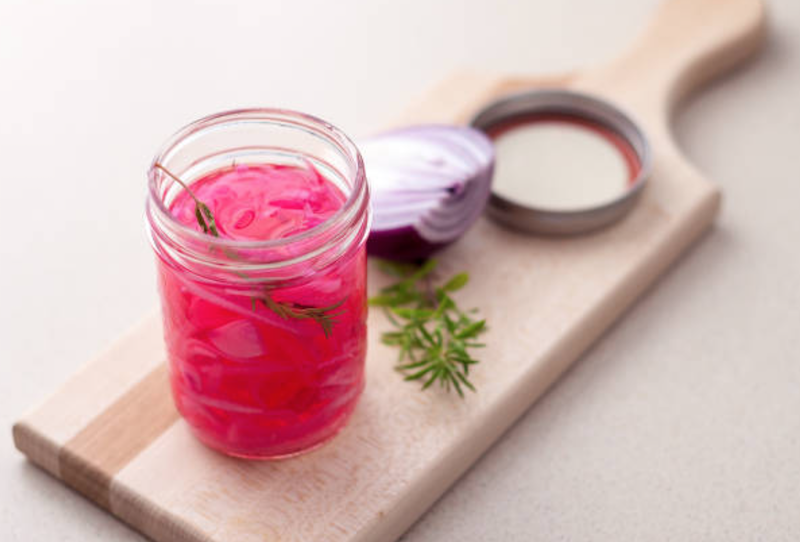 Pickled Red Onions
Red pickled onions are so flavorful, low-calorie, and great for you.  Onions are loaded with plant chemicals called flavonoids, which have both an antioxidant and anti-inflammatory effect.  Red onions have more antioxidants compared to yellow onions because of their bright purple color.
Pickled onions are packed with flavor and are ridiculously easy to make.  Make a batch to add over your tacos, taco salads, eggs & egg breakfast tacos, and whatever else you want to add a fresh pop of flavor.
Pickled Onion Recipe
1 red onion, thinly sliced
1 cup water
1 cup white vinegar – I use a combination of 1/2 cup of white + 1/2 cup of rice wine vinegar
1/4 cup sugar
1 tbsp. Himalayan salt
Optional 1 tbsp (whole) black peppercorns
Instructions
Thinly slice the onions (and optional peppercorns) and place in a mason jar or glass container.
In a saucepan, combine the vinegar, water, sugar, and salt over medium heat.  Stir the mixture over heat until the salt and sugar dissolve and small bubbles appear on the bottom of the pan.  Don't let boil… remove from heat once the liquid mixture is hot.
Pour the brine over the onions.  Cover and transfer to the fridge.
Your pickled onions will be ready when they're bright pink and flimsy.  This usually takes 30 mins. to an hour.  I let mine sit overnight so they have time to soak in the flavor.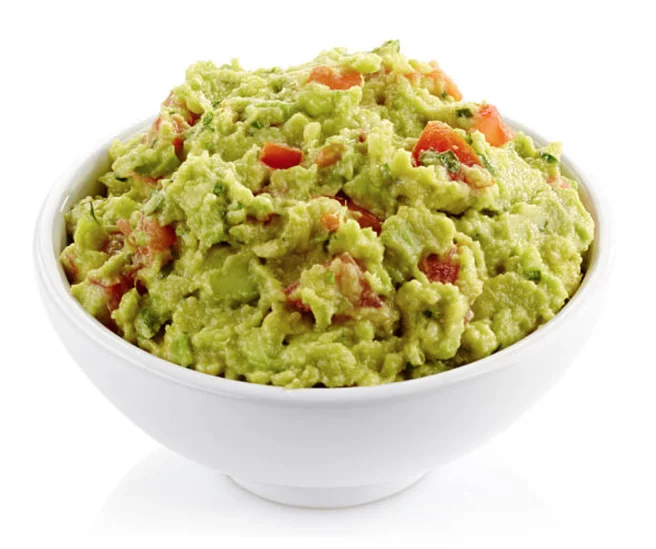 Guacamole
Guacamole is another healthy taco and taco salad topper that's packed with fiber and flavor.  You can also enjoy it with organic tortilla chips for a healthier twist.
We've already covered the benefits of avocados when we addressed the avocado eggs.  But because guacamole has more veggies added to it, it's more nutritious.  Also, avocados are on the Clean 15 so there's no need to buy organic avocados.  I would recommend using organic tomatoes though because they're listed on the Dirty Dozen List.
Homemade Guacamole Recipe
4 avocados, mashed
½ cup red onion, finely diced (you can use yellow or sweet onions, too but red are my personal favorite)
3 tbsp. fresh cilantro, finely diced
2 firm Roma tomatoes, finely diced
1 tsp. garlic, minced
Juice from 1 fresh lime
1 tsp. Himalayan salt
Instructions
Prepare all of the ingredients, then combine in a bowl until fully mixed.  Serve immediately.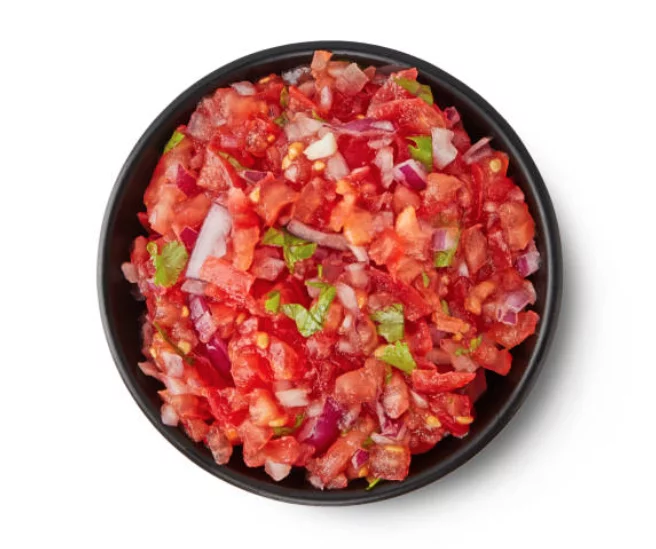 Salsa & Hot Sauce
Salsa is a great way to add flavor and spice to your Cinco de Mayo & Taco Tuesday dishes.  Always opt for organic salsa if you purchase your pre-made from the grocery store because tomatoes rank high on the Dirty Dozen list.  For a more authentic and fresh option, you can usually buy pints and quarts of homemade salsa directly from Mexican restaurants.  It's easy to make at home, too.
Homemade Salsa Recipe
10 Fresh, firm, Roma Tomatoes, chopped
 Fresh Cilantro – NOT dried, and chopped
 Red Onion, finely chopped (yellow or sweet works, too)
 Garlic, finely diced
2 tbsp fresh lime juice – this is a must
Salt and pepper – the salsa would taste flat without the salt and the pepper adds a light kick
  Chili powder &  umin – (optional) but definitely try adding these if you have them on hand as they make the salsa taste more like the kind you find in a restaurant
1 Jalapeno pepper, de-seeded – (optional) if you like spice add it, if not, feel free to skip, if you like spice you can add 2 jalapenos
1/3 tsp. Sugar – (optional) a tiny bit helps neutralize the acid from the tomatoes and lime
Instructions
Finely chop all of the vegetables.
Transfer all of the ingredients to a blender.
Pulse the salsa in a blender until everything is mixed well and a loose, chunky texture is reached.
Feel free to add in your favorite hot sauce to add spice to your salsa, tacos, and fajitas, too.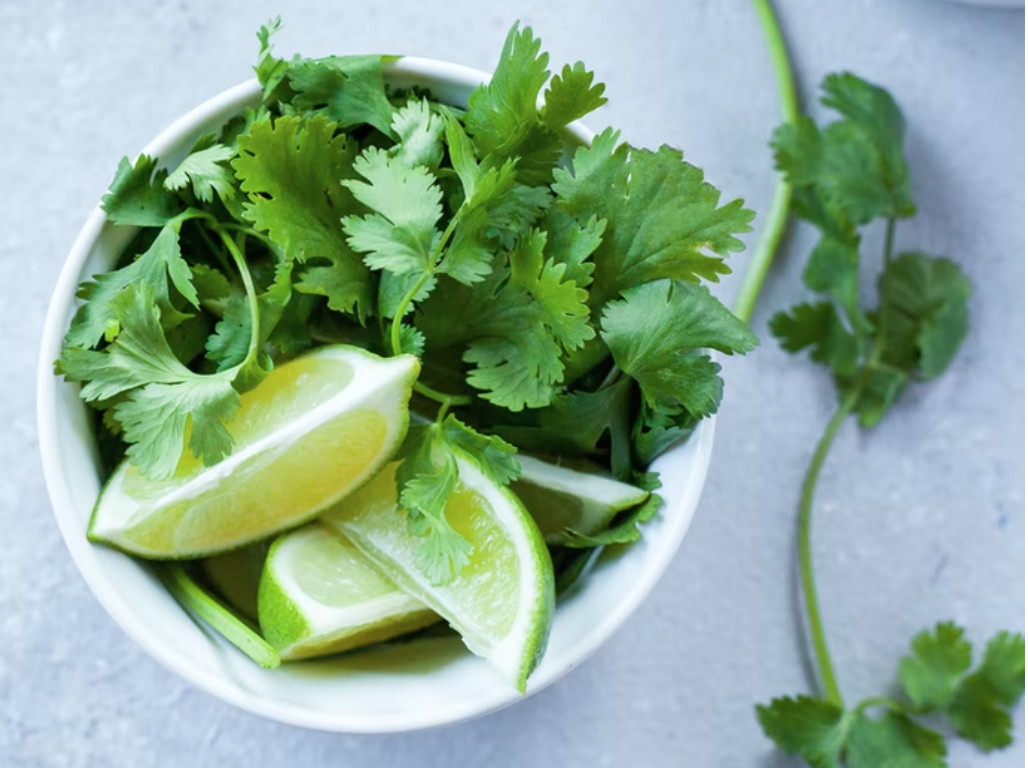 Fresh Lime Juice & Cilantro
Cilantro is one of my favorite herbs because it's packed with Mexican flavor and benefits.  The nutrients and phytochemicals in cilantro are linked to helping the body detox heavy metals, protecting against oxidative stress, reducing anxiety, blood sugar levels, UTI's, and risk of cardiovascular disease.  You'll find cilantro a lot in the recipes above.  I encourage you to finely chop cilantro, then sprinkle it on top all of the dishes above to boost flavor and nutritional benefits.
Lime Juice is another tasty topper that I encourage you to use generously.  Fresh lime juice is high in Vitamin C and antioxidants.  That's why and how it prevents the avocado in guacamole and ceviche from turning brown.  Lime juice nutrients have been shown to improve immunity, reduce heart disease risk factors, prevent kidney stones, help iron absorption, and promote healthy skin.  For the best results and most benefits use fresh lime juice, not the processed juice found in plastic lime containers at the grocery store.  Fresh lime juice adds a jolt of flavor to Mexican dishes.  The sour taste also helps prevent sugar an carb cravings.
I hope you enjoyed these tasty Cinco de Mayo Food + Taco Tuesday Ideas.
Leave me a comment and let me know which idea you're most excited to try.
Your Coach & Biggest Cheerleader,

Pin these Healthy Cinco de Mayo & Taco Tuesday Recipes to Pinterest so you'll always have the on hand.