Last Updated on July 28, 2019
A few weeks ago I was chatting with 2 different friends.
Both told me they wanted to lose weight
Both wanted to lose about 20-ish pounds
Both had no idea what to eat
When I'm trying to help people transition into healthier habits I like to give them healthy options to replace unhealthier choices.
That way you don't feel restricted…  you're just swapping in a healthier alternative.  I made both of my friends this healthy vegan cheese recipes and both loved it.
Like licked-the-bowl-clean, like it.
Traditional unpasteurized dairy isn't as healthy as the dairy industry would lead you to believe… but let's be real, cheese is damn delicious.
A lot of people love cheese and want a healthier alternative.  So when my friends needed help I had them taste this vegan cheese.  I didn't tell them what it was.  I asked them to taste it to see if they liked it.
Both of them loved it.
I love it, too.  And I'm a cheese snob.  I love the real thing but we just don't get along…  dairy makes me breakout (almost) instantly.  Dairy triggers sinus issues and congestion that give me headaches.  Plus, once I pop… I can't stop.  The casein in cheese is among one of the most addictive substances on the planet.
In my own quest for a healthy cheese alternative, I tried a dozen or so recipes I found but none of them were cheese-like or didn't have the right flavor.
That's why I'm excited to share this delicious vegan cheese recipe.  It's the result of tons of trial and error but actually tastes and stretches like real cheese.
My vegan cheese recipe is healthy and is easy to make.  The best part, it's gooey like real fondue cheese.
My friends were like… okay this isn't the real thing… but I like it anyway and I'd eat it again.  Success!
This healthy vegan cheese recipe is:
Dairy-free
Sugar-free
Paleo
Gluten-free
Guilt-free
Easy to make
Delicious
Wondering how it tastes?  It's like a slightly sharp mozzarella fondue with a very, very mild hummus flavor.
HEALTHY VEGAN CHEESE RECIPE
Adapted from this recipe from Vedged Out
THE INGREDIENTS
*Organic ingredients recommended*
1/2 cup raw cashews, soaked overnight
1 cup water
3 tbsps.+ 2 tsp. tapioca flour (more about this in the tips below)
2 tbsps. Nutritional yeast
1/2 tsp. sea salt
2 tsp. apple cider vinegar
1 tsp. garlic powder
HOW TO MAKE VEGAN CHEESE
Soak your cashews overnight.  Drain the water.
In a saucepan, add the water and cashews.  Cook over medium heat for 10 minutes.
Combine all ingredients in a blender.
Blend well until it has the consistency of a thin smoothie.
Transfer the "cheese" mixture back into the saucepan.
Continuously stir until the sauce begins to thicken.
Cook while continuously stirring for approx. 10-15 minutes.
Remove from heat and use as desired.
TIPS ABOUT THIS RECIPE:
The cheese maintains a gooey fondue-like texture, and slowly thickens as it cools.  If you have it right off of the burner it's more stretchy.
If you skew the ingredients you'll lose the cheese vibe.  Measure everything according to the recipe.
Tapioca flour is another name for tapioca starch.  You can find it at your grocery store in the baking/spice aisle.  In a pinch, you can buy tapioca pearls (tapioca only – not pudding) and grind them in a coffee bean grinder until it's the consistency of flour.  I ran out of tapioca starch before cooking this batch of cheese, and used ground tapioca pearls.  It was cheaper than using tapioca flour, but also made the texture a bit gritty looking.  It didn't affect the flavor or stretch/gooiness.
You can use it as a dip, spread, or as a sauce.  Or, if you're a cheese lover like me, by the spoonful. 😉
This cheese is perfect for veggie noodles, pasta, pizza, vegetables, fruit, rice, cauliflower rice, tacos, pita and veggie chips.
I like to use this cheese the most fondue-style and dip fresh fruit and veggies in it.
Prep Time: 5 min
Cook Time: 20 min
Yields: 4 servings
Calories: 145 calories per serving
Leave me a comment and let me know how yours turns out.
Enjoy!
xo

Pin this recipe so you'll have it forever.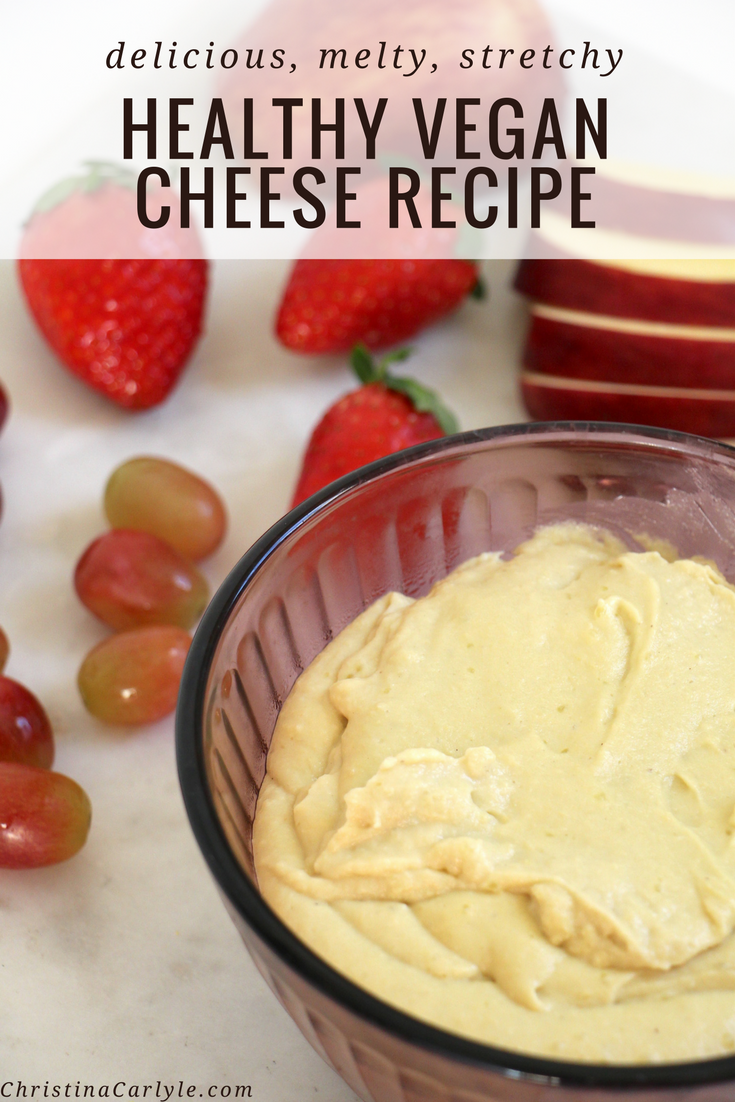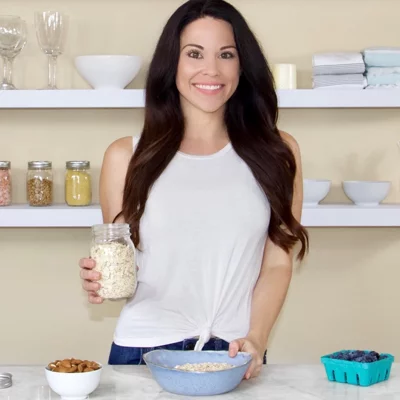 Christina is a certified Holistic Nutritionist, Personal Trainer, & Holistic Fitness & Health Coach. After healing multiple personal health issues, getting off 7 meds, & losing 40 pounds, Christina teaches others how to get Happy, Healthy, & Fit quickly with the most delicious food and least intense workouts.