Last Updated on August 1, 2019
A fun fat burning exercise ball workout for women.  Ever see those big bouncy exercise balls in your gym and wonder how to workout with them? If so, you're in luck!
Today, I'm sharing a quick, fun, fat burning exercise ball workout with you.
Exercise balls (aka stability/fitness/Swiss/balance balls) are more than just fun to kick around, throw and bounce on.
Stability balls are among the most effective yet inexpensive, easy-to-move and versatile exercise equipment that are a MUST have for your home.
HOW TO PICK THE RIGHT SIZE Exercise BALL
Exercise balls come in different sizes… to make sure you find a ball that's the right size for you, sit on the ball.
Your hips and knees should form a 90-degree angles with the floor. (i.e. feet flat on the floor with your knees bent so they form right angles.)
So now that you know how to choose the right size exercise ball, check out today's episode of CCtv.
In it, I share an easy but effective core and glute exercise ball workout.  If you want a tight, toned tummy and boosted buns, you're going to love it.
Grab your exercise ball and let's go!  See me explain more about stability balls and show you what exercises to do, in today's episode of CCtv.  I also share a few more workouts (see below) that use exercise balls, too.
EXERCISE BALL WORKOUT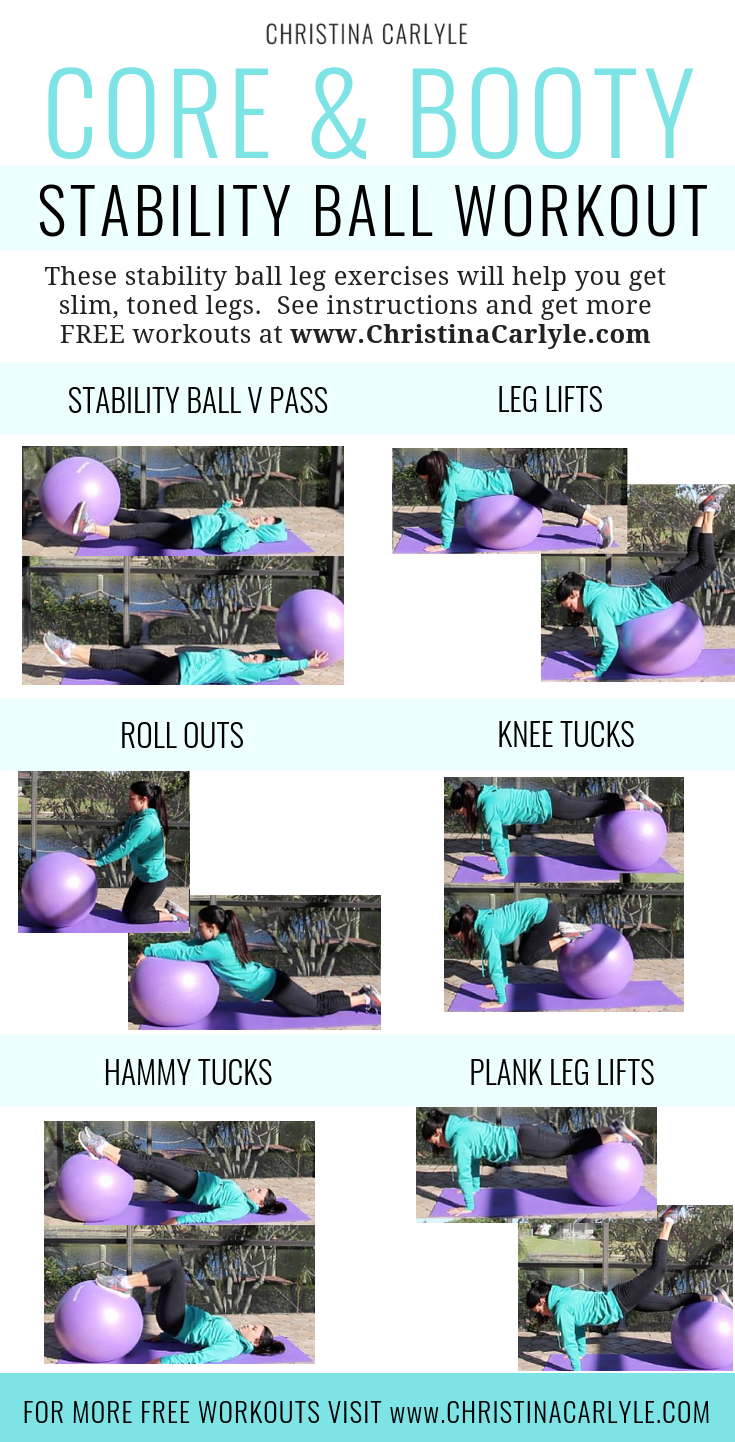 Pin this workout to Pinterest so you'll have it forever.
How to do this exercise ball workout
Do each stability ball leg exercise, until you feel the burn… once you feel the burn do 5 more.
Once you're done with an exercise, move to the next with little to no rest between the different moves.
You need to do each exercise back-to-back one time to complete 1 full 'round' or set.
You need to do 3 full sets to complete this stability ball leg workout.
It only works if you work it, so work it.  YOU are so worth it!
Leave me a comment and let me know if you felt the burn.
Your Coach and Biggest Cheerleader
xxoo
Your Coach and Biggest Cheerleader

If you liked this workout, you'll love these exercise ball workouts, too.