Last Updated on December 7, 2022
Need some ideas and gifts for health that won't break the bank?  I got you!
I have tons of gift ideas that make it easier to get fit & healthy.
Every time someone finds out I'm a nutritionist or trainer they want to know what I recommend to get results.
Whether it's weight loss, athletic performance, or managing or reversing health issues people want real deal advice because what they're doing isn't working.
I get asked about supplements, protein powders, home gym equipment, and workout clothes & sneakers all the time.
But this time of year healthy ideas and gifts for health start to trend.
That's why I put together this one-stop shop of healthy gifts that I use, love, give, and recommend most.  (updated for 2022)
Consider it the ultimate Healthy Holiday Gift-Giving Guide.
Now I know the holidays are all about giving to others – BUT…
I encourage you to consider gifting a few of these products and gadgets to yourself, too because everything I'm recommending makes it easier to get healthier & fit. (I explain how… keep reading.)
There's something for everyone.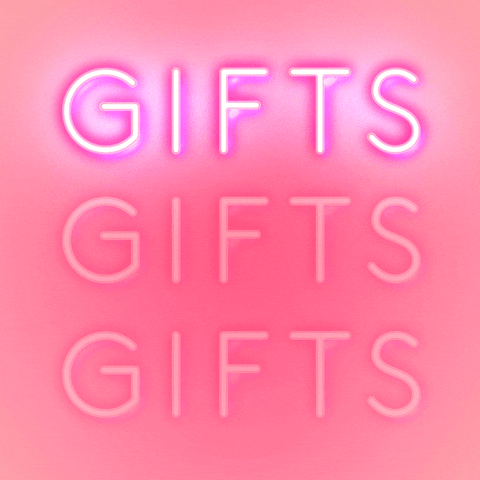 GIFT GIVING DISCLOSURE
These are the exact same products I use and love and would recommend to my besties and family.
I only share products online after my offline clients experience success with these products, too.  They're incredible, affordable, (very) well-reviewed, and work.
In case you're wondering, yes, the products below contain affiliate links and I will make a small commission if you buy these products through these links.  BUT I take all of that commission – then personally match it – and donate it all to the Make a Wish Foundation every year.
Not only will you get beneficial gifts – but you'll also be helping someone in need, too.
ULTIMATE GIRLFRIEND'S HEALTHY HOLIDAY GIFT-GIVING GUIDE – 2022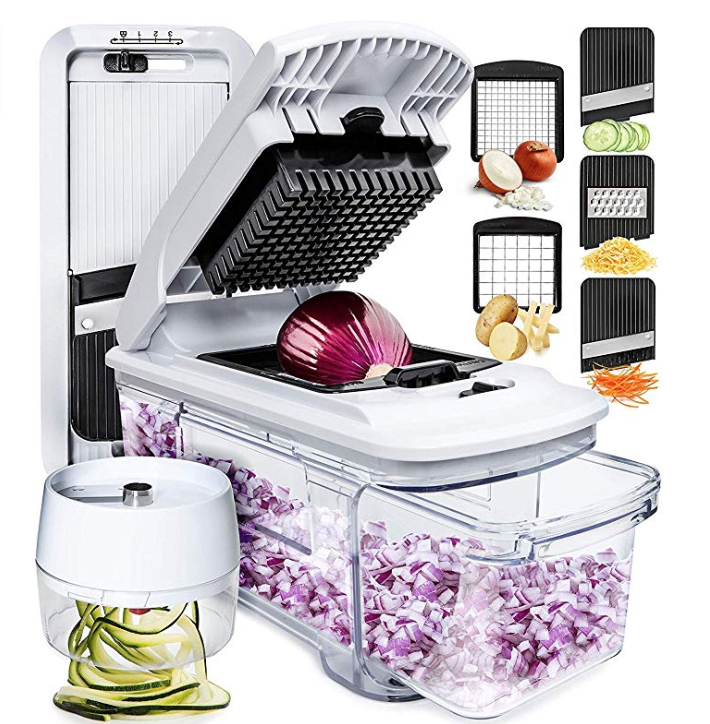 This glorious device makes meal prep and cleaning go SO MUCH FASTER!  I was given this as a gift 7 years ago and my first thought when using this chopper was heck yes!
It's SO easy to use.  Simply cut produce into slices and then press the top down and everything is cut in equally sized pieces in the collection container.  Equal sizes means equal cooking time.  This gadget makes veggie prep and clean-up a breeze and saves so much time in the kitchen.
I love using this for salads, onions, tomatoes, cucumbers, peppers, strawberries, hard-boiled eggs, shrimp, and to make ceviche.
Grocery stores use industrial-sized devices like this to pre-prep veggies.
The problem?  The pre-prepped veggies more expensive and sold in plastic (which leeches into your food and then into you).  Plus, pre-prepped produce in the grocery store isn't as nutritious because produce loses nutrition the longer it's exposed to light and air.
By batch-prepping your own veggies at home & on demand, you'll save time, money, and get more nutritional bang for your buck.
This prep set also comes with a zucchini/veggie noodle maker so it's really two gifts in one.

PRO GLASS FOOD STORAGE SET
I love glass Tupperware.  It's non-toxic, won't stain, and lasts forever.  Unlike traditional plastic food storage containers, this glass set can be used safely in the microwave.  When heated hormone-disrupting chemicals in the plastic can leech into your food, and then into you.  That's why it's best to use glass, instead.  I recommend this most for anyone that cares about their thyroid, reproductive, adrenals, and hormones.  Plus, it's easier to see what's in them compared to opaque plastic.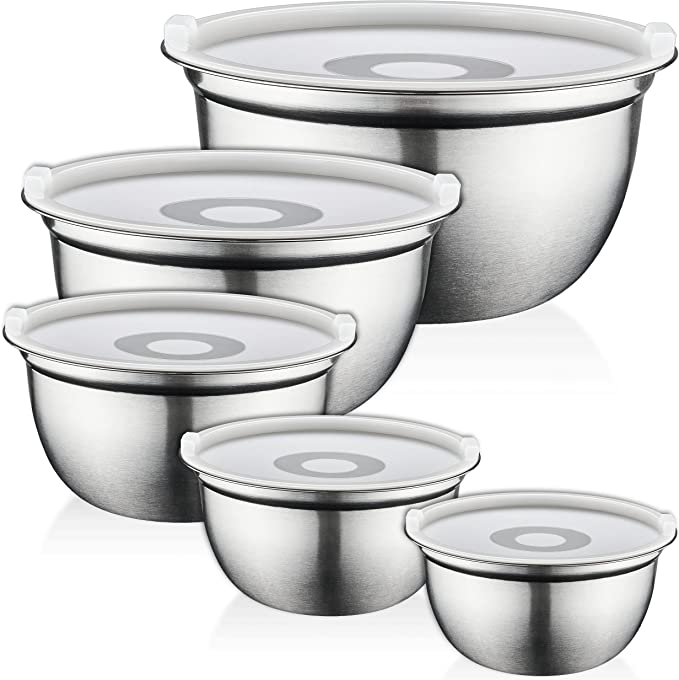 STAINLESS STEEL MIXING BOWLS
I got myself this set a few years ago and I love them.  Then everyone who's seen them asks where I got them.  They come in all the right sizes and can be used to mix, prep, store, serve, and freeze.  They're beautiful, nest, and come with air-tight lids.  They go from the table to the fridge.  Over the years I've gifted this set to my Mom and friends.  Everyone loves them as much as I do and they're so much more practical, durable, beautiful, and healthier than plastic bowls.  I use them for prep, baking, salads, soups, chili, bone broth, and storing bigger items like a whole chicken.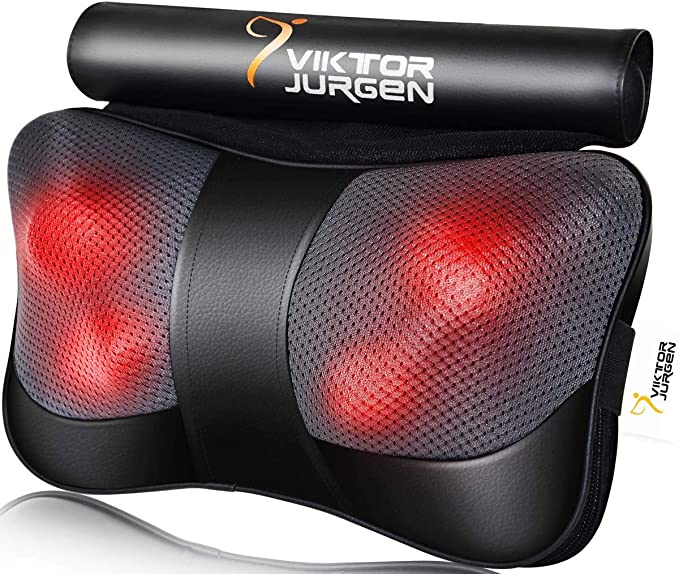 THIS MASSAGER
When my massage therapist told me to get an at-home back massager to use between appointments I was surprised.  Even more so that this at-home massager is more affordable and convenient.  I researched a lot before choosing this one and I use it all the time.  I got one for my parents and they love it, too.  I recommend it often to everyone that works out and has muscle tension.  Hello gym rats and office workers with tech neck.
Simply plug it in, lay on it, and let it do its thing.  I've tried a few others that were bigger, bulkier, more expensive and I always come back to this.  Other models have an automatic timer and cut off after 15 minutes but this one lasts significantly longer.  You can put it anywhere calves, thighs, hamstrings, low back, upper back, neck, etc.  I actually have two so I can do both legs at once.  I use it when I work at a desk, in bed while I read or watch TV, and after workouts.  It's smaller enough to throw under a bed or in a closet which I love, too.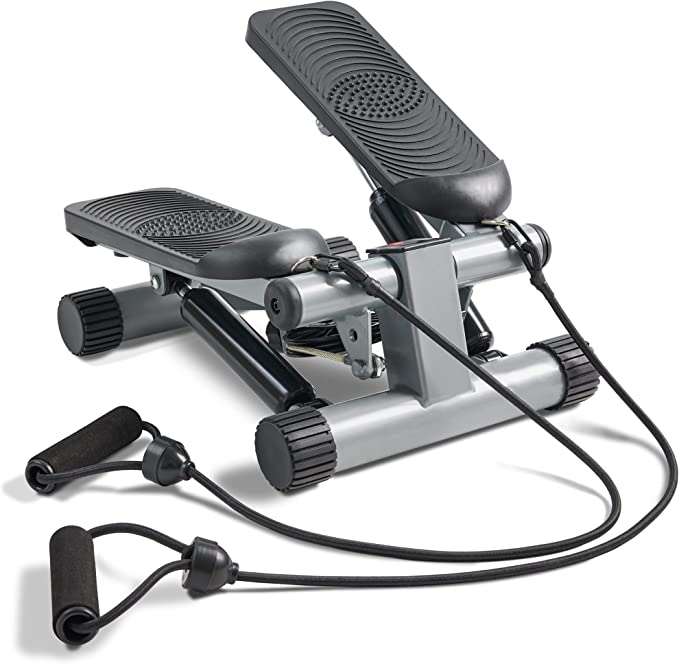 AT HOME CARDIO STEPPER
I am obsessed with this cardio stepper machine!  I got this fully expecting to hate it but I don't!  It takes up far less space than an elliptical machine or treadmill but gives the same results… for a fraction of the cost.  I've had different in-home elliptical machines over the years and ended up having to sell them because they took up too much space or were an eyesore.  This little guy can easily be hidden in a closet and moved around. It also has a display that shows your step count, time, calorie burn, and resistance.  I love using it when I don't feel like driving to the gym, when the weather sucks, or when I want to multitask & watch TV.  If you hate trekking to the gym in cold weather, if you don't want a big, bulky machine in your house, and want a killer cardio workout at home, you will love this.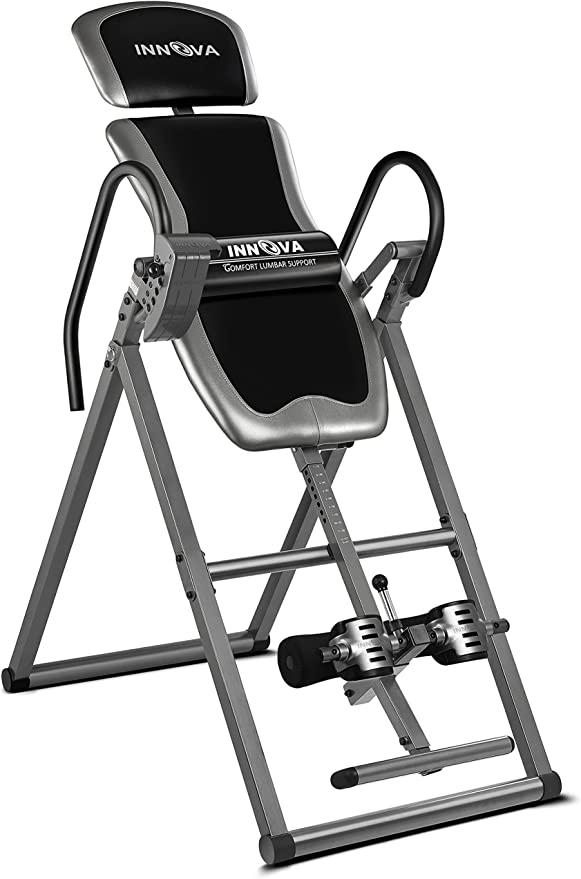 THIS INVERSION TABLE
Hang upside down like a happy bat on this inversion table. I've been OBSESSED with inversion tables ever since using one for the first time at my Uncle's house 20 years ago. He's a dentist and said he used his inversion table to fix his posture and reduce the back pain he gets from hunching over patients all day.
Curious I tried this one and was instantly hooked. The second I inverted I felt the most incredible release of tension in my spine and joints. I also felt better after getting off of it.
Inverting upside down is SO beneficial because it helps get your body back in alignment, circulates lymph (IMPORTANT), takes pressure off all of your joints, reduces pain, and boosts brain power.  Seriously.
Inverting increases blood flow to the brain, giving it more oxygen & nutrients and makes the brain function faster. It's been proven to help concentration, memory, observation and clear thinking. Inverting makes the brain work better and can also make hair grow faster, too. That's because hanging upside down increases blood flow & moves nutrients to the scalp, stimulating hair growth.
Circulating lymph also helps toxins move to detox sites throughout the body. When lymph doesn't circulate, toxins can become trapped in lymph nodes resulting in a lowered immune system, fluid retention, cellulite, and fatty deposits. (Your risk of cancer skyrockets, too).
If you do or don't exercise regularly (Exercise gets the body out of alignment. Not exercising automatically means you have stagnant lymph), if you have back or knee pain, if you hurt after sleeping or sitting in a certain position, you should invert.
Lack of sleep, dehydration, stress, emotional trauma, infections, and lack of movement can stagnate and stop lymph flow. If you experience these regularly, you need to invert.
Inverting prevents issues and stimulates lymph flow more than other techniques like dry brushing – in less time.
I've been inverting since my car accident and even more so since tearing my meniscus in 2020 to get my knees & spice back in alignment. It helped me avoid surgery and saves me a TON of money on chiropractor appointments. This is the table I use & have been recommending for years.
Invert for 5-10 seconds. Then come back up. Repeat for 5 minutes. It's that easy. You can work your way up to longer hold & session times if you want.

This test is easy to use and provides a lot of insight into to ancestry, genetic predispositions, and traits.  I like it because it lets you know what makes you, you.  My test results showed that I'm 3% Japanese – I had no idea!
You can also use the info to tailor your lifestyle to suit your genes.  It's less expensive than other genetic tests and gives more insight about your results, too.  It's an interesting, eye-opening, original, and fun gift to give (and get).  Get this kit directly from the manufacturer by clicking here!  The test kits on Amazon do not have the same customer service and can delay your results.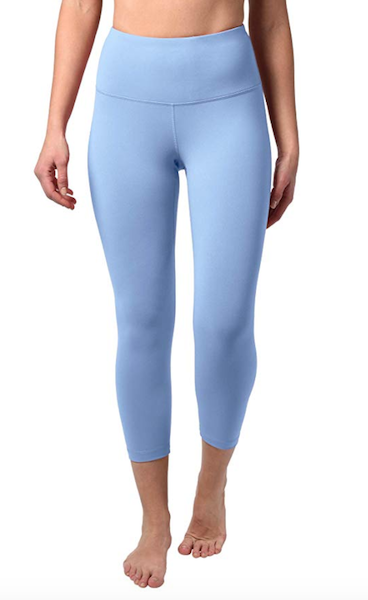 I love these yoga pants, SO MUCH.  Here's why:
They're high-waisted, comfy, and suck everything in like body contouring, shapewear
They have tons of beautiful colors and sizes
They're squat-proof and not see-through
They don't fade, pill, or stretch and last forever
I actually like these better than Lululemon (and you can buy 3 of these for the same price as 1 pair of Lulu's and they hold up better IMO)
They're a great addition to your yoga pant collection and may just become your favorite brand, too.  I get a few pairs every year for my bday and holidays to shoot workouts and lounge in.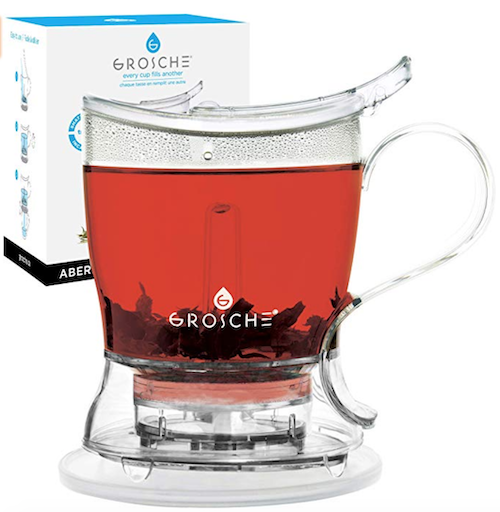 BOTTOM DISPENSING TEAPOT
This bottom-dispensing teapot is a must-have gift for the tea lover in your life!  Teabags contain microplastics that wreak havoc on hormones and health!  By using this pot, you can cut the tea bag open, pour in the loose tea leaves, and avoid exposure to unnecessary plastics.
Simply fill the tank with loose-leaf tea, pour in the hot water, and let it steep.  Then place over your coffee cup and the tea funnels into your mug, one cup at a time.  This is the perfect addition if you already have a tea kettle.  It's made from shatter-free, BPA-free plastic and lasts forever!  I'm obsessed with mine and use it all the time.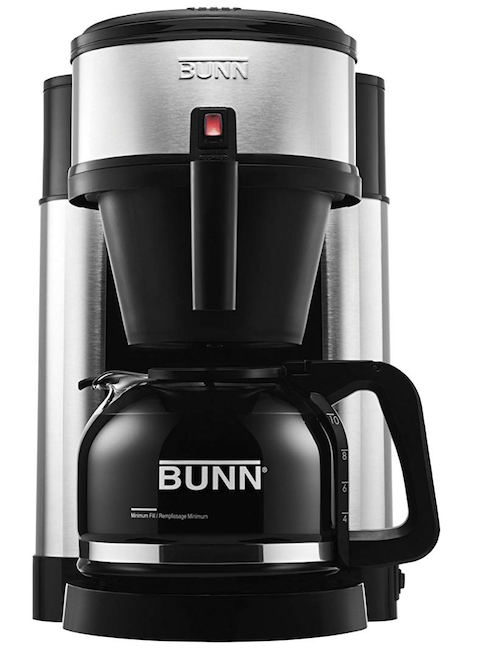 I am obsessed with Bunn Coffee Pots.  They use a reservoir water displacement system – so every time you pour in cold water to make a fresh pot – the cold water pushes out already hot water from the reservoir and fresh, hot coffee pours out instantly.  Bunn pots brew coffee faster than a Keurig!
Because Bunn Coffee Pots use filters and coffee grounds only – you don't need expensive, plastic pods.  And trust me you don't want hot water, running over plastic, and into your coffee cup.  Plastic can leech out into the hot water and into you – causing a huge array of nasty side effects that can be detrimental to your health.

Nonstick cookware is toxic.  Have you seen The Devil we Know, yet?  If not, check it out on Netflix and you'll know why non-stick pans are SO BAD and why I'm recommending this must-have cast iron cookware set.
Why I love cast iron:
Cooking with cast iron helps add minerals to your food
It's affordable and lasts forever
It stays hotter, longer
Can use it on a stovetop and in the oven
Doesn't contain toxic, cancer-causing Teflon
I would recommend seasoning your cast iron pans first before use (even though they come pre-seasoned.)  Make sure you tell the recipient if you're giving these as a gift.  By the way… these make great gifts for the men in your life!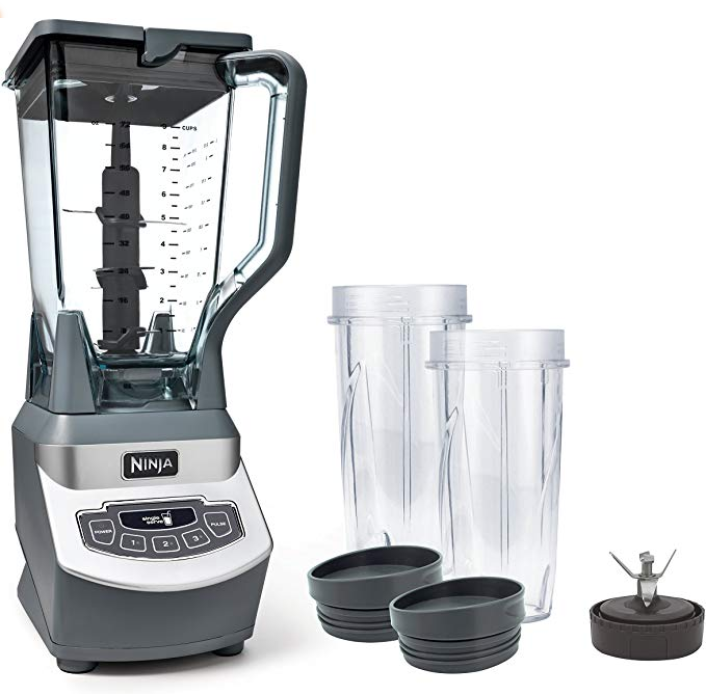 I got this Ninja Blender as a gift and loved it so much that I give it as a gift.  It's powerful and comes with 2 smoothie blenders + a traditional blender attachment.  I use mine to make smoothies, green juice, soups, nice cream, and chocolate avocado pudding.  I like it so much more than the Vitamix and it's more affordable, too.
Those are all of my go-to gift-giving suggestions for you!  I hope you liked my list and that it gave you inspiration for healthy gift ideas.
For more healthy gift ideas for protein powders, supplements, fitness equipment, clothes/sneakers, all organized for you on my Amazon store here.
Did this post turn you on to something new?  What gift idea do you want most?
Let me know what's on your mind in the comments below.
Happy Holidays!
With love
Your Coach and Biggest Cheerleader
xo

Don't forget to pin this to Pinterest so you'll have it forever & help inspire others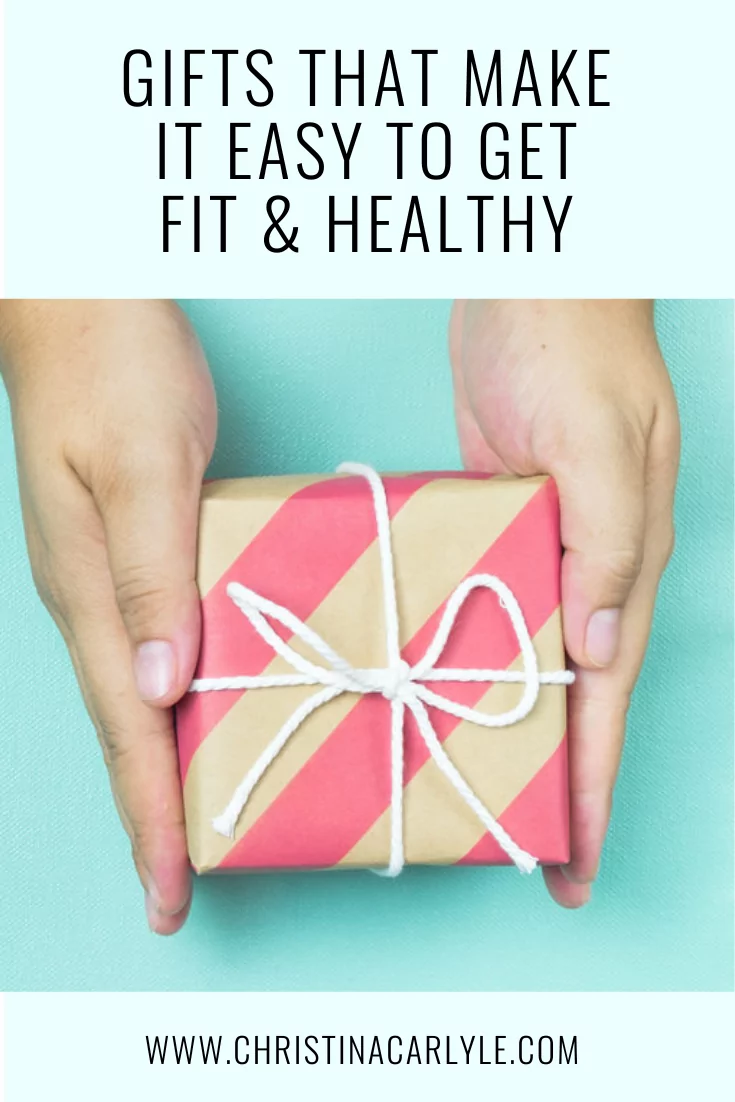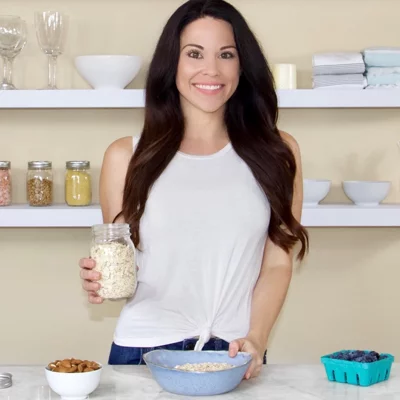 Christina is a certified Holistic Nutritionist, Personal Trainer, and Fitness & Health Coach. After healing multiple health issues, getting off 7 meds, & losing 40 pounds – and keeping it off for 10+ years, Christina teaches others how to get Happy, Healthy, & Fit quickly without any bullshit.  She'll show you how to slim down, tone up, and feel fantastic naturally with the most delicious food and least intense workouts possible.