Last Updated on November 25, 2020
Today I'm sharing, 7 Healthy Thanksgiving Tips to indulge guilt-free and stay on track with your fitness and health goals.
Between the drinks, dinner, and desserts, calories consumed on holidays add up quickly.
According to the Caloric Control Council, an average Thanksgiving holiday dinner contains 4,500 calories and 229 grams of fat.  That's more than twice the daily number of calories and three times daily recommended fat intake.
Yikes!  But who can blame us??  I don't know about you but Thanksgiving is my favorite food holiday.  I want all. the. things.  And no, veggies wouldn't be my top pick.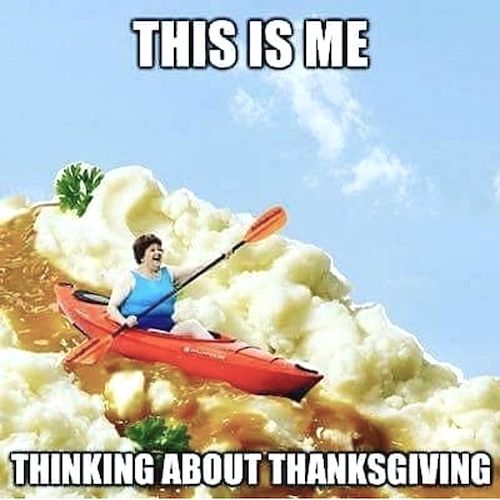 That's why I wanted to share my top tips to indulge on Thanksgiving – guilt-free.
7 Healthy Thanksgiving Holiday Tips
These are the exact same tips I've been using for years to enjoy the holidays and avoiding bloat, fatigue, binging, and weight gain!  They're the same tips I share with clients to help them stay on track, too.
Now I'm sharing them with you.  Woo!
After you've had a chance to check it out, leave me a comment and let me know what tip helped you the most.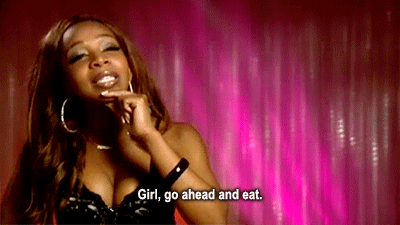 7 Healthy Thanksgiving Tips to Help you Stay on Track
Tip 1)  Start your Day with Fiber and Protein
Protein doesn't affect blood sugar levels.  So it'll help you feel full, prevents food cravings/energy crashes, and overeating later in the day.  It also helps boost metabolism.
Always pair high-fiber foods… i.e. veggies with proteins.  The fiber from veggies will help digest the protein digest better… NOTE:  This helps prevent constipation.
My favorite protein-filled breakfast ideas include:
Scrambled organic eggs
Omelets
Frittatas – This is like a baked omelet.  Baking eggs make them rise, so you get the same amount of calories for more volume.  Plus, the oven will be on anyway… if you're cooking the turkey.  So why not?
A protein shake with my all-time favorite protein green protein powder and collagen (Collagen is my secret weapon!  More on this later)
I make my frittatas with 6-8 eggs (depending on how many veggies I use and how deep the pan is) and whatever omelet veggies & herbs I have on hand.  Once you mix everything together, pour the egg mixture into a glass pie pan and bake at 350 for 30-ish minutes until the egg is cooked completely.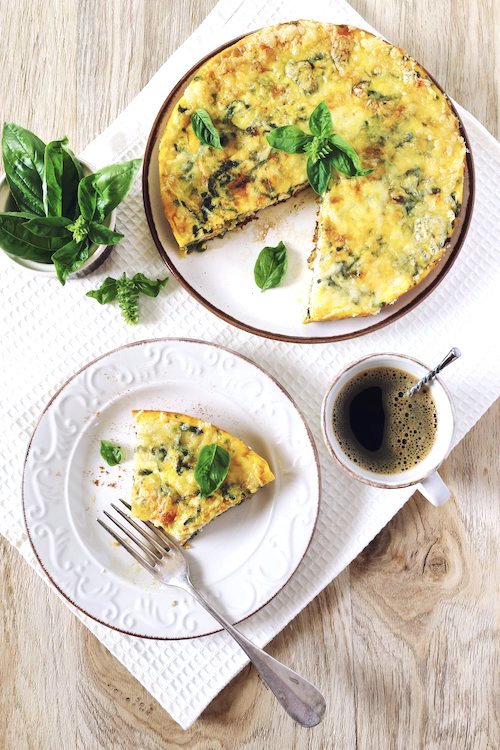 Frittata veggies include:  mushrooms, tomatoes, asparagus, black olives, spinach, broccoli, peppers, onions,
Tip 2 )  Burn it to Earn it
It's very easy to rack up hundreds of extra calories during Thanksgiving.  You're literally surrounded by tons of delicious dishes that are loaded with starch, sugar, and fat, for a few days.
Since you already know you're going to be eating – and should because duh!  it's the holidays! –  it's best to burn off the extra calories you'll be having before you have them.
Schedule a quick gym session, go for a run outdoors (weather permitting), or try any one of my fat burning workouts before you indulge.
Walking outside or playing a sport with loved ones is always fun, too!  If you're staying in a hotel, you can use their gym, run up and down the stairs in the stairwell or outside.  Or find a nearby park, weather permitting.  I always get outdoors to get away from food, booze, and sometimes my family.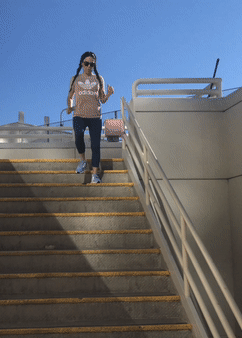 Tip 3)  Fill up with Fluids to Trick Your Brain into Feeling Full Faster
It takes your brain about 20 minutes to register that you are full.  Drinking water before you eat will help you fill up, without having any calories.
Drinking water physically takes up space in your stomach which literally prevents overeating.  I recommend having at least 1, 8 oz. glass of water before you eat.  Drink lots of water with your meal, too.
You'll feel full faster on less food.  By the time you pee, you'll feel satisfied and not overly stuffed and uncomfortable like everyone else.
Bonus: This helps you feel less guilty when you're digging in the leftovers later.  I see you. 😉  Repeat this again when you do!  It really helps!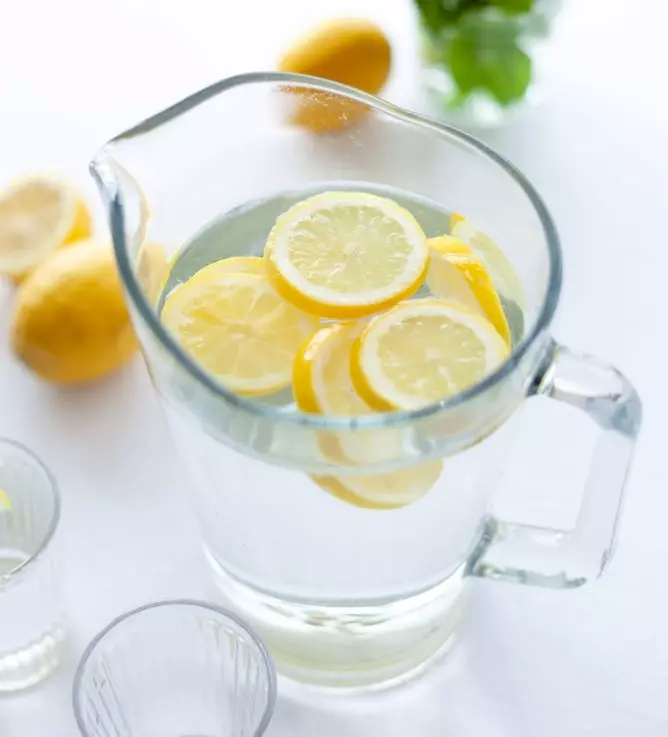 BONUS: Enjoy Soup as an App
Start your Thanksgiving meal with soup.  That's why I always make this delicious Pumpkin Soup to kick start Thanksgiving dinner.  It's like the Pumpkin Spice Latte of soups…
I make it for my dinner or take it when I'm a guest.  Everyone loves it.
It's low in calories but loaded with vitamins and fiber, too!  It'll fill you up without filling you out and doesn't put a big strain on the digestive system, either.
I make a gigantic batch so I'll have plenty for the weekend to fill up on instead of leftovers.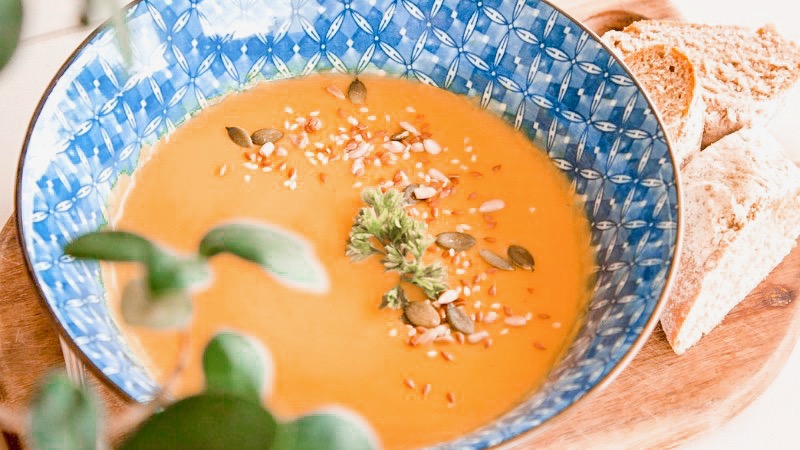 Tip 5)  Moderate Moderation with the 80/20 Rule
Try to make 80% of your plate protein and veggies with a solid 20% dedicated to the cheesy, starchy, sweet, bread-based, buttery, starchy (potato) foods.
That means 80% of your plate will be protein, green beans, corn, carrots, and/or whatever other proteins and veggies your family enjoys during the holidays.
Tip 6)  Make Healthier Substitutions
A lot of party and seasonal holiday dishes and drinks default to the bliss bite (or sip) category.  Sweet, savory, buttery sauces, salads, gravies, sides, and desserts, are all considered 'good stuff.'
You can easily 'have your cake and eat it too' by making smart substitutions to cut calories, fat, and sugar, that won't affect the flavor.

These smart swaps will help keep you light and lean instead of feeling lethargic.  Plus, they're anti-inflammatory, so you won't feel as bloated and fatigued.
To ensure you get the healthiest ingredients, always opt for organic, non-GMO versions when available.
Turkey – One 3-oz serving of light or white meat typically contains 140 calories and 3 grams of fat.  Dark meat has about 160 calories and 7 grams of fat.  Skip eating the skin.  The skin adds another 15-20 calories and 1 gram of fat to every bite.  Basting the turkey with chicken broth instead of pan drippings cuts calories and will make your bird more juicy.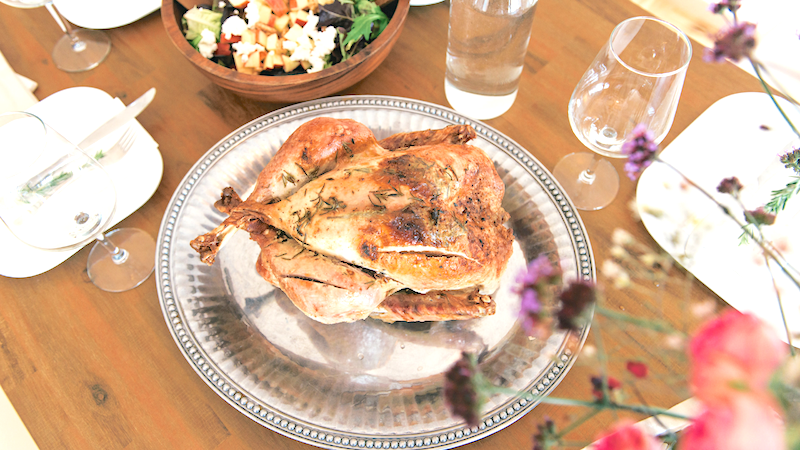 Stuffing – An average 1/2-cup serving typically contains 180 calories and 9 grams.  That serving is the size of a tennis ball.  Swap butter for chicken broth and save up to 50 calories per serving.  Use whole grain bread (breadcrumbs) to avoid inflammatory gluten and boost nutrients by adding more veggies like; onions, water chestnuts, carrots, and celery.  Veggies act as a filler that add volume without calories and also add more vitamins & minerals.  Plus, the whole grains & veggies have fiber that will help you digest better and feel more full, faster for far less calories. #winning
Mashed Potatoes – have about 220 calories and 8 grams of fat per serving from butter, cream, and/or milk.  Swap for organic options or unsweetened, plain nut milk alternatives, when applicable.  You can make your own nut milk.  Add flavor with herbs and organic plain Greek Yogurt… it tastes just like sour cream but with protein.  You can make mashed cauliflower as a potato alternative to boost fiber and nutrients.
Sweet Potatoes – Just one ½ cup serving of candied sweet potatoes has about 300 calories.  The brown sugar and marshmallows add tons of sugar to an otherwise fat-fighting friendly sweet potato.  Serve baked sweet potatoes instead and give your guests the option to add their own brown sugar and other toppings to taste.  A ½ cup of baked sweet potato will save you over 150 calories per serving.
Green Bean Casserole – One 1/2-cup serving typically contains 120 calories, 8 grams of fat, and 550 milligrams of sodium.  Use low-sodium or reduced-fat varieties of cream of mushroom (or cream of celery) soup.  You'll save 120 calories and 16 grams of fat by using the reduced-fat version.  Dilute the soup with bone broth, to cut calories without sacrificing flavor.
Gravy – Gravy has about 100 calories and 4 grams of fat in a 2 tablespoons.  You probably already skim the layer of fat off of the top before serving… but if you add a few ice cubes,  more fat will harden and you can scoop up to 2 times more fat without affecting the flavor.
Dessert – Pumpkin-flavored anything, cakes, and cookies are delicious… Yes. These are the things we crave.  But, they also have a lot of sugar, 1 serving can have as much as 50 grams.  Exercise will help hedge the calories, but all that sugar will trigger your body to store fat.
If you're baking, use your favorite natural, calorie-free sugar substitute, like stevia or monk fruit instead of sugar.  Measure it the same way you would regular sugar to save 440 calories for every 1/2 cup of sugar.  Pumpkin pie has about 245 calories and 13 fat grams a slice.  Indulge by eating the filling and leaving the crust and whipped cream behind.  You'll shave approximately 112 calories and 7.5 grams of fat off if you skip the crust and cream.
Check out this post for some more healthy dessert ideas.

Tip 7)  CLEANSE TO PURGE TOXINS & PREVENT CRAVINGS
After a big food holiday like Thanksgiving, I recommend a detox or cleanse like my Reset Cleanse!  It helps purge toxins, reduces bloat, inflammation, and helps get rid of cravings quickly.
You can lose up to 10 pounds and prevent cravings quickly with my Reset Cleanse.  I always do a mini Reset for 3 days after the Thanksgiving weekend to drop weight, boost immunity & digestion, and to flatten my stomach out.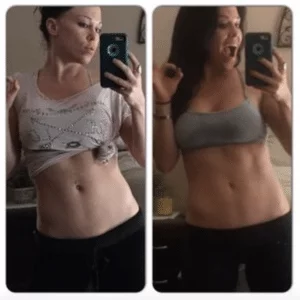 I hope these tips helped you!  Which tip was most helpful?  How do you stay healthy during Thanksgiving?  Let me know in the comments.  I love to hear what you think.
Big Love
Your Coach and Biggest Cheerleader
xxoo


Pin this post to Pinterest so you'll have it forever.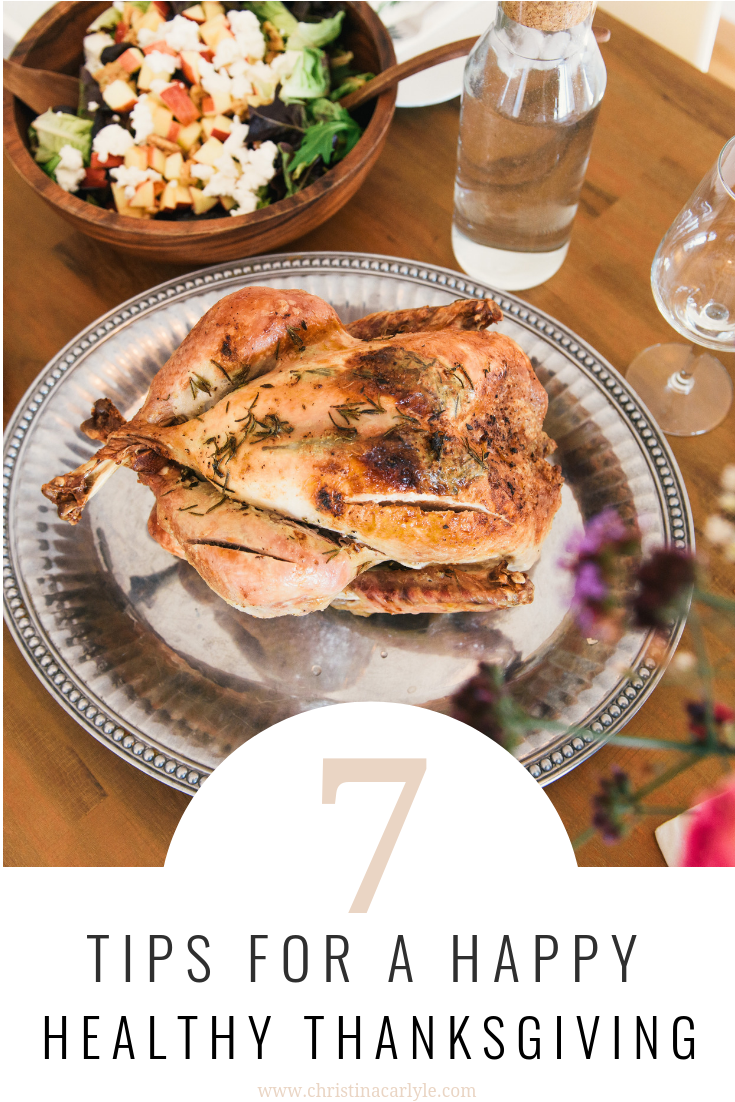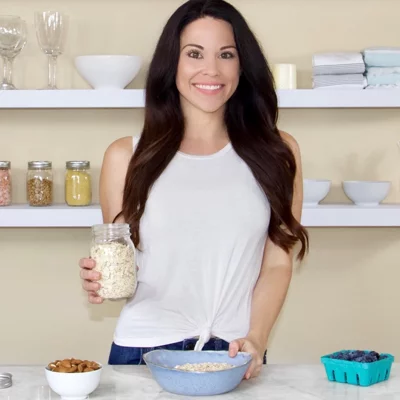 Christina is a certified Holistic Nutritionist, Personal Trainer, & Holistic Fitness & Health Coach. After healing multiple personal health issues, getting off 7 meds, & losing 40 pounds, Christina teaches others how to get Happy, Healthy, & Fit quickly with the most delicious food and least intense workouts.