Last Updated on February 7, 2022
Every week I roast a chicken and make bones from the broth.  Every. Single. Week.  That's why I'm sharing my favorite bone broth recipe with you.  It's so easy to prep a batch once a week.
WHY IS BONE BROTH GOOD FOR YOU?
If you haven't tried making your own bone broth, then I definitely encourage you to.
Bone broth is full of collagen and minerals which helps boost immunity, reverse joint pain and premature aging.
Collagen found in bone broth literally seals and helps heals microscopic holes in the digestive tract (aka leaky gut), which can help reverse allergic reactions and other auto-immune conditions.
It's a delicious and quick way to boost your collagen intake and add tons of flavor to your favorite recipes.
Evidence of the use of bone-broth based soup for health and wellness dates back 20,000 years.  Source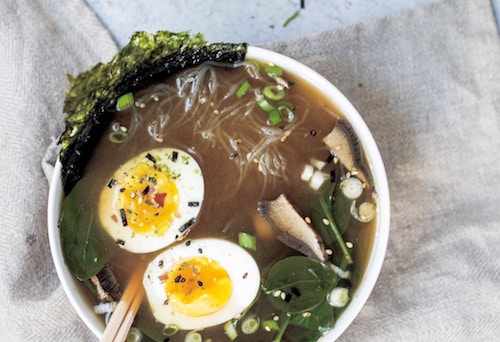 Bone broth is a staple in many traditional cultures, including Asian countries like Thailand (hello Pho), Germany, and Greece.
This bone broth recipe is easy to prepare.  Let's get started!
HOW TO MAKE BONE BROTH
STEP 1) Collect your Bones
Bone broth should be made with the bones and cuts of meat high in collagen, like marrow, joints, and knuckles.
Choose your favorite type of organic meat (chicken, pork, beef, lamb, veal) bone-in and enjoy.
Try to get cuts of meat high in collagen-like the marrow, knuckles, and feet.
Enjoy the meat and save the bones, including the inedible connective tissue.
Once you've got your bones, move on to step 2.
STEP 2)  SLOW COOK THE BONES WITH SOME BOOSTERS
Next, add your bones into a crockpot – or pressure cooker.
Fill the crockpot with water so that the bones are covered.  Don't fill the crockpot.
You may add some spices, herbs, and vegetables to boost the flavor and nutrient content.
Fresh ground black pepper, celery, onion, garlic, ¼ cup of Apple Cider Vinegar, and some high-quality salt (like Celtic) is perfect.  I always add to taste.  The bones create most of the flavor so don't worry about seasonings as much.
Set your crock pot on high and bring to a boil.  Once boiling, reduce the temperature and let your bone broth simmer slowly.
STEP 3)  SET IT AND (DON'T) FORGET IT
Your bones are thick and need some time to break down.
Let them slow simmer cook for 6 to 8 hours, but keep an eye on them.
I usually leave my crockpot on low, overnight.
STEP 4)  LET THEM COOL OFF
I let the broth temperature cool off.
Once cooled, strain the broth in a glass or metal container that you can seal and refrigerate.
Don't put a hot broth in the fridge!  Especially, if you're using a glass container.
STEP 5)  ENJOY
Once refrigerated the bone broth will gel up.  It'll last 3 to 5 days in the fridge.
HOW TO ENJOY BONE BROTH
Sip it like tea.  Add some fresh lemon juice (1 wedge) adds Vitamin C which helps you absorb the collagen better.
Use the bone broth to saute vegetables.
Use the broth as a base for soup.
TIP: Vitamin C helps the body absorb collagen.
Add a squeeze of fresh lemon juice to your bone broth.
Please leave me a comment and let me know how your bone broth turns out.
What are your favorite ways to enjoy bone broth?
If you don't want to make bone broth, you can supplement with collagen instead.
This is the best collagen I found and use when I don't have bone broth made.
Hugs and Love
Your Coach and Biggest Cheerleader
xxoo

Pin this recipe to Pinterest so you'll have this post forever.