Last Updated on April 13, 2023
I recommend this green smoothie recipe to my clients all the time.  You can lose weight, heal your body, stall aging, and boost your metabolism, health, and energy with this Green Smoothie Recipe. Seriously.  It's that good for you and doesn't taste like a lawn compared to other green smoothie recipes floating around the internet.
6-9 servings of fresh vegetables is the minimum recommended daily amount you need to get adequate nutrition and fiber intake — but as a nutritionist, I find that most people don't eat anywhere near that many servings consistently.
In fact, most people I consult with barely reach the minimum of 6-9 servings a week.
I have good news!
Just one serving of the first ingredient in my Green Smoothie Recipe has the nutritional value of 24 servings of vegetables.
If you struggle to eat enough veggies, my Green Smoothie Recipe is a must!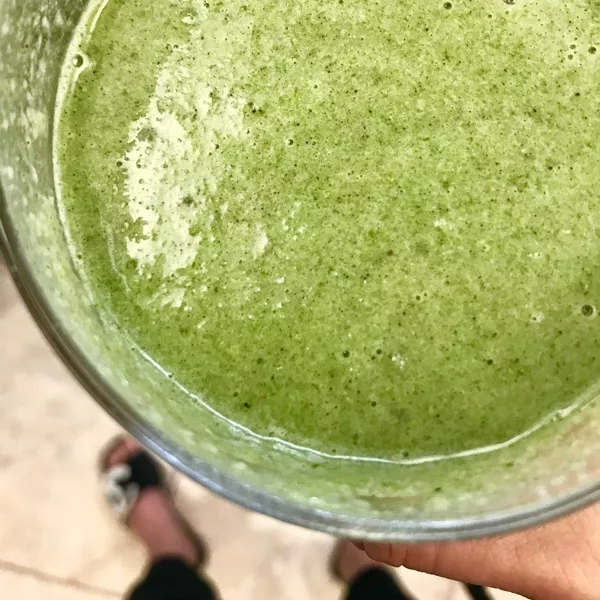 This Green Smoothie is:
Easy to make (7 ingredients + takes less than 5 minutes)
Great tasting
Packed with protein
Boosts energy
Regulates hunger and suppresses appetite
Detoxifying
Anti-aging
Anti-inflammatory
Healthy
Great for fat loss and boosts metabolism
Proven to repair and regenerate cells
Gluten Free, Dairy Free, & Vegan
Amazing
Traditional green smoothies are made by blending a bunch of fruits and veggies together in a liquid base.
But, the expense, taste, texture, prep, and clean-up associated with traditional green smoothie recipes aren't ideal for most people.  A lot of my clients don't like them.  I don't.
Most pre-bottled green juices and smoothies I find in stores and online have way too much sugar! I've seen some with as much as 65 grams!  They use sugar to mask the gross veggie taste.  But the recommended daily allowance for sugars (all sugars, including natural sources) is only 25 grams max.
I don't like traditional green smoothies much myself.
Slicing up a bunch of vegetables isn't for me. I'd rather eat my veggies, ya feel me?  I don't want to drink a $12 dollar green smoothie that tastes like grass either.
So I started experimenting with making green smoothie recipes that are easy, affordable, full of nutrients, don't taste like a lawn, but also don't have too much sugar.  I don't ask for much. 😉
This is this delicious green smoothie recipe that I came up with.
It's SO good, easy, and healthy that I have it every day for breakfast or post-workout. Everyone loves it!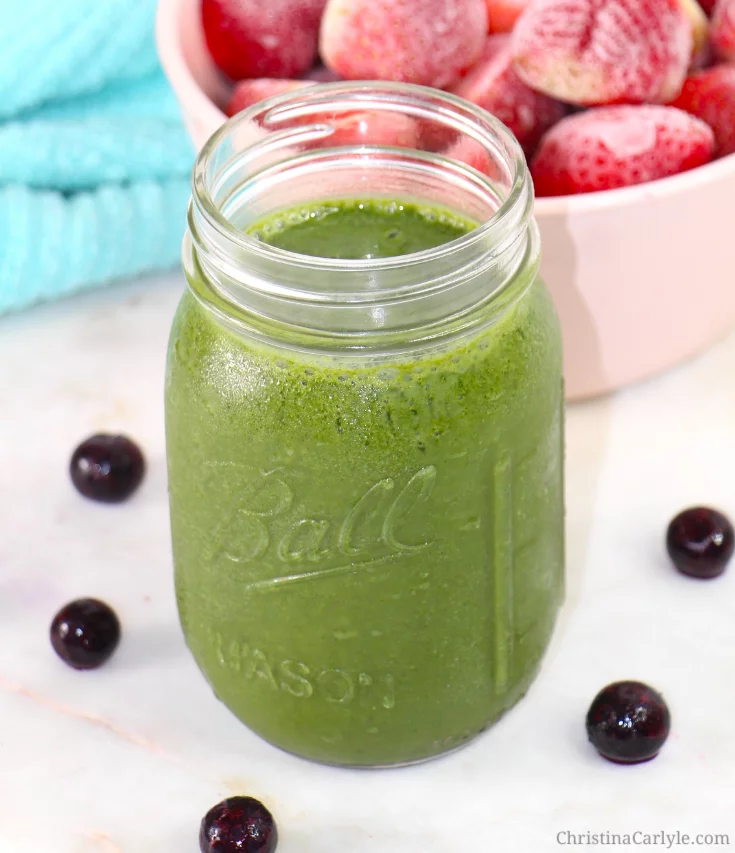 SO GOOD SUPERFOOD GREEN SMOOTHIE RECIPE
My healthy Superfood Green Smoothie Recipe is great for weight loss, energy, anti-aging, and detoxifying.  I recommend drinking this after workouts to recover quickly.
I feel a lot more energy and see a difference in my skin and joints when I have one daily.  My Green Smoothie Recipe has 3 of the best superfoods in the world IMO.
The Ingredients:
NOTE:  This recipe is Reset Cleanse Friendly.
1 tsp. chlorella, I use this Premium Organic Chlorella Powder
1 scoop of collagen, I recommend this collagen because it's the best!
1 scoop Organic Protein Powder – I only use Paradise Protein & Greens Powder See more about why  this protein powder is so incredible below – HINT: It has the same nutrition as 23 servings of fruits & veggies
6 ounces of nut milk, or more to change consistency – This recipe makes it thick so you can add more to dilute it down if you'd like
1 tbsp. chia seeds
1/2 frozen banana, peeled, sliced, and frozen beforehand
1/2 cup frozen berries, Strawberries and blueberries work the best IMO
*Optional* Stevia + vanilla nut milk floater – Mix 2 tbsp of nut milk with stevia and vanilla to taste to pour over the top of the smoothie when you're done.  Or 2 tbsp. of a vanilla nut milk creamer.  This is optional but recommended because it's so yummy!
The Directions:
Blend all of the ingredients together until smooth.
Adjust milk as needed based on desired consistency.
You can have a delicious, superfood green smoothie in less than 5 minutes, which will help keep you feeling full for hours.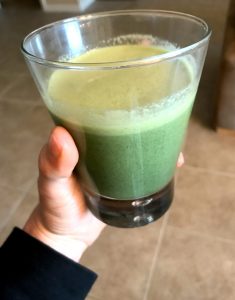 Here's chlorella and collagen blended with almond milk and 3 frozen strawberries. It has more of a juice-like consistency.  I drink this as a post-workout snack often.
Wondering what the heck Chlorella is? And why you need collagen?  Keep reading…
GREEN SMOOTHIE INGREDIENT #1 – Chlorella
Chlorella is a blue-green micro-algae native to Taiwan and Japan that is ranked one of the most nutrient-dense superfoods in the world.
Chlorella's unique preventive-health and anti-aging benefits are due to their significant amounts of chlorophyll and Chlorella Growth Factor (CGF).
Chlorella is the world's richest source of chlorophyll, which gives it its rich green color. Chlorophyll contains powerful properties proven to help accelerate detoxification, healing, and repairing of oxidative damage to cell membranes.
Chlorella Growth Factor (CGF), is a nutrient unique to chlorella.  This nutrient-rich extract is produced during photosynthesis within Chlorella pyrenoidosa algae. Chlorella grows fast. Chlorella Growth Factor, or CGF, is the reason why.
GCF contains nucleic acids DNA and RNA, which are responsible for cellular regeneration. It also accelerates the growth and development of cells in other organisms, like you. : )
Chlorella Growth Factor offers many of the anti-aging benefits found in natural human growth hormones.
CGF helps repair nerve tissues and is excellent for treating degenerative brain and nerve disorders.
Chlorella helps regulate hormones, boosts metabolism, improves circulation and energy.
It helps to reduce body fat and toxins from cells. In a study published in the Journal of Medicinal Food, researchers state, "Chlorella intake resulted in noticeable reductions in body fat percentage, serum total cholesterol, and fasting blood glucose levels."
As our bodies lose weight, toxins are released which can be reabsorbed back into the cells. Chlorella helps absorb and eliminate toxins and heavy metals from the body and prevents reabsorption into cells.
This is the Chlorella Powder I use and recommend.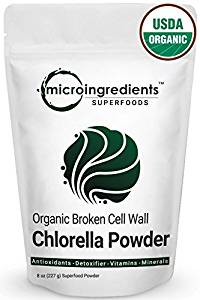 GREEN SMOOTHIE INGREDIENT #2 – COLLAGEN
Collagen is one of the most abundant proteins found in the body.
Collagen is found in muscles, bones, connective tissues, skin, digestive tract, and blood vessels.
It has a gel-like structure coating our bones and joints so we can move without pain.
Collagen is the magic that allows our skin to retain moisture, stretch, and regenerate new cells.
Collagen helps skin repair and can help reduce the appearance of cellulite and stretch marks.
Collagen production declines significantly every year after age 30.
As collagen breaks down, skin can sag, wrinkle, and become thinner… which makes cellulite and joint pain worse.
But I have good news!  You can supplement with collagen to stall the aging process and improve skin & joint pain.
Double-blind, placebo-controlled studies investigating the anti-aging properties of collagen have found that supplementing with 2.5–5 grams of collagen hydrolysate used among women aged 35–55 once daily for eight weeks significantly improved skin elasticity, skin moisture, transepidermal water loss (dryness) and skin roughness, all with little to no side effects.
I talk a lot about how this collagen helped stop my knee and back pain.  I recommend it often and personally use it daily in lieu of bone broth.
I use this brand of collagen peptides. I've tried others but I keep coming back to this collagen because I like it so much.
GREEN SMOOTHIE INGREDIENT #3 – PARADISE PROTEIN & GREENS POWDER
I'm obsessed with this protein powder!  This Protein & Greens formula is the next generation of superfoods.
Just one serving contains 20 grams of protein, the antioxidant power of over 24 servings of fruits and vegetables, and a total ORAC (Oxygen Radical Absorbance Capacity) score of over 40,000.
It's synergistically Enhanced with Aminogen Enzyme Formula Proven to Increase Protein Digestibility and Amino Acid Absorption!  This is a very good thing!
It's100% Vegan & Doesn't taste like a lawn!

It's made with Certified Organic

pea protein and over 42 certified organic and pesticide-free ingredients.

It promotes lean body mass, aid in muscle recovery, and provide less gas, bloating and constipation.

The essential amino acid profile is very close to that of the ideal protein. Other vegetarian sources like as rice or soy can lack in the percentage profile for certain essential amino acids.

Pea protein is easily assimilated and has a sustained release transit time, which means it has excellent digestibility and keeps working.

This also has the plant-derived enzyme Aminogen.

Research shows Aminogen to increase branched-chain amino acids by 250%, increase plasma amino acid levels over 100%, increase glutamine levels by 90%, increase arginine levels by 80%, increase nitrogen retention by 32%, promote lean body mass, aid in muscle recovery, and may provide less gas, bloating, and constipation.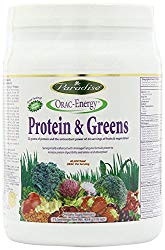 I've included it in this recipe because it helps supercharge and accelerate chlorella's healing properties.
I hope you like this green smoothie as much as I do.
Leave me a comment and let me know how your green smoothie turns out.
Your Coach and Biggest Cheerleader
xo

Pin this post so you'll have it forever.
If you liked this post you'll also like:
NOTE:  This recipe is Reset Cleanse Friendly.
If you want to cancel out cravings, lose weight, and feel more healthy, energized, and confident, check out my Reset Cleanse. It balances hormones and stops cravings from coming back!  You can lose up to 10 pounds in 7 days.