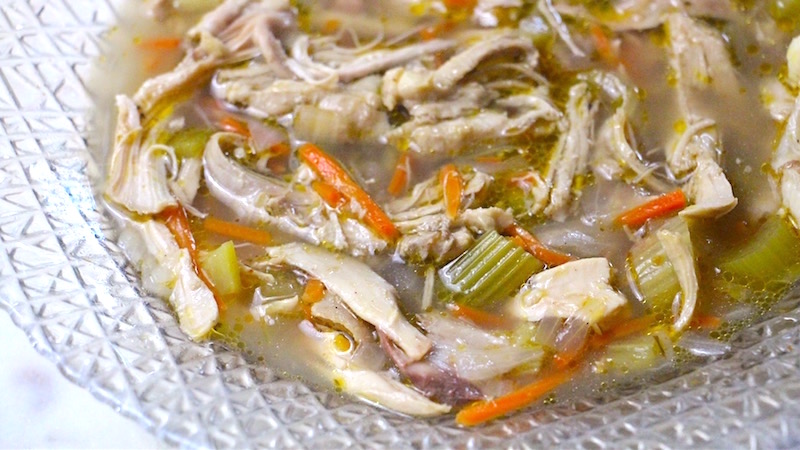 20 Jul

Healthy Chicken Soup Recipe

When's the last time you had soup?  If it's been a while, then I really recommend adding soup into your weekly menu.
Soup tastes great.
Soup is very easy to make.
Soup is among one of the easiest ways to meal prep.  Make a big vat and bam – you have multiple meals prepped for the rest of your week.  
Soups make great meals when you're trying to lose weight, too.  (I explain why in detail, in this post.)
That why I wanted to share an easy, healthy, fat-loss friendly soup recipe with you.
This Healthy Chicken Soup recipe is low calorie, filling, gluten free, dairy free and DELICIOUS.
I think you and your entire family will love it.
In it, we'll be using chicken, which is a power protein for weight loss.  Chicken provides the amino acids needed for muscle growth, repair, and can help you feel fuller longer between meals.
Obviously white meat chicken breast is the leanest, cleanest choice, however, because of the lower fat content, it tends to be more dry and bland.  
A yummy, yet still healthy alternative is organic chicken thighs.  The dark meat adds extra flavor with minimal spikes in fat content.  (I'll share my trick to reduce the fat content from the dark meat in a second…)
This is a one pot, set-it-and-forget-it (but keep an eye on it) kind of recipe, so it's perfect for busy people.  We'll be slowly simmering the chicken thighs so they'll absorb tons of flavor from the other ingredients.
Slow cooking makes the meat super juicy and it will literally melt in your mouth.  Plus, slowly simmering the chicken thighs allows them to absorb tons of flavor from the other ingredients.  Slow cooking also makes the meat super juicy and it will literally melt in your mouth.
How to reduce the fat from soup – but keep the flavor
Once this soup is done, simply drop in a few ice cubes and the extra fat will harden. Simply skim off the fat that hardens from the top.
This way you'll cut down on calories and fat, but be able to keep the juicy flavor of dark meat.  So you'll get the added flavor, without the added calories and fat.  Yassssssss!
Are you ready to experience the magic of this Caribbean Jerk Chicken Soup?
Let's do it!
Healthy Chicken Soup Recipe
*organic ingredients recommended*
1 yellow onion, diced
1 cup of carrots, chopped or shredded (I used pre-shredded carrots for convenience)
1 cup of celery, chopped
4 tbsp. olive oil (or ghee)
32 oz. low sodium chicken broth
1 cup whole mushrooms, sliced
2 lbs. organic chicken thighs (I used 2, 1 lb. packages, each had 4 thighs)
4 bay leaves
3 tbsp. Caribbean jerk seasoning
Salt and Pepper to taste
What to do:
Prep the veggies. Then sauté the onions, carrots, and celery in a stock pot with the olive oil (or ghee) over medium heat until they begin to soften.  Once tender, add the broth and mushrooms.  Cook until the broth boils.  Once boiling, reduce the heat to low and add the chicken and bay leaves.  Season with salt and pepper to taste.  Cover and simmer for about 20 minutes or until the chicken is cooked through and fork tender.  Remove the thighs one by one, onto a cutting board and shred with a fork.  Once shredded, transfer the meat back into the pot.
At this point, it's ready to serve.  I always make a bowl.  I also always add some hot sauce to mine… because I like to party. 🙂
You can also serve this along with brown rice and a salad to make it a complete meal.   The brown rice adds another layer of healthy yummy goodness and tastes great with the soup ladled over the top of it.  My sweetheart and family love love love this soup with brown rice.
This way you can keep your soup low carb/lower calorie and your family/significant other can enjoy the meal, without feeling like they're on a diet, too.
As I'm eating I always turn the heat off and let it cool for about 30 minutes.  Once cooled, I add some ice and skim the extra fat off the top.  Then I transfer it into the fridge over night.  The flavors develop the longer it sits.
It's even better the next day!  So this recipe is amazing for meal prep.  It's super easy to put in glass Tupperware to take to work for lunch the next day or two.  It keeps about 3 days in the fridge… but you can double or triple the recipe and freeze it, too.
I hope you love it as much as I do!  Let me know how yours turns out.
xxoo

Pin this recipe to Pinterest so you'll have it forever. ♥
Want to Eat your Way to Abs? You Can!
Recipe taken from my Total Transformation Challenge.  If you're looking for more healthy recipes – you and your family will love – and you'd like to get more healthy and lose weight fast (like noticeable results in DAYS) then it's perfect for you.  Start the Total Transformation Challenge here.
SaveSave
SaveSave
SaveSave
SaveSave
SaveSaveSaveSave