Last Updated on October 12, 2023
This quick 10 minute butt workout targets all of the muscles in the glutes for a lifted, round, perky butt.  If you want to spot train your glutes and grow a bubble butt this is a great workout to try.
This butt workout is the last installment in my 10 minute workout series designed to help women get a killer workout on the fly.
In case you missed it, the first workout in this series went over all the science-backed benefits of 10 minute workouts, proving how effective they are.  Yes, they work, get incredible results, and are great for beginners, and advanced exercisers alike.
10 minute workouts are great for busy women that want to boost their metabolism, health, and mood ASAP… and blow off some steam.
It's 100% possible to get an incredible workout, working smart, not harder than you have to… which is my specialty. 😉  Once you try this butt workout you'll be a believer in 10 minute routines.  

Ready to boost your buns?  Let's do this.
10 Minute Butt Workout
This quick butt workout is made with 5 of the best butt exercises that lift and build the glutes.  When done together with the 10 minute training strategy below – it helps activate all of the muscles in the glutes so everything grows together to create a round, perky butt.
Another added bonus is that the exercises in this workout engage the glutes, leg, and core muscle groups most.  Together, these 3 muscle groups are the biggest in the body.  When you train the largest muscle groups together you can maximize calorie burn and burn more fat compared to other, smaller muscle groups like the arms.
This is what the butt exercises look like in motion.
Follow the same pace as you're doing the workout.
10 minute BUTT WORKOUT INSTRUCTIONS
This butt workout has 5 exercises.
Set a timer (on your phone) and do each exercise for 30 seconds to complete one set.
If you see an exercise being done with one leg, do 15 seconds with each leg.  I recommend doing 15 seconds on one side then immediately switch to the other side and do another 15 seconds to complete one set.
Do 4 sets of each exercise to complete this workout.
Since you're doing each exercise 4 times for 30 seconds, each exercise will take approximately 2 minutes.  When you do all 5 exercises this workout will take 10 minutes.
Try to do as many reps as possible during the 30-second set.  But remember, to move in a controlled, fluid motion with proper form.  Follow the pace I use in the workout grid above.
The order of exercises is important and there for a reason… follow this workout as-in.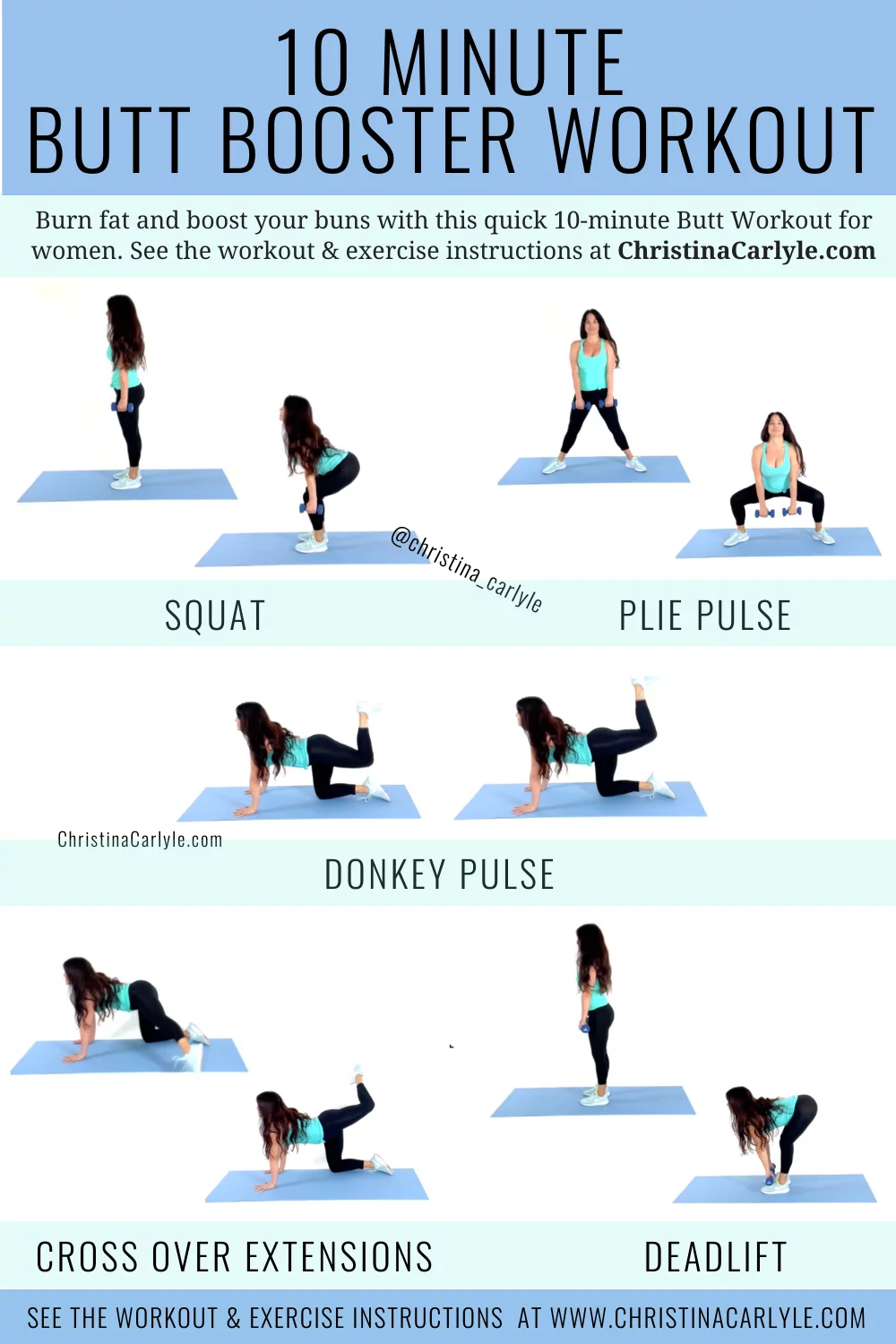 Save this workout to Pinterest so you'll have it forever
10 minute Butt Exercise Instructions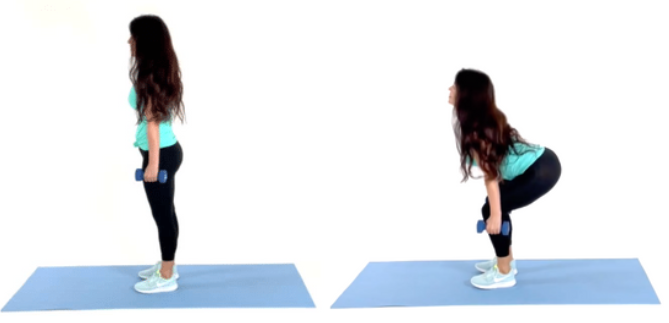 Squat
Stand with feet shoulder-width apart, while holding a dumbbell in each hand. Keep your arms down by your sides. Keep your back neutral. Don't arch your back and stick your butt out. Lower your butt, back and down, as if sitting back into an invisible chair. Lower as far as you can. Your knees should not extend past your toes. Keep your chest upright as you move backward. Hold for a count, then push back up to the start position to complete one rep.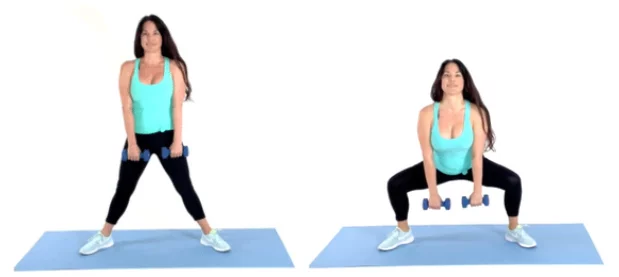 Plie Pulse
Stand with feet slightly wider than shoulder-width apart with toes turned out. This is your start position. Keeping your abs in tight and chest upright, lower your butt down, pushing into your heels. Squeeze your glutes and push back up slightly then pulse back down for a count. After your 'pulse' push back up to the start position to complete one rep.

Donkey Pulse
Start on all fours, with your hands stacked directly under your shoulders and your knees directly under your hips. This is your start position. Keep your leg bent, push a flexed foot up towards the ceiling as far as you can. Squeeze your glutes at the top of the movement. Your back should remain perfectly still in a neutral spine with your hips square to the floor. Quickly reverse the movement and return just short of the start position to complete one rep.  Immediately pulse your heel back up and down quickly racking up reps. Complete the exercise with your other leg to complete one set.

Cross Over Extensions
Get on your hands and knees. Extend one leg out to the side with your toe pointed. This is your start position. Exhale and slowly lift your leg up and across your body towards the opposite side. Inhale and return to the start position to complete one rep. Do as many as you can until you feel the burn. Once you feel the burn do 5 more then stop. Do the exercise with your other leg to complete one set. Tip: Keep your hips square and even during the movement.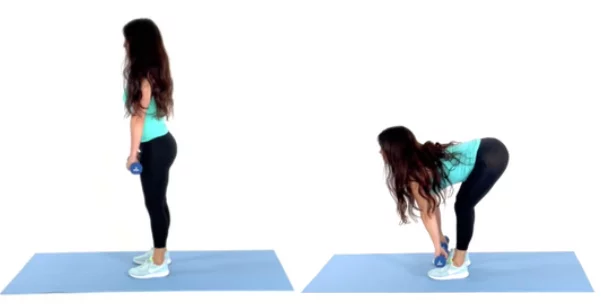 Deadlift
Stand holding dumbbells (or a barbell). Your feet should be slightly narrower than shoulder width apart. This is your start position. Bend at the waist lowering your chest towards the floor, while keeping your back neutral. Keep your legs straight but not locked. Your butt will naturally go backward. Don't arch or round your back. Lower down as far as you can while keeping the weights in close to your legs. Exhale and lift your chest back up to the start position to complete one rep.
Tips to get the best results from this Butt Workout
Try to take little to no rest between the exercises and sets.  This helps keep heart rate up which means higher calorie burn and better results for you.
I recommend using 5 – 10 pound weights for the exercises that use equipment. Beginners should stick to 5 pounds.  Intermediate exercises can use the 7.5-10 pound range.  Advanced exercisers can use up to 15 pounds.
This workout was designed to be done on its own or as an add-on to any of the weight training or cardio workouts in my programs to rev up your results.
Remember, abs are made in the kitchen.  You can grow your glutes faster when you're fueling yourself with the right nutrition.
Luckily, when you eat for your unique metabolic type you can get results quickly.  Take my free metabolic Quiz & training to learn your unique metabolic type and how to get results ASAP with food.
Leave me a comment and let me know if you're going to try this butt workout.
xo
Your Coach and Biggest Cheerleader,

Other workouts in this series include: