Last Updated on March 18, 2020
Today I'm sharing the best Outer Thigh Exercises for women.
Do you have fat on your outer thighs you'd like to burn?
Do your 'saddlebags' make you self-conscious?
Would you like to leaner, tighter thighs and hips?
If so, you are in the right place!
This workout is part 3 in a new series of workouts for women I've made.  Each week I'll be sharing a new workout that targets a problem-area that trouble women the most.  (I have already shared 2 videos in this series that target back fat from the bra strap area and the inner thigh.)
Today, we will be focusing on fighting fat from the outer thigh area.
When it comes to training the thighs, forget machines and working harder than you have to. The key to sculpting sleek, sexy outer thighs, are low-impact, multidirectional exercises.
As you're doing these exercises notice the different angles we're using.  Lifting your legs in different positions ensures we'll hit every. single. muscle in the outer thigh and hip area.
The best thing about these moves is they can be done anywhere — no equipment is required! (But if you want to increase the intensity you can add ankle weights if you want.)
See me explain more and demo the outer thigh exercises in today's episode of CCtv.
How to do this Outer Thigh Workout
There are 6 exercises targeting the outer thigh in this workout.
You'll need to do each exercise until you 'feel the burn'.
Once you feel the burn do 5 more to complete one set.
Once you're done with each exercise, you can repeat it – or move to the next with little to no rest between the different moves.
You need to do each exercise one time to complete 1 'round' or set.
You need to do 3 full sets – of each exercise – to complete your workout.
THE BEST OUT THIGH EXERCISES FOR WOMEN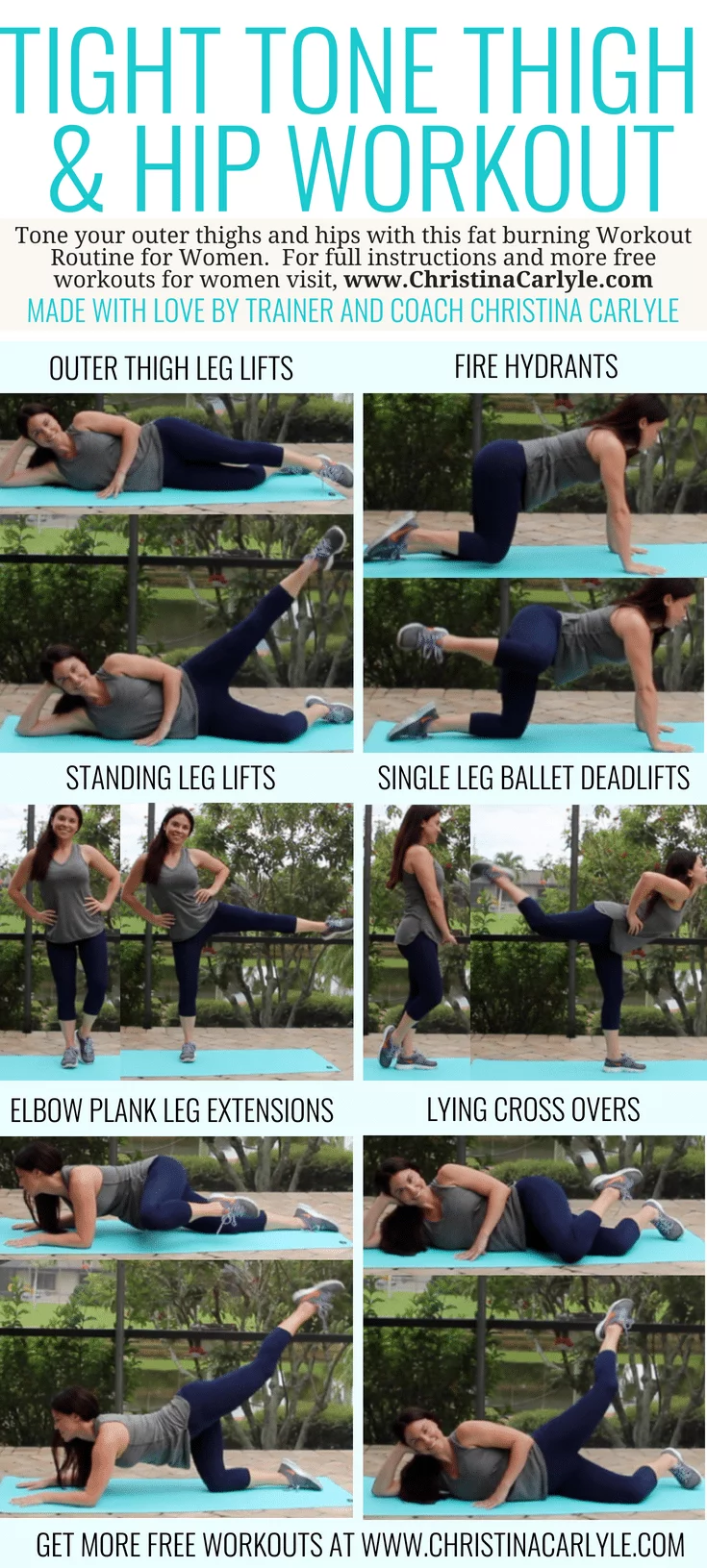 Pin this thigh workout to Pinterest so you'll have it forever.
I recommend doing this workout 2 times a week… (or do this and my other bra strap back fat workout one time each).  If you train this area consistently you will build lean muscle in that area.  But you can't spot train to reduce fat.  (See me explain how to lose thigh fat here.)
This workout targets the outer thigh and hip area exclusively.  I recommend doing this workout 2 times a week… (or do this and one of my other thigh workouts one time each).  If you train this area consistently you will build lean muscle in that area…
If you want to lose fat from your thighs quickly, do this workout along with a fat-burning meal plan and complete training program.  If you need help, I've got you covered.  Try my Total Transformation Program.  You'll get noticeable results in DAYS, not weeks!!  Guaranteed.
It only works if you work it, so work it.  YOU are so worth it!
Your Coach and Biggest Cheerleader
xxoo

Check out the other workouts in this series below:
Bra Back Fat Workout for Women
Lower Ab Pooch Workout for Women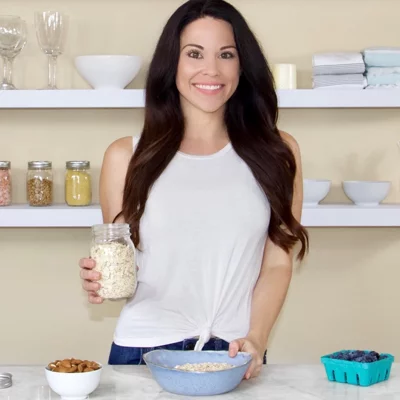 Christina is a certified Holistic Nutritionist, Personal Trainer, and Fitness & Health Coach. After healing multiple health issues, getting off 7 meds, & losing 40 pounds – and keeping it off for 10+ years, Christina teaches others how to get Happy, Healthy, & Fit quickly without any bullshit.  She'll show you how to slim down, tone up, and feel fantastic naturally with the most delicious food and least intense workouts possible.