Last Updated on September 22, 2022
This healthy pumpkin ice cream is a must-try recipe.
Traditional pumpkin ice cream is made from dairy, has tons of sugar, and typically contained chemically-created flavors linked to inflammation, cancer, and cravings.
But my pumpkin pie ice cream is non-toxic, non-dairy, and packed with fiber, nutrients, and tons of natural pumpkin spice flavors.  My pumpkin ice cream recipe also doesn't have any added sugar or processed ingredients.
This creamy treat will help keep you feeling full, and doesn't cause cravings like real ice cream does.
If you like pumpkin spice, you are going to love this healthy homemade pumpkin 'nice' cream recipe… and so will your kids, S/O, family, and friends.
This Pumpkin Pie "Nice" Cream is:
100% healthy and has no processed sugars, colors, or chemicals
Full of fiber, vitamins, and minerals
Dairy free (100% vegan)
Gluten free
Easy to make… total time approx. 5 minutes
Much cheaper than store-bought ice cream
Good for health and fitness
Are you ready to meet your new favorite recipe?  Let's do it!
HEALTHY PUMPKIN ICE CREAM RECIPE
INGREDIENTS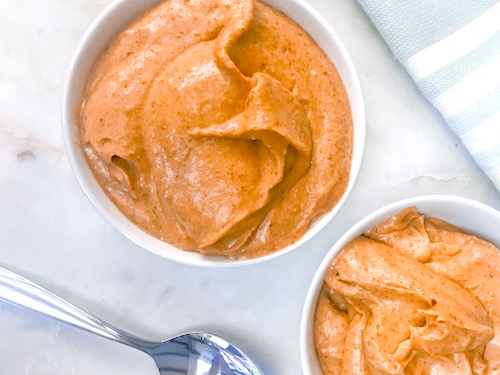 HOW TO MAKE HEALTHY HOMEMADE PUMPKIN ICE CREAM
Peel and freeze your bananas for a minimum of 3 hours.  You absolutely must peel your bananas before freezing.  This recipe won't work with semi-frozen or soft bananas.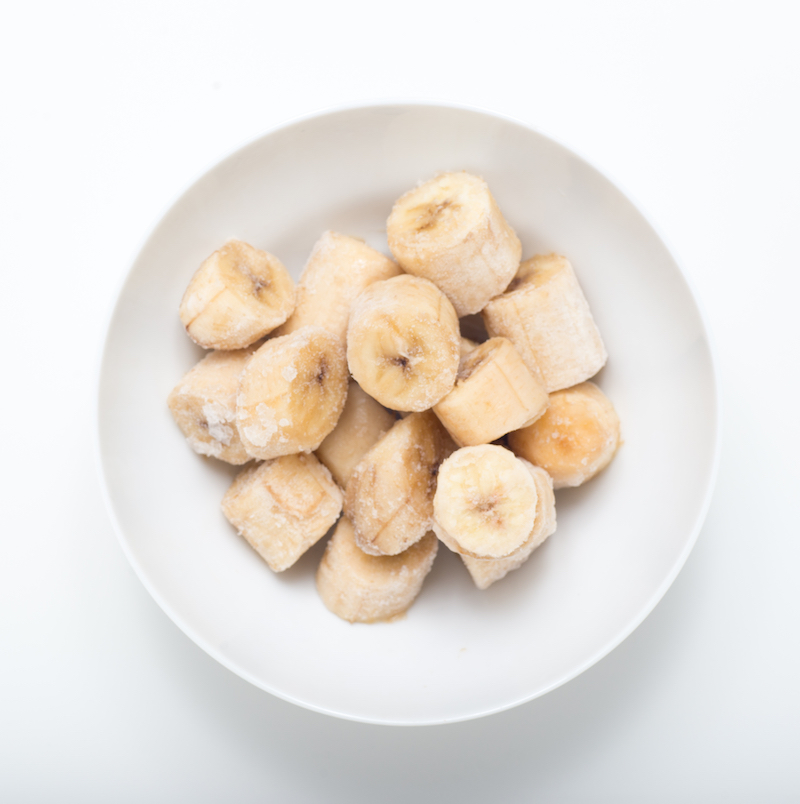 Once frozen add your bananas and nut milk into a blender.
Depending on how thick you want yours to be the ratio for 1 serving is 1 frozen banana to 1/2 cup nut milk. Start with less then add more if you need to help the blending process.
Blend until smooth, with the texture of soft serve ice cream.
Serve immediately.
NOTE:  If it's too runny… return it to the freezer for a few hours or add more frozen bananas and blend it again.
TIP:  If prepping a bigger batch, store it in a large rectangle glass container like this because it's easier to scoop the nice cream out after it's frozen.
Once blended you can serve it immediately or dress it up with extra toppings.
Here's some plain nice cream (blended bananas and almond milk) topped with crushed cashews and sesame seeds.  It was SO good.
This gigantic bowl was made with 1 1/2 bananas.  It has approx. 175 calories with the topping and was almost 2 cups… if you had 2 cups of regular ice cream you'd have 550 calories.  
Enjoy!
Leave me a comment or upload a pic to Instagram and tag me with @christina_carlyle so I can see.
Your Coach and Biggest Cheerleader
xxoo
If you like this recipe you'll love these recipes.