Last Updated on September 7, 2023
I'm excited to share my healthy football food recipes and game day snack ideas with you!
The food and drinks served at football parties typically include cheesey, fried foods, burgers, booze, wings, pizza, chips,dairy-based dips, pretzels, etc.
All of that saturated fat, sodium, dairy, gluten, and sugar isn't ideal.  These foods lack nutrients but are high in processed carbs, fats, and sugar.   Plus, game day foods VERY inflammatory and negatively impact immunity, hormones, and digestion.  Combining fats, carbs, and sugars with inflammation literally programs the body to gain weight to store fat and feel fatigued, bloated, and unconfident. 
Have you ever been to a football party get-together that didn't include eating or drinking? Nope, probably not.

Have you ever indulged on game-day goodies that left you feeling bloated, blah, hungover, or feeling guilty because you 'knew better' but ate the unhealthy stuff anyway?

Have you ever felt left out at parties because there weren't healthy options for you to eat or drink?

I know I have!
Once upon a time, I used to struggle at parties and get-togethers. It's not fun to feel left out, chewing on a celery stick when everyone else indulges, either.  
It was hard for me to enjoy the game when everyone else was eating foods that I was trying to avoid.  I felt left out and found it triggering.  If you can relate, it doesn't have to be this way.
That's why I'm sharing 30 Healthy Game Day Snacks & Recipes with you. They're great for football parties and fitness & health, too.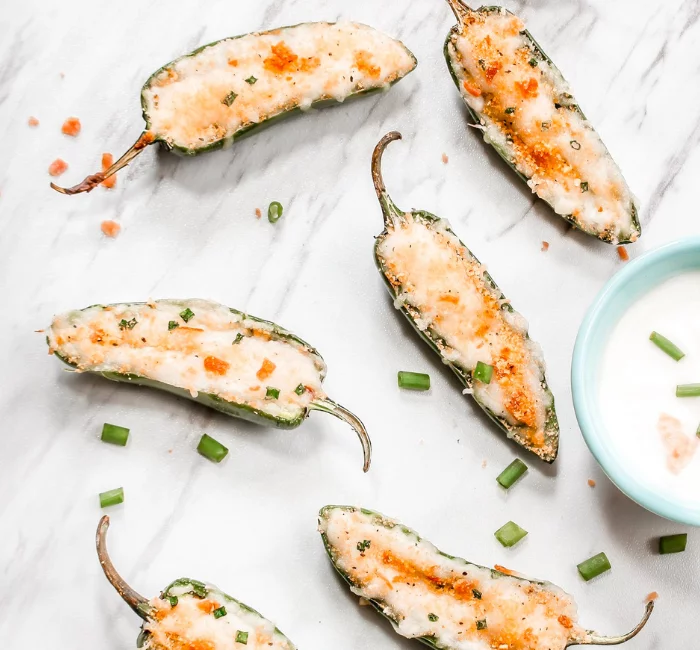 30 Healthy Football Food & Game Day Snacks
The following dishes, snacks, dips, and ideas are my go-to recipes for game day.  They'll help you indulge without deprivation.
Try these the next time you're watching a game, invited to a football party, or hosting to have healthy options that don't taste like rabbit food.
They're packed with protein and fiber and will help you feel fuller faster and won't cause huge spikes in blood sugar, which makes it easy to stay on track & avoid overeating.  Plus, protein and fiber are the best foods for fat loss and boosting metabolism.
The best part?  These game day snacks are easy to make, are healthy, and everyone loves them.  I think you will, too.
After taking a look at all the options, leave me a comment and let me know which idea you're most excited about.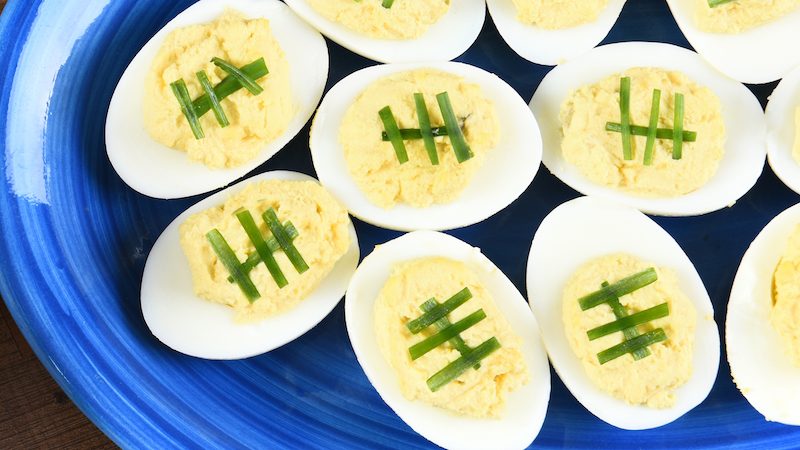 HEALTHY FOOTBALL SNACK IDEAS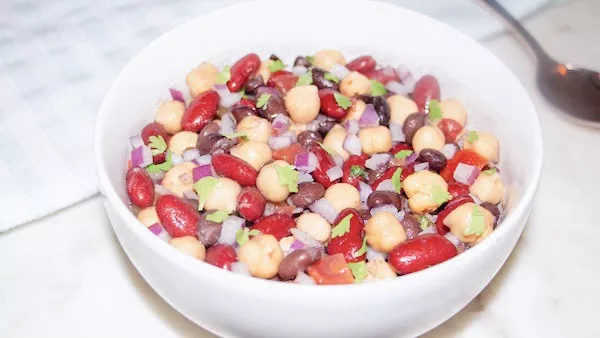 MORE HEALTHY GAME DAY SNACKS
Some super easy, plant-based snacks that are also fan favorites include:
Gluten-free, whole grain crackers and pretzels
Organic popcorn
Veggie Chips
Mixed Nuts
A Fruit and/or vegetable tray with a healthy dip like hummus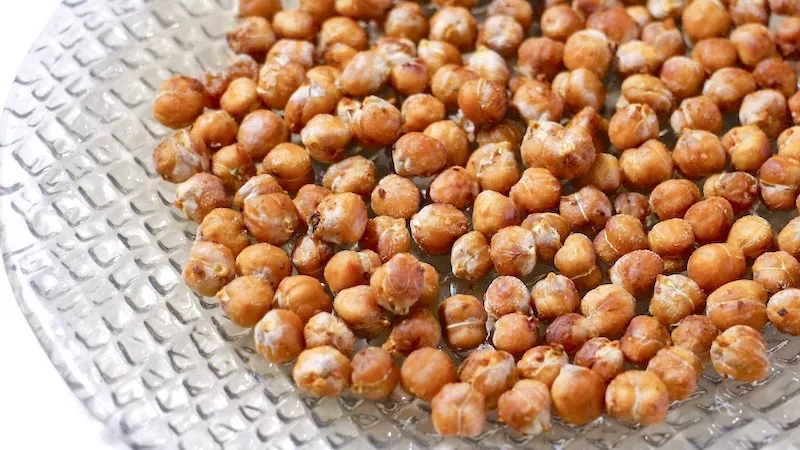 HEALTHY DIPS FOR FOOTBALL PARTIES
Swap your cheesy dips, ranch, and blue cheese dressings for these healthy, plant-based dips instead. They're easy to make.  But if you don't like cooking, I recommend buying the organic versions of these dips pre-made from your grocery store, too.
Pico-di-gallo
Salsa
Bruschetta
Hummus
Babaganoush – This tasty dip is 'low-carb hummus' that's made with eggplant instead of chickpeas
Tahini – This is sesame seed butter used to make hummus and babaganoush
Pesto
Organic, Dairy-free Salad Dressings and  Vinaigrettes are great, too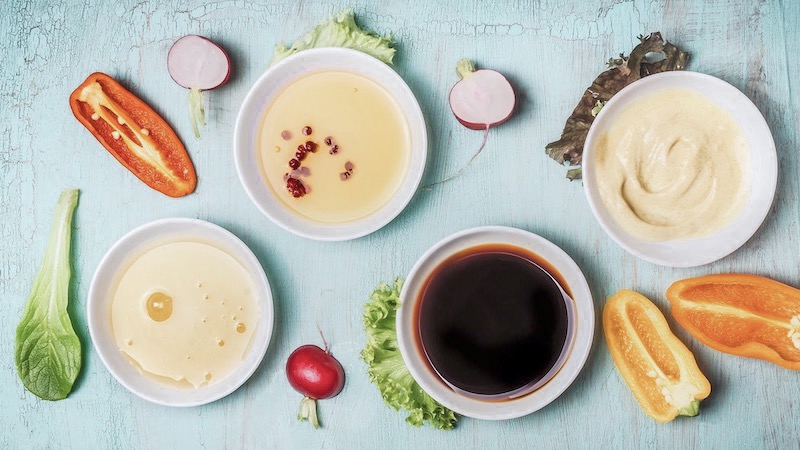 MORE HEALTHY GAME DAY APPETIZERS
You can also have traditional game day foods that you normally see at football parties.  To make them healthier add in more plants and opt for organic options.
Organic, Gluten-free pizza or Cauliflower Crust Pizza – You can buy these in the frozen section of your grocery store and you can't tell the difference
Chili or a Hearty Soup – I love this Healthy Chicken Soup
Organic Rotisserie Chicken
Turkey Meatballs – Make these the same way you would with beef but sub in turkey instead of beef
Fish Tacos – Shrimp, turkey, and chicken work, too.  Sub in cilantro, salsa, grilled veggies, and fresh lime juice instead of cheese and sour cream
Lettuce Wraps – Tip: Wrap my healthy shrimp ceviche in lettuce leaves and drizzle with hot sauce. It's so good!
Baked Chicken Wings – Bake, grill, or air fry your wings instead of frying them in oil to save yourself hundreds of calories and avoid inflammatory fats.
Cocktail Shrimp and Cocktail Sauce – Buy a bag or 2 of pre-cooked frozen, wild-caught shrimp.  Rinse, thaw, and serve chilled alongside homemade cocktail sauce made with organic ketchup and horseradish to taste.  Easy breezy!
So there you have it.
Leave me a comment and let me know which snack idea is your favorite.
If there's a healthy recipe you like to enjoy on game day that isn't on my list, please share it in the comments.
Your Coach and Biggest Cheerleader
xxoo

Pin these Game Day Food Ideas to Pinterest so you'll have them forever.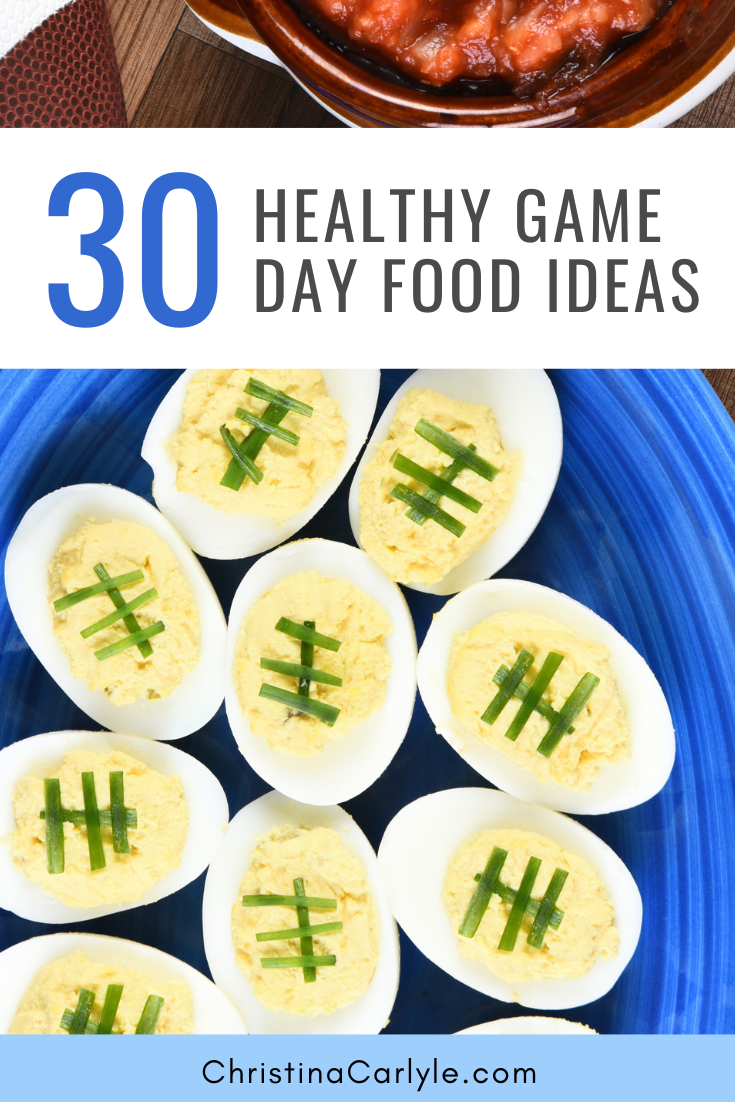 If you liked this post you'll love my other healthy recipes, too.
P.S. If you do, indulge on game day and feel bloated, blah, or hungover, my Reset Cleanse will help you reverse the damage, feel better, and lose weight quickly.  You can lose up to 10 pounds in 7 days.