Last Updated on July 1, 2022
Have you ever been to a 4th of July party, BBQ, or cookout when you're trying to lose weight or make healthy choices?
It can be SO HARD to stay on track because the 'traditional' options served are usually anything but healthy. Holiday foods are typically processed and full of fat, sugar, sodium, carbs, and toxic additives.
Think hotdogs, hamburgers, buns, cheese, potato salad, pasta salad, coleslaw, baked beans, chips, Ranch & cheese dips, desserts, and alcoholic drinks. #MERICA
These types of foods contain nutrients & ingredients that wreak havoc on the body causing fatigue, digestive distress, and rapid weight gain.
It's difficult avoiding weight gain, bloat, and feeling like an unmotivated, busted can of biscuits eating foods like that.
Luckily, I have lots of healthy 4th of July recipes and food ideas you can use for your patriotic celebrations.
The 20 different 4th of July food ideas I'm sharing are quick, easy, and loaded with nutrients that are great for health and metabolism.
The best part?  You'll be able to eat these tasty dishes guilt-free and avoid toxins, bloat, fatigue, and weight gain.
Use these recipes at your own party or take them with you as a hostess gift.  They'll make you look like a domestic goddess.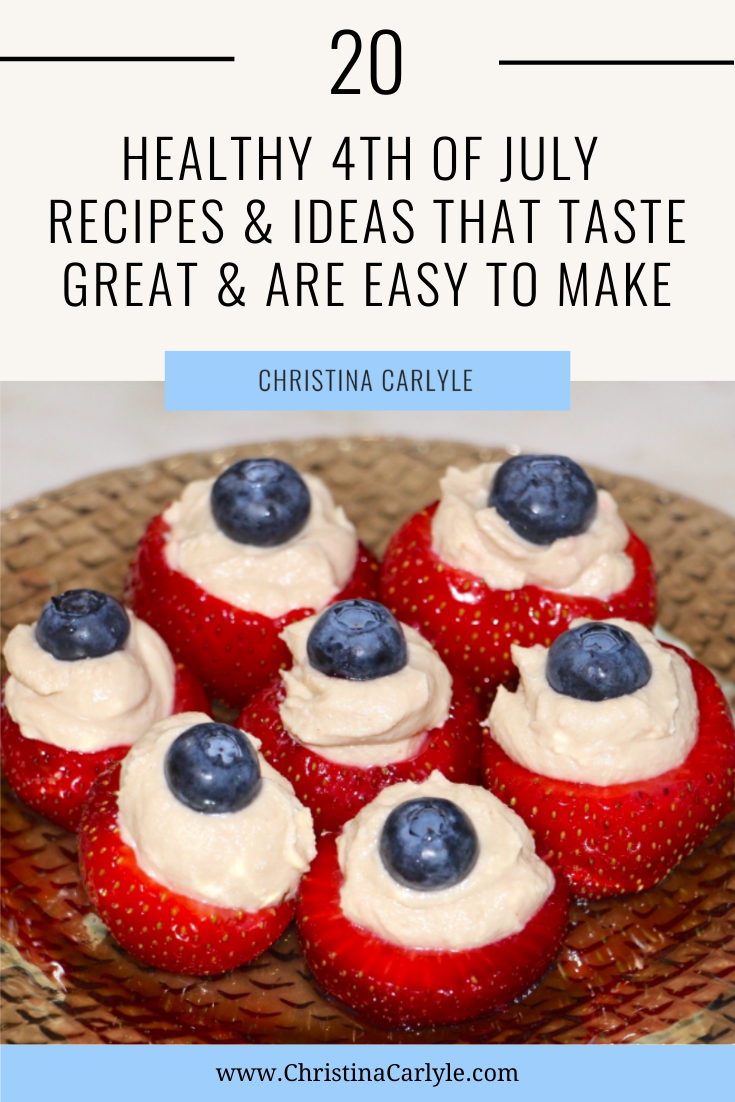 Healthy 4th or July Recipes and Food Ideas
The following recipes and ideas are delicious, nutritious, and made from real food.  They also have red, white, and/or blue colors making them perfect for patriotic parties and pot lucks and will set your 4th of July party apart.  
Organic ingredients are recommended.
Healthy 4th of July Appetizer Ideas
These healthy appetizer ideas are great for grazing.  But they also prevent the urge to overeat and cravings because they're high in protein and fiber.  High protein, high fiber foods will help you fill up on less food and will keep you feeling full for hours.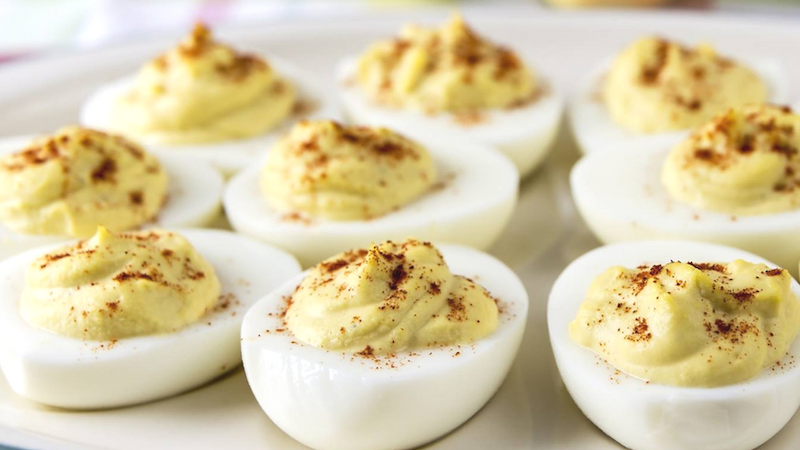 Deviled Eggs – this protein packed snack is a fan favorite at BBQs.
Organic chips and salsa –
Assorted nuts – These make a great crunchy snack that are packed with healthy fats and fiber.
Chicken or Turkey Meatballs – I like to serve a platter of meatballs with a marinara dipping sauce or bruschetta.
Bruschetta
Bruschetta is light and low in calories but so full of fresh summery flavor and vitamins.  I know I mentioned before that you should skip bread… and I meant it.  But, bruschetta isn't just for bread.
It makes an amazing 'salad' on its own. Spooned over lean proteins like grilled chicken breasts, fish, or steak for a fresh pop of flavor without added sugar or GMO's.
Here's a simple bruschetta recipe you can put together quickly: 
2 cups fresh Roma tomatoes, chopped

½ cup onion, diced

¼ cup chili pepper, diced

4 cloves garlic, minced

1 bunch fresh basil leaves, chopped finely

Juice from ½ fresh lime

Juice from 1 fresh lemon

½ tsp. sea salt

 

Pepper to taste

Preparation:  Combine all the ingredients except lemon, lime, and salt in a mixing bowl.  Once combined, squeeze lemon and lime juice over the mix and add the salt and pepper to taste.  Mix well and chill before serving.
Other healthy plant-based dips and toppers include:  Salsa, pico di gallo, hummus, pesto, and guacamole. They have fiber, nutrients, and are a lot healthier for you than dairy-based dressings and dips.
Another great starter is my Strawberry Hummus caps.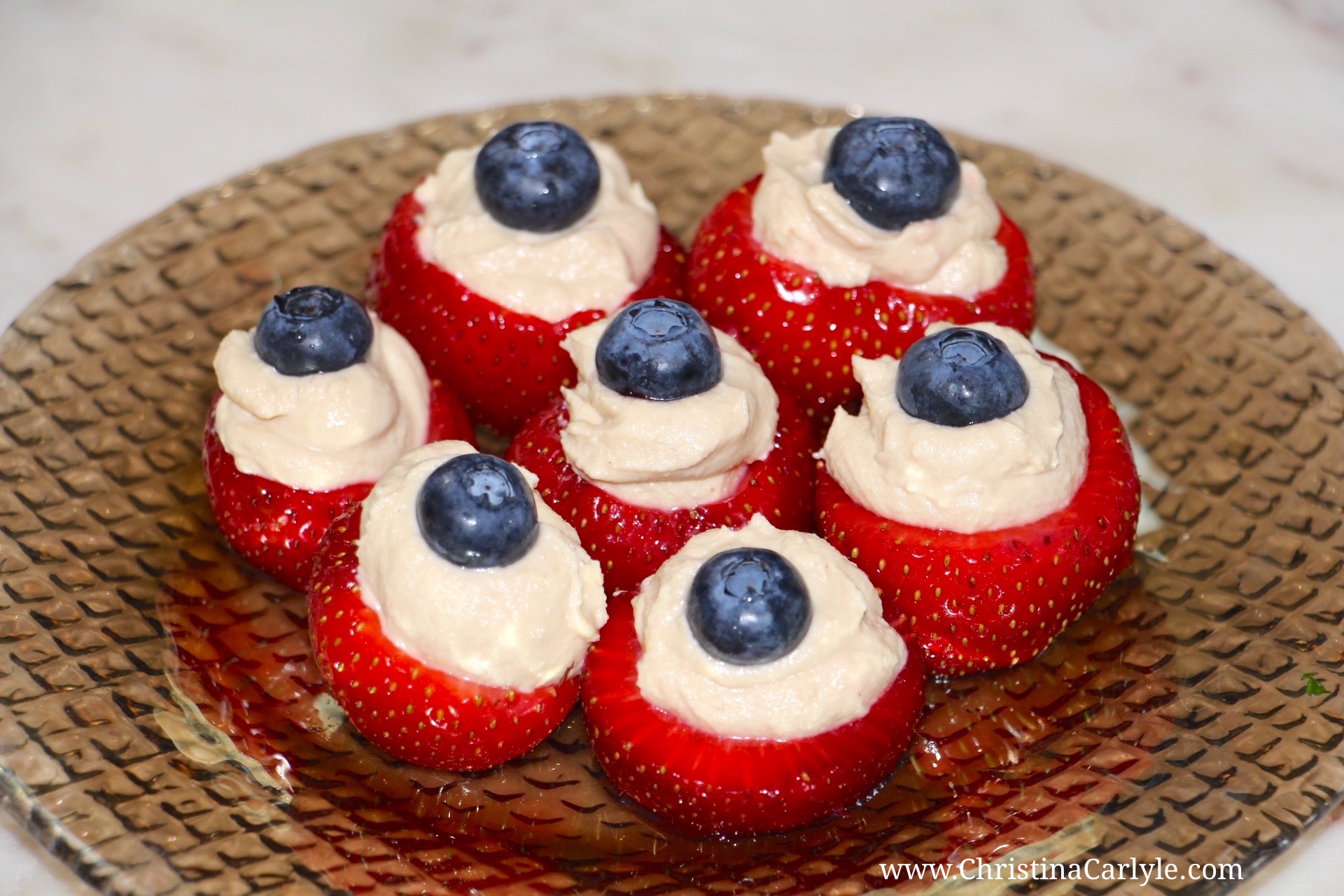 Hummus Strawberry Caps
How amazing do these hummus stuffed strawberries look?  They're so light, filling and refreshing.  The sweetness of the strawberry and blueberry pairs well with the savory, creamy hummus. 
They're so good, so pretty, and take minutes to make. Simply, core a strawberry and fill it with a teaspoon of hummus. Top off your caps with a single blueberry and you're done.
Healthy Salad Ideas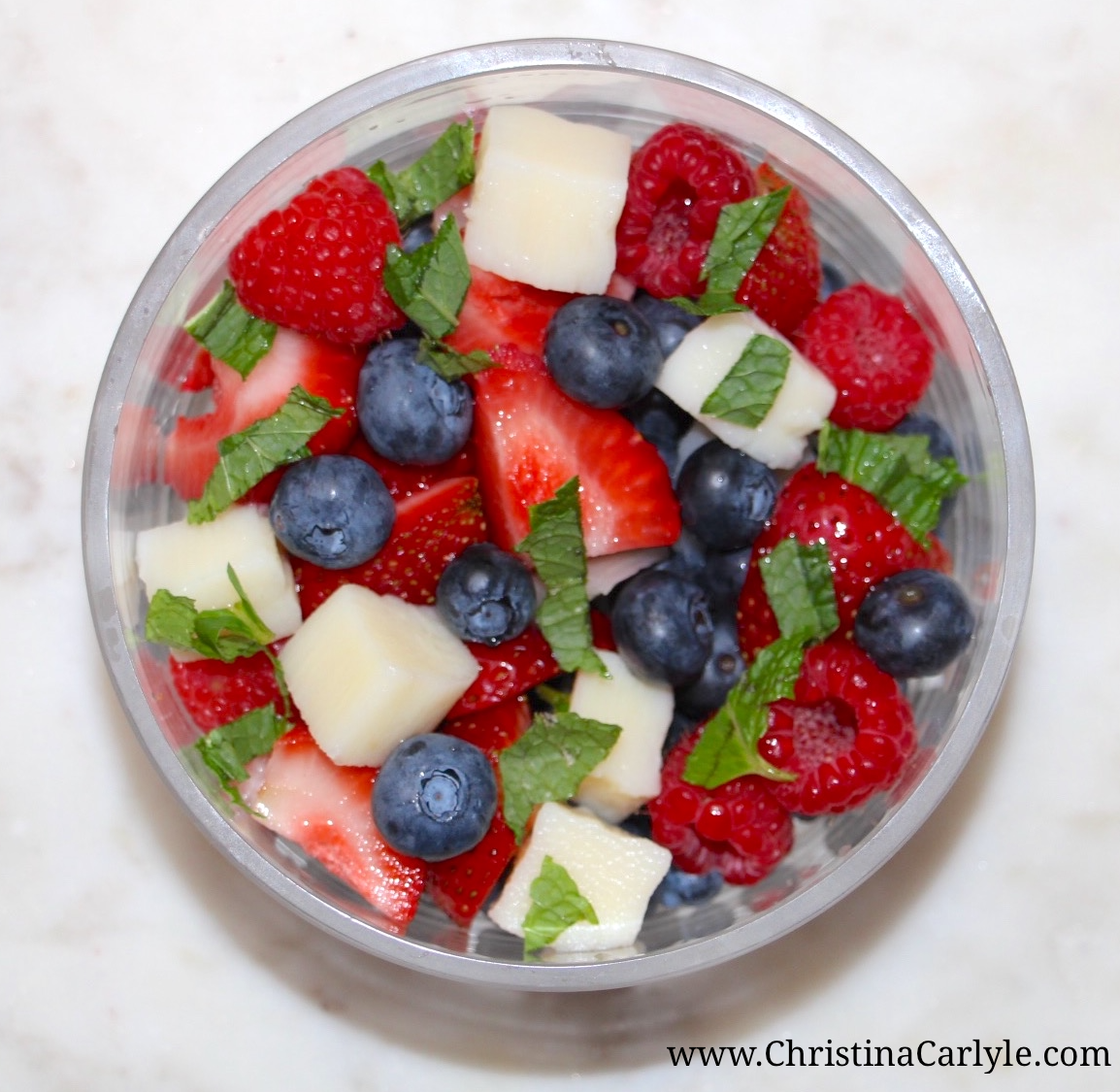 Red, White & Blue Heart of Palm * Berry Salad
This 4th of July fruit salad is GORGEOUS and refreshing – especially on a hot summer day! 
It's light, filling, and full of nutrients, fiber, and anti-aging antioxidants and is low in calories.  It's super easy to make, too.  
Wash, dry, and combine fresh raspberries, strawberries, blueberries, and chopped hearts of palm.  Use 1/4 cup each for 1 serving up to 2 cups each to make 8 servings.  As long as you keep the ingredients equal parts you can make as much or as little as you want.

Top with some fresh lemon or lime juice and

garnish with some freshly chopped mint.

Optional:  Drizzle with a tiny bit of local honey for added sweetness.

The hearts of palm add more fiber and a pop of salt and texture that pairs perfectly with the berries.  Can't find hearts of palm?  No problem!  Swap in chopped red delicious apples instead.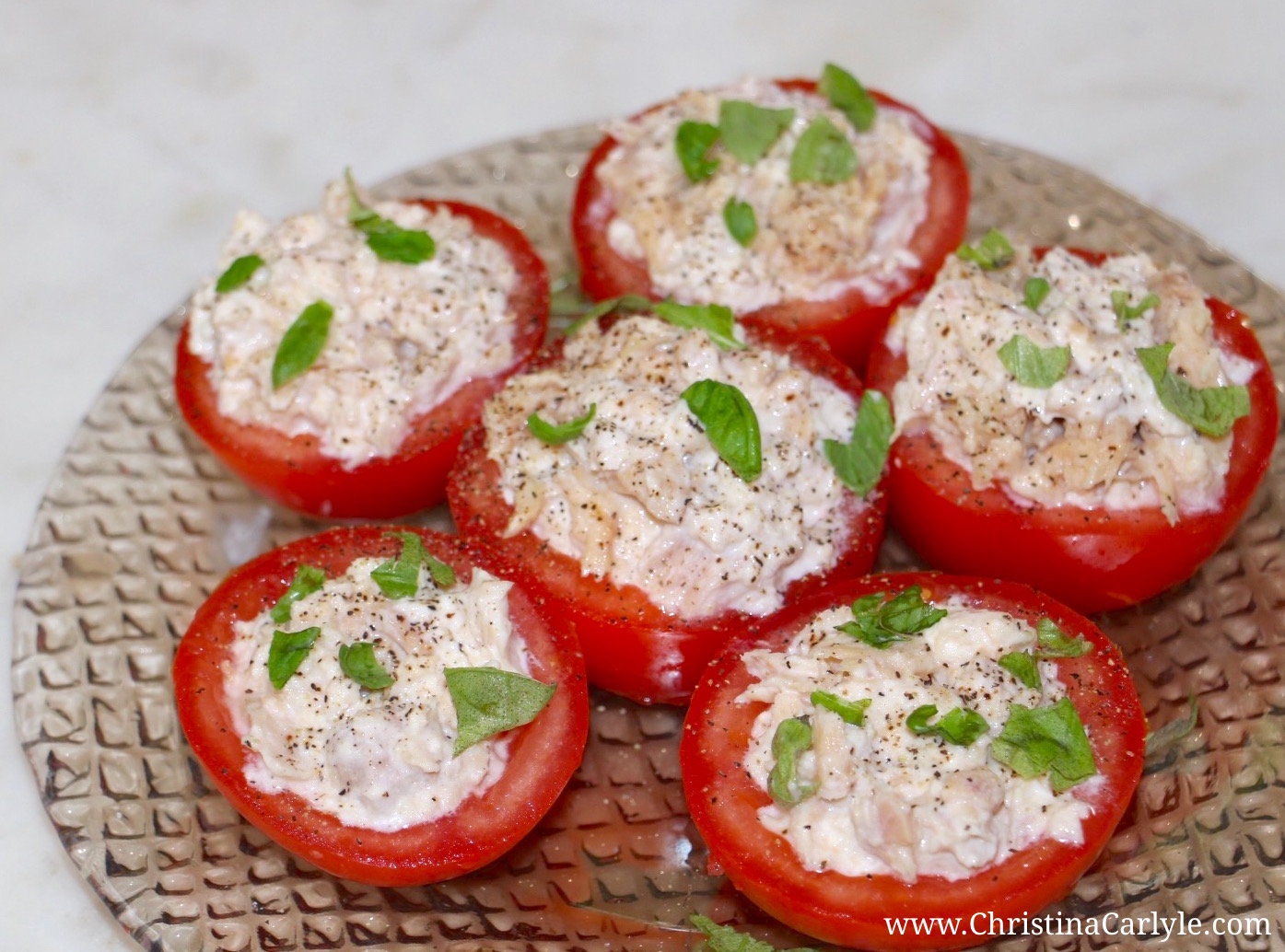 Tuna Stuffed Tomatoes
I love these because they combine lean protein, healthy fats, and fiber in one quick recipe.  They're easy to make, light, but filling, and taste great.
3 small/medium-sized tomatoes, capped, halved, and seeds scooped out

1 cup drained and flaked water-packed albacore tuna (I use Skip Jack Tuna from Whole Foods)

¼ cup organic mayonnaise

2 tbsp. diced celery

2 tbsp. minced yellow onion

1 tsp. garlic powder

Salt and pepper to taste
Prepare the tomato cups and chill in the refrigerator. Combine the other ingredients in a small bowl and mix well. Spoon the tuna salad evenly into the tomato shells.  Season with salt and pepper to taste.  Chill before serving. They are great over a bed of lettuce or as an appetizer.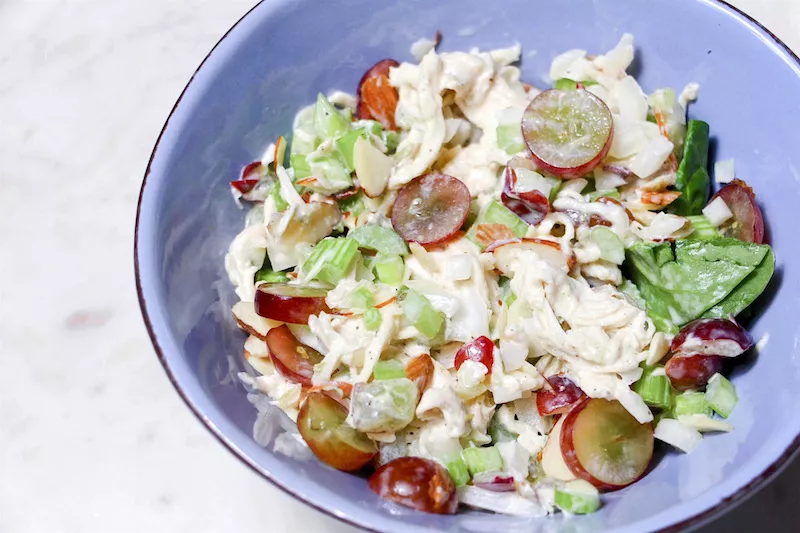 Healthy Chicken Salad
This crunchy chicken salad is so delicious and easy to make.  I like serving it on a bed of crunchy romaine or arugula.  If you want to make them look extra special you can spoon the salad on romaine leaf 'boats' and eat-em-like-tacos. This salad is savory and sweet, creamy and crunchy.  I know you're going to love it.  You can find the Healthy Chicken Salad recipe here.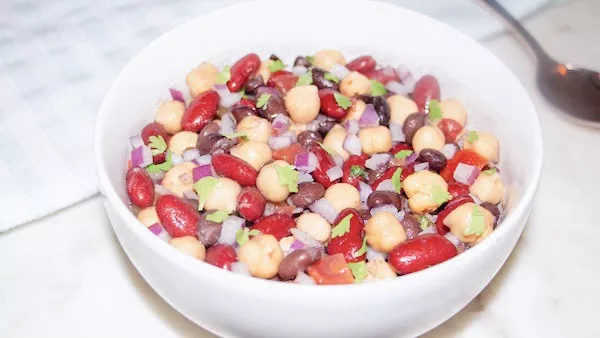 Cowboy Caviar Bean Salad
This bean salad is so delicious, nutritious, and easy to make!  It's a no-brainer and a great (much healthier) substitution for baked beans, potato salad, and coleslaw, too.  Click here to get the recipe.
Cucumber, Tomato, Red Onion Salad
This simple salad is so flavorful, refreshing, and easy to make. Simply slice cucumbers, red onions, and cherry tomatoes, then toss in white balsamic vinegar.  I love this one and eat it all the time during the Summer.  It's so low in calories and so filling and pairs well with proteins.
4th of July Dinner Ideas
People typically fire up their grills to make hamburgers and hot dogs during the 4th of July as main dishes.
But I encourage you to try clean lean proteins on the BBQ and pair them with veggie-based sides instead.  Main dish ideas include:
Grilled Chicken Breasts
Grilled Fish – like mahi mahi or salmon
Grilled Shrimp or cocktail shrimp
Grilled Veggies – I love grilled asparagus, mushrooms, and squash most
Corn on the Cob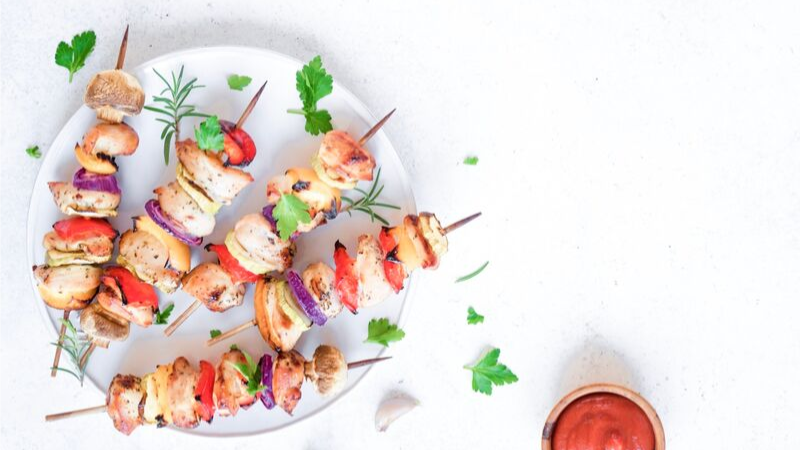 Kabobs are healthier and leaner than traditional hamburgers and hotdogs – and you don't need a bun!  Check out my Healthy Kabob Recipe here.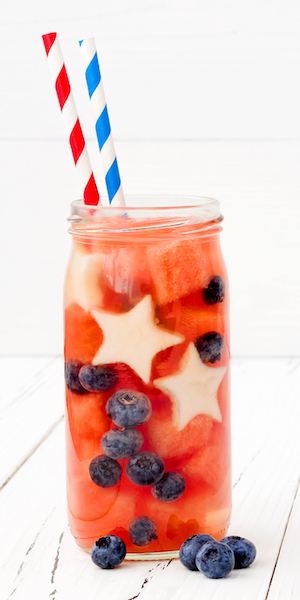 Healthy 4th of July Drinks
This patriotic drink recipe is easy and fun.  Use a star-shaped cookie cutter and press into fresh apple, pear, or watermelon slices to make little stars.  Fill a glass with water and ice, then add your stars, blueberries, and watermelon cubes to water for a refreshing, delicious drink.
Healthy 4th of July
Dessert Ideas
If you're looking for a sweet treat, try my:
I hope you enjoyed these recipes.
Which tip or recipe was your favorite?  Let me know in the comments.
Enjoy!
Your Coach and Biggest Cheerleader
xxoo

Pin this post so you'll have it forever.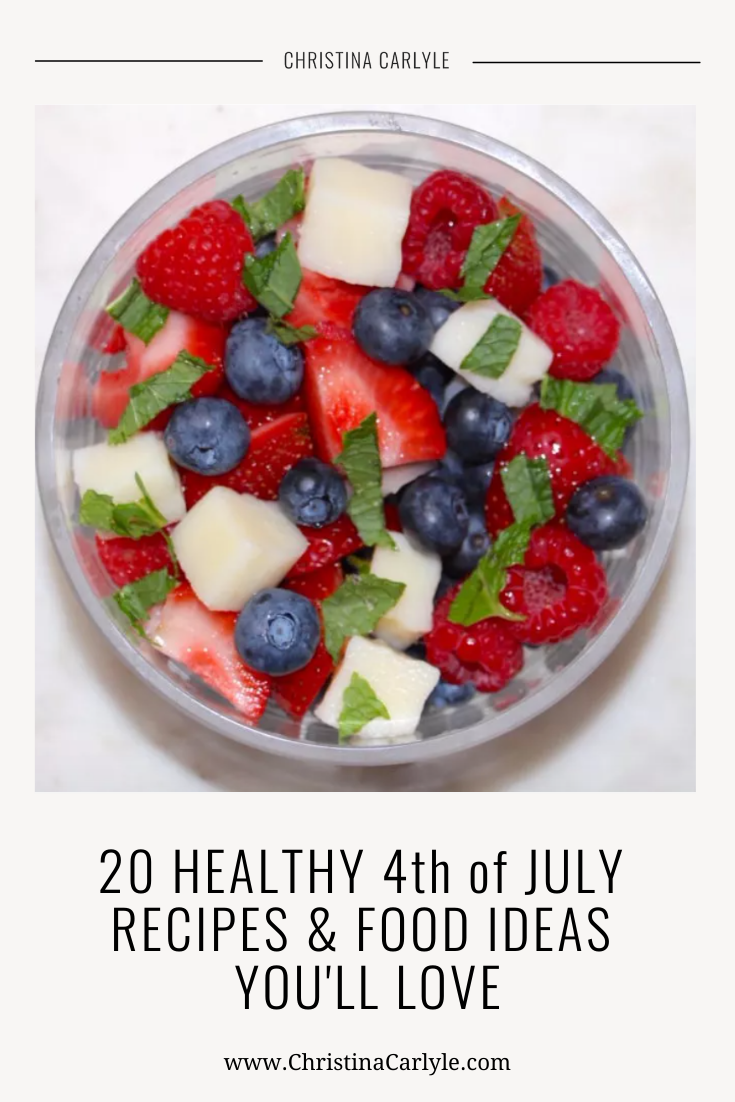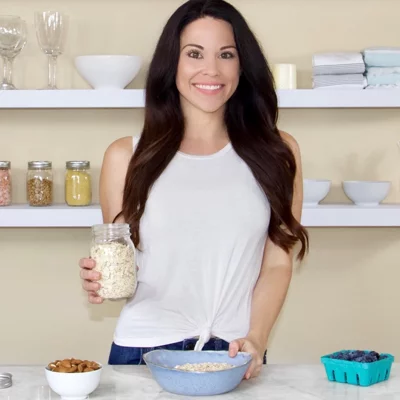 Christina is a certified Holistic Nutritionist, Personal Trainer, and Fitness & Health Coach. After healing multiple health issues, getting off 7 meds, & losing 40 pounds – and keeping it off for 10+ years, Christina teaches others how to get Happy, Healthy, & Fit quickly without any bullshit.  She'll show you how to slim down, tone up, and feel fantastic naturally with the most delicious food and least intense workouts possible.