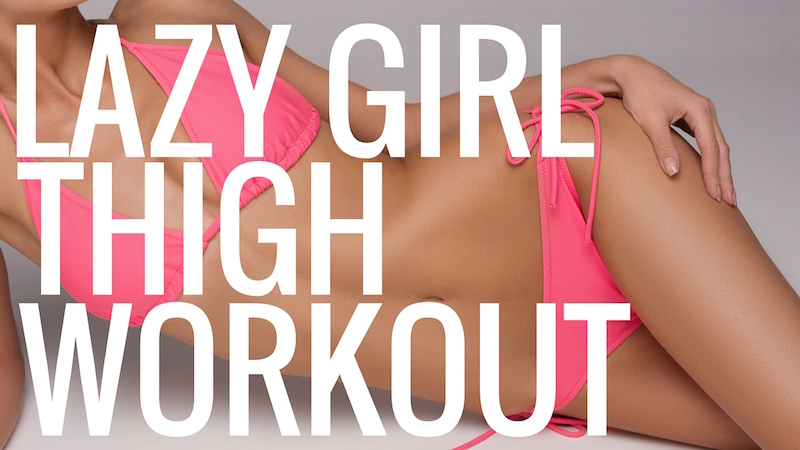 25 May

Lazy Girl Thigh Workout

Even though I've lost 40 pounds and I'm a nutritionist and a trainer now… my inner fat girl is still very much alive inside of me.  My inner fat girl doesn't like exercise… and LOVES food.  But, my inner fit girl knows better.  I know I have to eat healthy.  I know I have to exercise if I want to maintain/lose weight.

I find that most people I work with feel the same way.  They want results… with the least amount of effort/exercise and the most food possible.  This was reaffirmed when I launched my lazy girl workout.  People seemed to love it based on all of the shares and likes it got on social media… so I've decided to create another lazy workout targeting the thighs.

If you don't like exercise or your thighs you're going to love my lazy girl thigh workout. Try this workout when you're having a just-don't-wanna-but-you-know-you-should exercise kinda days. You don't need any equipment. You don't even have to sit up or stand.

Technically, you can do this lazy girl workout from bed (above the covers) if you reallllly wanna rock the 'lazy' vibe of this exercise. Seriously, this is the ultimate no excuses thigh workout for even the laziest of girls.  NO EXCUSES!  See me explain and share the workout in today's episode of CCtv.
How to do this Lazy Girl Thigh Workout
These six moves hit the inner and outer thighs.  To rock this workout you'll need to do each exercise until you feel the burn, then do 5 more. Move from one exercise to the next without resting. 1 round of exercises completes 1 set and you need 4 full sets to complete your workout.
For the best results, I recommend doing this routine at least twice a week. You can lose weight eating more, and exercising less when you're following a complete program. Heads up!  This workout isn't going to do much if you're not following a meal plan, cardio and full body weight training program that's a good match for your body type and goal look. If you truly want to lose weight and improve your health and confidence join my Total Transformation Challenge.  You'll get noticeable results in DAYS not weeks!!  Guaranteed.
It only works if you work it, so work it.  YOU are so worth it!
Your Coach and Biggest Cheerleader
xxoo

Pin this post so you'll have it forever.
If you're looking for more info about how to lose thigh fat, click here.